Background
I have a friend who has been known on occasion to try something new (a new beer, a new magazine, a new book, etc.) because, as he puts it, "It seems like something I should be into." My other friends and I usually will take the opportunity to ridicule him at this point because this line of thinking has led to some particularly poor decision making. Usually it is clear to those of us who know him best that he does not really have the time to devote to or even the slightest interest in the new thing he's considering. So now it's a standing joke than when he comes across something that "he should be into" that it is something that he really shouldn't spend his time with.
That may be a strange way to introduce an article about Procter and Gamble but it really does seem like something that I should be into. After all, when I was in school studying marketing, textbooks worth of case studies have been written about how P&G does it right. P&G runs some of the strongest brands in the world. P&G has plenty to gain from emerging markets. From an investment point of view, they've raised their dividend annually since before I was born...and as I have stated before, I love dividends. Continuing with P&G, it can also be said that they generate ridiculous free cash flow and you would be hard pressed to find a year with negative earnings. All of this I knew before I looked into the company at all....so what happened?
The facts:
| | |
| --- | --- |
| | |
| Current Price | $77.67 |
| Market Cap | $212.7B |
| Yield | 3.20% |
| P/E (TTM) | 20.09 |
| Consecutive Years of Growing Dividends | 57!!! |
Data Source: Morningstar, Yahoo! Finance, David Fish's list of Dividend Champions
Peer Comparison
As I mentioned in a previous article, the peer comparison that I complete as a part of my analysis is essentially a forced ranking of my investment target's peers in terms of profitability, leverage, and earnings growth.
| | | | | | |
| --- | --- | --- | --- | --- | --- |
| | | Profitability | Earnings Growth | Leverage | Rank |
| Procter & Gamble Co | PG | 4 | 5 | 1 | 5 |
| Unilever | | 2 | 4 | 2 | 2 |
| Colgate-Palmolive Company | | 1 | 1 | 4 | 1 |
| Kimberly-Clark Corporation | | 4 | 3 | 3 | 4 |
| Clorox Company | | 2 | 2 | 6 | 2 |
| Avon Products Inc | | 6 | 6 | 4 | 6 |
Data Source: Morningstar
Houston! We have a problem! The reason I tackle the peer comparison first is because it can save me some time and effort in reviewing the quantitative and qualitative story around a company. This is a coarse filter for me. If a company is not among the top 2 or 3 in its peer grouping, then my analysis stops and I move on to the next company on my list. As a side benefit, the companies that do make up the top 2 or 3 usually get added to my research list for the future.
So what exactly is happening here? These are all forced rankings so when I compare P&G in areas like margins (gross and operating) and returns ratios (on assets/equity/invested capital), it is decidedly middle of the pack. There was a time about 8-10 years ago when P&G was near the top of the pack in profitability but slight decreases mixed with improvement or steady performance from competition makes a difference.
P&G Change in Profitability over Time

FY2004

FY2005

FY2012

FY2013

Gross Margin

51.2

51

49.3

49.6

Return on Assets

12.61

12.01

7.95

8.33

Return on Equity

41.83

44.86

16.72

17.51
Data Source: Morningstar
From an earnings point of view, the last half decade has been a relatively disappointing period for the consumer products giant. As a result, only a basket case like Avon shows worse than Procter and Gamble. With Procter and Gamble's large scale, it only makes turning the earnings stagnation around that much harder.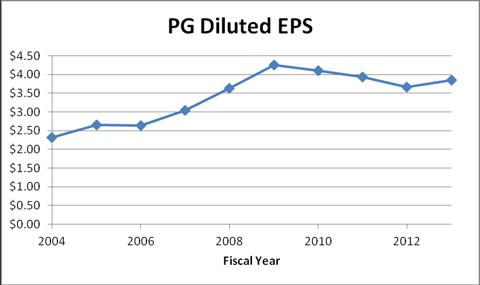 Data Source: Morningstar
Conclusion
I won't be investing in Procter and Gamble any time soon. Are they a bad company? No, they are still an innovative consumer products giant with brands that aren't going away. Are they going to go out of business any time soon? No, of course not. The free cash flow alone means little will change. Are they a bad investment? Probably not, after all the dividend is reasonably safe and management also has a buyback program in place. Investment is about allocation of scarce resources though and right now I am choosing to look elsewhere. Speaking of which, I'll have to take a look at Colgate and Unilever now. After all, they seem like something that I should into.
So what do YOU think? Am I being unreasonable in eliminating a perfectly profitable company just because I don't like it quite as much as its peers? And if you know, how is P&G going to get their earnings turned around?
Disclosure: I have no positions in any stocks mentioned, and no plans to initiate any positions within the next 72 hours. I wrote this article myself, and it expresses my own opinions. I am not receiving compensation for it (other than from Seeking Alpha). I have no business relationship with any company whose stock is mentioned in this article.
Additional disclosure: I am not a professional investment advisor or financial analyst; I am writing this article because I feel that investing is not a zero sum game and because I believe that the process of writing and receiving feedback improves my own performance.