On Wednesday, October 9, Kinder Morgan Energy Partners (NYSE:KMP) announced that it had reached an agreement with a large Eagle Ford Shale producer to extend the Kinder Morgan Crude and Condensate pipeline farther into the Eagle Ford Shale in south Texas. In the wake of today's announcement, I wanted to highlight a number of reasons behind my decision to remain bullish on shares of Kinder Morgan Energy Partners.
#1 - A Summary of the Transaction
According to the company's press release, "KMP will invest approximately $74 million to build an 18-mile, 24-inch diameter lateral pipeline northwest from its DeWitt Station to a new facility in Gonzales County, where KMP will construct 300,000 barrels of storage, a pipeline pump station and truck offloading facilities. The lateral will have a capacity of 300,000 barrels per day and will enable Kinder Morgan (NYSE:KMI) to batch Eagle Ford crude and condensate from the new Gonzales Station via KMCC to its delivery points on the Houston Ship Channel and/or the soon to be completed Sweeny Lateral pipeline serving the Phillips 66 Sweeny Refinery in Brazoria County, Texas. Including joint ventures and other projects, KMPs planned investments related to Eagle Ford Shale crude and condensates currently total almost $900 million".
Not only does the project give both producers and consumers more of an option in terms of natural gas, it will also enhance the company's annual distribution as the transaction will be accretive to Kinder Morgan's available cash by 2015.
#2 - Recent Performance and Trend Status
On Thursday shares of KMP, which currently possess a market cap of $32.91 billion, a beta of 0.44, a P/E ratio of 24.22, a forward P/E ratio of 27.85, and a current distribution yield of 6.63% ($5.28), settled at a price of $79.68/share. Based on their closing price of $79.68/share, shares of KMP are trading 0.04% below their 20-day simple moving average, 1.76% below their 50-day simple moving average, and 4.80% below their 200-day simple moving average. These numbers indicate a short-term, mid-term and a sustainable long-term downtrend for the stock, which generally translates into a moderate selling mode for most traders.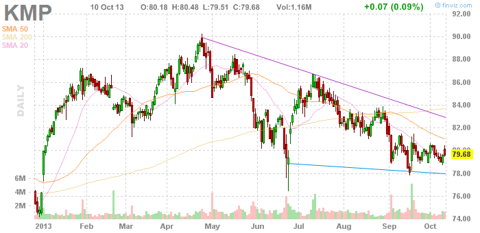 #3 - BOSTCO Opening
On Monday, October 7, Kinder Morgan Partners announced that commercial operations were underway during phase one of its 185-acre, two-phase, Battleground Oil Specialty Terminal project located on the Houston Ship Channel. The project is a JV of operator KMP and TransMontaigne Partners (NYSE:TLP) the near-$500M terminal is fully subscribed for a total capacity of 7.1M barrels - including the project's phase two expansion - which is expected to handle ultra-low sulfur diesel, residual fuels and other black oil terminal services.
The Battleground Oil Specialty Terminal offers a solution which provides high-speed on-loading as well as high-speed off-loading. John Schlosser, President of Kinder Morgan Terminals noted that the company was pleased commercial operations have begun. "These operations will provide the market with a unique, deepwater terminaling solution that provides high-speed loading and improved barge and ship access to the Texas Gulf Coast for the export and import of various refined products".
With the partnership's second phase estimated to come online by the end of 2014, I'd continue to pay close attention to how well the partnership's high-speed loading rate of 25K Barrels/Hour will be sustained come 2014. If the partnership is unable to sustain estimated loading rates, and significant declines were to occur, long-term investors may find themselves in very unfavorable territory over the next 12-18 months. If, on the other hand, loading rates are sustained and subsequently exceeded, the next 12-24 months could turn out to be quite positive.
#4 - 24-Month Dividend Behavior
Since October 27, 2011, the company has increased its distribution in every quarter over the last 24 months. The company's forward yield of 6.63% ($5.28) coupled with its ability to continuously increase its distribution on an annual basis, make this particular oil & gas stock a highly considerable option, especially for those who may be in the market for a sustainable stream of quarterly income.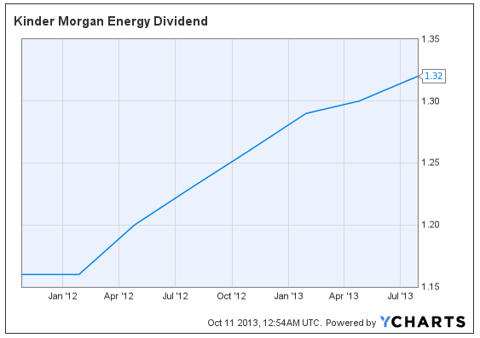 A Few Risks to Consider
According to my fellow colleague Efficient Alpha, there are a number of risks to consider before establishing a long-term position in Kinder Morgan Partners. For example, "the company does have some exposure to oil prices and has budgeted $91.68 per barrel for their financial projections with about $5.9 million of distributable cash flow exposure for every $1 change in the price of crude. In the event of a recession, oil prices could come down significantly and distributable cash flow could trend down as well". If the government shut down continues and a recession ensues, oil prices will be negatively affected, and distributable cash flow could be significantly minimized.
The second of the risks Efficient Alpha points out are a more generalized and address the tax classifications of both REITs and MLPs. The writer notes, "All MLPs, along with REITs, risk losing their tax-advantaged status and would need to reevaluate their distribution plans if it ever happened. The issue comes up every once in a while but is never seriously proposed".
Conclusion
For those of you who may be considering a position in Kinder Morgan Partners, I'd keep a watchful eye on a number of catalysts over the next 12-24 months as each could play a role in the company's long-term growth. For example, near-term investors would want to focus on the company's recent performance and trend status, while long-term investors should pay close attention to any significant developments that may occur as a result of the company's recent expansion and development efforts (Eagle Ford and BOSCO) as well as any macroeconomic catalyst that may an effect on the company's long-term distributable cash flow such as a recession or prolonged correction.
Disclosure: I am long KMP, KMI. I wrote this article myself, and it expresses my own opinions. I am not receiving compensation for it (other than from Seeking Alpha). I have no business relationship with any company whose stock is mentioned in this article.