I'm going to follow up on my report of yesterday on Morningstar's take on fair value for the holdings in my dividend-income portfolio. Morningstar does not cover small-caps or even many mid-caps, so review is largely to the large-cap cohort. Further, this is strictly an idiosyncratic look at my own positions. It's a part of my quarterly review to help me decide what moves might be appropriate between now and the end of the year. I'm sharing my research for readers who find it interesting and relevant to their own situations. I should also add that Morningstar provides only one of many possible assessments of valuation. Other methodologies may provide conflicting results. I am simply using Morningstar's ratings as a convenient jumping-off place to the extent that it provides clues and insights into the status of my holdings.
In that previous report, I took a look at the holdings Morningstar considered to be undervalued. My intent was to consider whether or not it might be appropriate to increase those positions. Here, I look at the other end of the list to examine holdings that are, by Morningstar's criteria, overvalued and, therefore, potentially ready for profit-taking.
As I've said previously, I am not adverse to selling solid, dividend stocks for a profit as they become overvalued. Indeed, it's part of my overall strategy; every time I open a position I'm setting a mental map of when I might be ready to close it. Obviously, one is optimistic when opening new positions, so that mental map stakes out a possible path to a profitable close.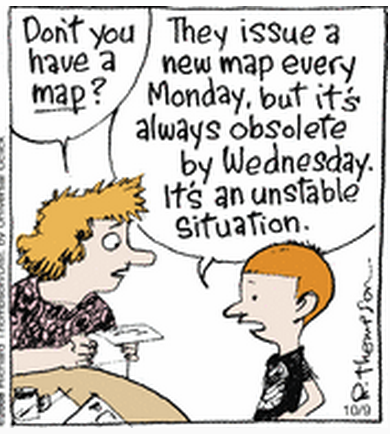 (From Richard Thompson's (Cul de Sac)
I am well aware that many dividend-income investors feel very differently. They will buy and hold through fat and lean times as long as they retain confidence in the quality of the company. There is a lot of merit in that approach, and I respect the patience and discipline the successful investor brings to it. But from my point of view, the adage about no one losing money by taking profits has a lot of merit as well.
Being well aware of the pitfalls of arguing from a hypothetical example, I'll try one anyway. Suppose a company that pays, say, a 3% dividend is up 30% in a relatively short time, let's say a year or so. Let's now suppose that in getting there the stock has become dangerously overvalued. What then is the likely scenario? First, probabilities are good that the market, being the rational and efficient beast it is (note the eye roll here, please), will correct its price to something closer to a true fair value. An investor can just hold on, collect that 3%, which we'll further assume is growing nicely year over year, and maintain a dependable income stream. Or, that investor can sell all or part of the holding for a tidy 30% profit (which is, let's not forget, 10 years' worth of those 3% dividends) much of which may otherwise disappear in the correction.
I'm ignoring compounding, here, because I'm going to assume that the fate of that profit is identical to the fate of the dividends it replaces. Either most or all of it gets reinvested, just as the dividends must for them to compound, or it's taken as income in lieu of 10 years' worth of dividend income. In the first case, with those 10 years' dividends in hand, our investor can look for another 3% dividend payer that's less richly valued, ideally one that's sufficiently undervalued for a prediction of growth to be made with a high degree of confidence, and open a new position. What's gained? Our investor is still drawing a 3% yield on the same principle, so income is unchanged. But, that income is now coming at less risk of a loss of capital and/or a greater likelihood of capital growth.
Our hypothetical company may be a true gem: well managed, shareholder friendly, and poised for long-term growth. The buy-and-holders will say, "By selling you lose your opportunity to continue owning that well managed, shareholder friendly, growing company" as if the market is closed to the seller's buying it again when the valuation again becomes attractive. Because even gems -- maybe that should be especially gems? -- will get overvalued and see their prices undergo corrections. And, once that happens, they can be bought again at a relative bargain.
What's that you say? "Market timing." "Traders and investors." "Tortoises and hares." To which I would reply by citing the most ancient of market adages "Buy low. Sell high." That's not to say I propose or expect to do this regularly, but in those cases where there is a marked discrepancy between price and value it's often the best course.
Two premises must hold here. First, the stock has to be up sufficiently to make the profit-taking truly profitable and not merely frivolous. And second, the increase must have driven the stock into demonstrably overvalued territory such that a correction is imminent. I'm not a chartist by any means, but there can be some value in reviewing technical indicators for insights into over-bought and over-sold conditions when making those evaluations.
With this in mind, I regularly try to get a sense of which of my holdings are undervalued, and ripe for increasing my position, and which are overvalued, and ripe for some profit taking. I generally have a sense of how things are faring based on valuations when I bought them and price changes since that time. So, going into this exercise I did expect some to be ready for some timely profit-taking. Seven are up more than 25% YTD and five of those are up more than 30%. What I found interesting is that Morningstar has only 2 of these in its overvalued column. Five of these gainers remain undervalued, one sufficiently so (Ford at -27.74% of MS's fair value even after a 32.6% YTD price increase) that it made yesterday's most undervalued list. Johnson & Johnson (NYSE:JNJ), up 26% YTD, is undervalued by -3.3%. Microsoft (NASDAQ:MSFT) up 27.2% YTD, is undervalued by -4.7%. F, up 32.6% YTD is undervalued -27.7%. CSX Corp. (NYSE:CSX) up 32.7% YTD is undervalued -13.6%. And V.F. Corp. (NYSE:VFC) up 33.6% YTD is undervalued -7.4%. This last surprised me a bit because I've had it near the top of my mental "Is It Time to Take Profits?" list for some time now.
The two biggest gainers YTD are, by Morningstar's criteria, overvalued, and by a considerable margin. Seagate (NASDAQ:STX), up 46.35% YTD, is 31.5% over its Morningstar fair value, and Lockheed Martin (NYSE:LMT), up 41.9% YTD, is 34.8% over its fair value. I'm not at all surprised by STX, but LMT was a bit of a head shaker for me as it's been one I've considered well valued although a bit shaky on other grounds. The only other of my holdings that is overvalued by more than 15% is Wisconsin Energy Corp. (NYSE:WEC) which Morningstar considers to be 17.1% over its fair value.
| | | | | | |
| --- | --- | --- | --- | --- | --- |
| | Ticker | Current* | MStar FV | +/- MStar FV | Dividend Yield |
| Lockheed Martin Corp. | LMT | $126.68 | $94.00 | 34.49% | 4.13% |
| Seagate Technology | STX | $46.04 | $35.00 | 31.54% | 3.30% |
| Wisconsin Energy Corp. | WEC | $40.99 | $35.00 | 17.11% | 3.73% |
| | | | | | |
| *Oct 10 Close | | | | | |
Morningstar considers all three as being value positions, LMT and STX as Large-Value and WEC as Mid-Value, which may color their view of valuations for the companies compared to, say, companies they consider as growth holdings.
Lockheed Martin

Valuations
The valuations for LMT do give some confirmation of overvaluation. P/E is a reasonable appearing 13.7, but that's well above the company's 5 year average. P/B is clearly anomalous and has to do with LMT's market niche as a defense contractor, so is difficult to evaluate. It is well below the 5 year average for the stock, so no real cause for alarm. Finally, P/CF is also high, both in relation to its industry and to its own recent history.
| | | | |
| --- | --- | --- | --- |
| | LMT | Industry Avg | 5 Yr Avg |
| P/E | 13.7 | 18.8 | 10.3 |
| P/B | 56.5 | 3.9 | 164.1 |
| P/CF | 13.5 | 11.4 | 11.0 |
| Forward P/E | 12.3 | | |
| EV/EBITDA | 7.99 | 8.59 | |
Dividends
LMT has increased dividends for 10 consecutive years, most recently for 4Q13. It pays an attractive 4.13%. In the table below I've listed Dividend Growth Rates for 1 and 5 years, and Payout %. As can be seen, LMT has a history of hefty dividend increases. That coupled with the 4+% yield makes it a difficult holding to replace on the income side of the portfolio.
| | |
| --- | --- |
| LMT | |
| DGR 1yr | 33.0% |
| DGR 5yr | 25.9% |
| Payout | 49.17% |
Chart
Here we have a weekly chart for LMT. Note that it's trading well above the MA (50), which has provided reliable support in the past. Note as well the Relative Strength Index (RSI) indicator on the top. Technicians tend to consider RSI over 70 (colored green here) as an indicator of overvaluation and a sell signal. At a current RSI of 69.93, the technicals tend to support Morningstar's view that the stock is overbought and could be due to correct.
Seagate Technology

Valuations
STX's valuations are a mixed bag, but nothing here screams overvalued to me. Price to Book is a bit worrisome but other ratios are reasonably attractive for a stock growing at its recent rate.
| | | | |
| --- | --- | --- | --- |
| | STX | Industry Avg | 5 Yr Avg |
| P/E | 9.3 | 18.3 | 8.1 |
| P/B | 4.6 | 2.5 | 2.7 |
| P/CF | 5.6 | 9.3 | 4.2 |
| Forward P/E | 8.3 | | |
| EV/EBITDA | 5.64 | 6.23 | |
Dividend History
STX paid an erratic dividend from 2003 through 2009, at which time it stopped paying dividends altogether. Its dividend history since the end of the recession is much more favorable. It started up again Q211 and has increase the dividend 3 times since then, going from $0.18/share to its current $0.38/share. Once again, we have a stock that's paying a reasonably attractive dividend and growing that dividend rapidly. Payout is modest. Here too, it's not something an income portfolio can readily replace at a good price.
| | |
| --- | --- |
| STX | |
| DGR 1yr | 18.75% |
| DGR 5yr | 28.14% |
| Payout (NYSEARCA:EPS) | 28.17% |
Chart
STX's weekly chart is seen below.
The stock is trading about 25% above MA(50) with a 2 year strong bullish trend behind it. RSI is 64.72, approaching extreme overvalued territory, so here again the technicals converge to some extent with Morningstar's assessment.
Wisconsin Energy

Valuations
WEC's P/E is attractively valued relative to the industry, but P/B, P/CF and EV/EBITDA are significantly higher than peers.
| | | | |
| --- | --- | --- | --- |
| | WEC | Industry Avg | 5 Yr Avg |
| P/E | 17.0 | 22.5 | 15.3 |
| P/B | 2.2 | 1.2 | 1.8 |
| P/CF | 7.5 | 6.0 | 8.1 |
| Forward P/E | 14 | | |
| EV/EBITDA | 10.02 | 5.91 | |
WEC has a record of dividend increases for the last 10 consecutive years. Its most recent increase (3Q13) of $0.04/share to $0.38 came only 2 quarters after the prior increase. Its yield of 3.79% is on the low side for a utility, but it has been growing that yield at a rate that is high for a sector where low single-digit growth rates are common. I've liked WEC as my only utility holding despite its modest dividend for the sector. But, much of its appeal has been its impressive price growth which is, of course, unrealized gain until it's turned into profit. Here again the question is how to replace the income if one chooses to take those profits, although that's less problematic in the utility sector.
| | |
| --- | --- |
| WEC | |
| DGR 1yr | 27.50% |
| DGR 5yr | 23.16% |
| Payout | 53.33% |
Chart
This chart presents a quite different picture from the others. Price is currently right on MA(50), which has provided solid support going back to at least 2011. RSI shows no sign of overvaluation at this time.
Closing Notes
So, what's a guy to do? I'm going to start with LMT. I have been very happy with LMT. I haven't held it long (meaning short term cap gains to the IRS if I sell), but I've been reluctant about its prospects from the day I bought it. LMT is, first and foremost, a defense contractor. When I opened my position, the sequester was the raging topic of the day. I put off buying what was clearly an in-value dividend payer because I was apprehensive regarding its prospects following sequester-induced cutbacks. Needless to say, it has handled those hurdles quite well, but the threat remains. And with every passing day, I am forced to question the sustainability of any company's earnings when they depend, to such a large extent, on U.S. government spending. LMT has moved to insulate itself from an exclusive dependence on defense expenditures, and it's naïve to think we're going to see severe cutbacks in defense spending any time soon. Nevertheless, the combination of macro events that call into question LMT's future earning potential coupled with the fact that it is a company with a history of strongly cyclical price movements argues for caution. Add to this its apparent overbought condition, and I'm forced to consider moving on from this one at this time. It's on my front burner.
How about STX? This one is in some ways easier. The dividend is more easily replicated and the price run up has driven my stake in STX higher than I'd like it to be. Plus, there's a good argument that the future for this hard-drive manufacturer is less than assured. With the decline of the PC looming on the near horizon, hard-drive sales will suffer, no question. It's not hard to project a scenario where the stock begins a long, slow, unrelenting decline. Will that happen? I don't think so, but the chances that it could are higher than I'm comfortable with. It may be, as STX bulls say, that STX is positioning itself to compete successfully under those markedly changed conditions, but the questions remain. Sufficiently so that I'm likely to reduce my position here shortly. Perhaps not completely, but enough to bring me back to no more, and likely less, than my original weight.
WEC is the really easy one. I fully intend to continue to hold this utility. First, it's my only holding in the utility sector. Second, every time I've looked, I've not seen a replacement that appeals to me as much as WEC. This despite its admittedly modest dividend. While it may well be a bit overvalued, it's not anywhere near the point that I'd consider it timely to take profits here and move on.
In closing, I remind readers that I am an individual investor. I have no claims to professional expertise of any sort in stock evaluation. I am simply sharing my research in the hope that it may be useful for others. Any actions a reader may want to take based on this research must necessarily be based on his or her own careful due diligence and with full consideration of his or her individual goals and need.
Disclosure: I am long LMT, STX, WEC. I wrote this article myself, and it expresses my own opinions. I am not receiving compensation for it (other than from Seeking Alpha). I have no business relationship with any company whose stock is mentioned in this article.