In a recent article "Projected BDC Returns Vs. Risk" I listed the projected total returns for the 25 BDCs that I cover with KCAP Financial (NASDAQ:KCAP) near the top of the list and a projected return of 19.4% annually. But this was a simple calculation using the current dividend of 11.8% plus expected special dividends and dividend growth (which was none) plus its net asset value ("NAV") per share growth over the last twelve months of 7.6%. However I believe there is a good chance that its NAV per share could be impacted by future increases of non-performing loans that could also decrease potential earnings and cause dividend cuts similar to the one announced last month. There are two key reasons that I believe KCAP is at risk for increasing amounts of loans on non-accrual including the higher risk 'vintages' in its portfolio along with the amount of collateralized loan obligations ("CLOs") and subordinated debt. This article discusses why I believe certain periods of originations for BDCs are riskier and the potential impacts to KCAP as well as the key things to watch for in the coming quarters.
Vintage Analysis
The finance industry often refers to the vintages of a loan portfolio to monitor and assess risk levels, using it as a starting point for further analysis based on the analysis of loans originated during a specific time period. Prior to the recent credit crisis, covenant light loans were popular among BDC investments and lead to the rise in non-performing loans and reductions in NAV. Recently these types of loans as well as CLOs have seen a resurgence and approaching record amounts set in the pre-Lehman market of 2007, according to S&P Capital IQ/LCD.
KCAP still has 24% of its portfolio in legacy investments from the earlier 'covenant light' years and remains heavily invested in CLO investments (22% of the portfolio) with a portfolio weighted average yield of 14.1%, much higher than most BDCs, with five loans on non-accrual.
Assessing which vintages are potentially riskier than others is an evolving art that I will not fully cover in this article but there are few key indicators that I use including historical market liquidity levels, default rates, leverage multiples, and covenant light trends.
Covenant Light Loans
In 2006 there was an increasing amount of private equity firms and the decreasing opportunities for traditional corporate loans made by banks that fuelled competition to offer loans with less invasive terms to borrowers. Covenant light (or "cov-lite") refers to loan agreements which do not contain the usual protective covenants for the benefit of the lender. Covenants allow lenders to intervene if the financial position of the borrower or the value of underlying assets deteriorates and cov-lite lending is seen as more risky because it removes the early warning signs lenders would otherwise receive through traditional covenants.
The tendency towards cov-lite loans ended with the 2007 financial crisis and these loans significantly hindered the ability of banks to rectify positions that were going bad or to limit their exposure.
In a recent Forbes article "Covenant-Lite Loan Volume Nears All-Time Record" it suggests that 2013 could surpass 2007 for the amount of risky loans stating "covenant-lite loan volume in the U.S. so far in 2013 has topped levels seen during all of 2012, and is fast approaching the full-year record set in the pre-Lehman market of 2007, according to S&P Capital IQ/LCD. Year-to-date cov-lite loan volume stands at $93.5 billion, as issuers and private equity firms rush to take advantage of an accommodating institutional investor market that is sitting atop a seemingly ever-growing mountain of cash."
The chart below shows cov-lite loan volumes since 2005 with a total of $89 billion for 2012 compared to the record annual volume of $97 billion in 2007, and YTD 2013 ready to eclipse those amounts.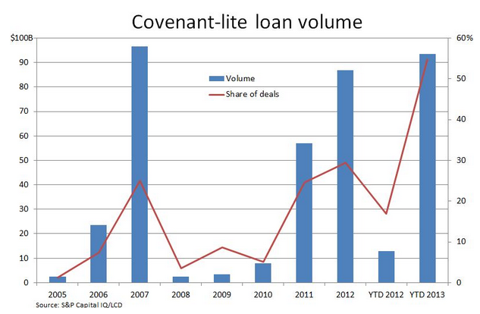 The Forbes article concluded with: "While cov-lite activity is eye-popping - these deals comprise more than half of all first-lien leveraged loans completed so far this year - it should be noted that the bulk of loan market activity in 2013 has been straightforward repricings/refinancings, as opposed to more high profile M&A/LBO deals."
Debt-to-EBITDA Multiples
Another useful indicator of portfolio credit risk and the lending environment by year is the average debt-to-EBITDA ratio. As discussed in many of my articles debt-to-EBITDA measures the weighted average portfolio debt as a multiple of EBITDA with ratios greater than 4 or 5 usually indicating that a company is likely to face difficulties in handling its debt burden, and is less likely to be able to raise additional loans required to grow and expand the business and it can result in a lowered credit rating.
The chart below shows S&P Capital IQ LCD's view on leverage multiples since 2000 with the year-to-date, total leverage climbing to an average of 4.9x and third-quarter data illustrates it trending higher. This data is skewed toward sponsored deals that are syndicated and lean toward the higher multiples but shows that leveraged lending in the middle market is changing.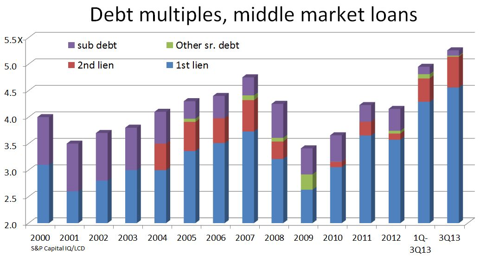 My Vintage Assessment
I break my vintage assessment into four distinct time periods with different risk ratings attached. In my opinion the riskiest are 2007 and the last twelve months due to the potential for higher amounts covenant light loans and leverage multiples during periods of higher market liquidity. The safer period of lending was most likely during the credit crisis when there was a reduction in the general availability of loans and a sudden tightening of the conditions required to obtain loans. I consider 2011 and the first half of 2012 as in between these two risk levels.
Obviously there are many other factors I take into account with vintage including the type of loan and effective yield along with specific leverage information when available.
Pre Credit Crunch Loans
This is an area of much debate but for my analysis I consider loans originated before 2008 to be among the riskiest for many reasons including default rates or loans that have been written down. It is important to point out that many of these loans have already been marked down or are on non-accrual. But a handful of BDCs still have significant amounts of these loans as a percentage of the fair value of their overall portfolio and all of them have higher than average non-accruals and lower than average portfolio fair values compared to cost. Most notably are American Capital (NASDAQ:ACAS) at over 80% of the portfolio with the highest non-accruals of any BDC at a staggering 19.5% of the portfolio at cost and Gladstone Capital (NASDAQ:GLAD) with almost 50% of the portfolio in legacy pre-2008 investments and the second highest amount of non-accruals at 15.9% on a cost basis. KCAP has around 24% of its portfolio and most its non-accruals (currently 5.4% on a cost basis) from this time period including:
eInstruction Corporation - technology based solution to instantly capture, grade, report and analyze student performance data.
Ginn Development Company - a real estate development and management company in the southeast US.
SunCal Master LLC - that went out of business as per its Chapter 11 liquidation filing.
During the financial crisis BDCs experienced a 'stress test' of their investments and NAV per share with an average drop of around 30% over a 24-month period. There were many factors involved in these changes in value including investment types, portfolio company leverage levels, BDC leverage levels, yields, portfolio concentration/diversification, and general market and economic issues.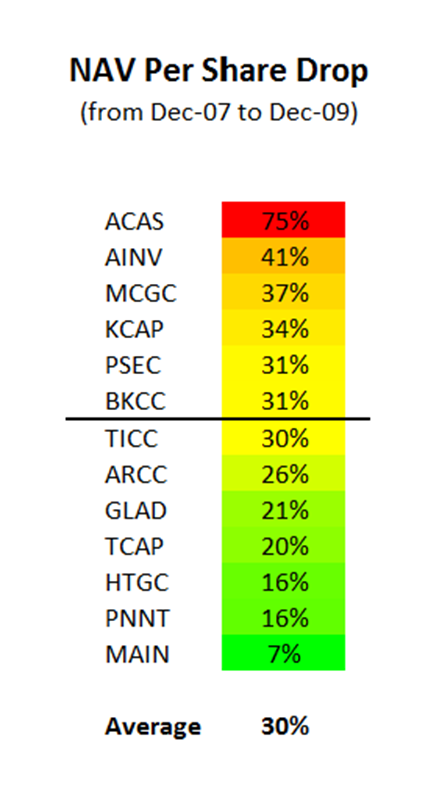 Recent Loans
In the last twelve months the lending environment has been flush with liquidity causing increased competition and riskier lending practices including covenant-lite issuances and higher debt-to-EBITDA multiples. I consider this vintage to be as potentially risky as the pre-credit crunch years especially for BDCs investing in CLO or subordinated investments. CLOs have the following issues: less transparent than direct investments in portfolio companies, repayment priority of more senior debt holders, thinly traded, not listed on traditional exchanges, making them less liquid, difficult to value and more volatile.
Earlier this year KCAP offered 4.75 million shares for proceeds of around $50 million including the underwriters option that has been invested in riskier CLO investments and 'asset manager affiliates' as well as in some senior type loans as well. The chart below shows the current investment mix with associated yields: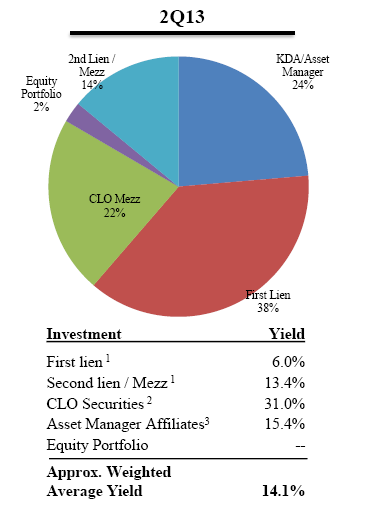 BDC Breakdown by Vintage Risk
The following table shows the amount of loans in each BDC portfolio by vintage along with the amount of senior loans and the debt-to-EBITDA ratio if it is provided by the company. Many BDCs do not report credit quality statistics giving them a 'lack of transparency' indicator that I use for part of my 'qualitative' risk measure for each BDC. I have grouped them into three levels of risk based on vintage breakdown but also taking into account senior or subordinated loans and average portfolio leverage when provided. Many of the newer BDCs have more recent originations but with much higher amounts of senior loans or lower leverage ratios.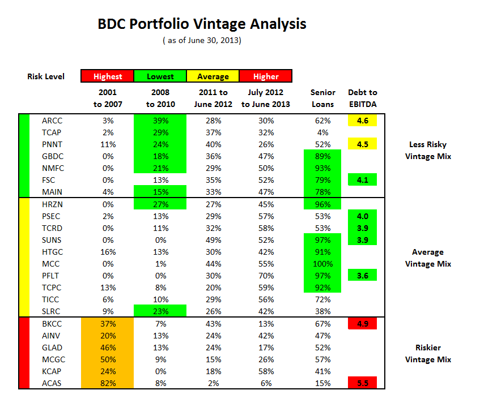 Outlook for KCAP
In my risk profile series and most recently in "Updated BDC Risk Profiles For Q2: Part 3" I have considered KCAP to be among the riskiest BDCs for many reasons before looking at potential risk related to loan vintages. I believe they are trying to reduce overall yields and focus on senior loans but with the current amount of pre-2008 legacy loans (24% of portfolio), the significant amount of CLO and asset manager investments (46% of portfolio), and new investments in a highly levered and covenant light competitive lending environment as well as higher than average yields, I believe KCAP will continue to see higher non-accruals as they did during the most recent quarterly results.
Last quarter KCAP missed its projected EPS by over 23% with only $0.20 per share to cover dividends of $0.28 and recently reduced it to $0.25 which it will hopefully be able to cover by Q4 unless there are further non-performing loans. It also substantially increased its debt to equity ratio from 0.38 to 0.72 reducing its interest expense coverage from net investment income. If there continues to be increases in non-performing investments, its earnings could fall short of current estimates and necessitate more dividend cuts. If you assume that KCAP will not be able to grow its NAV per share in the future and the potential for more dividend cuts, its projected total return would be much lower and closer to 10% or less.
Investors should watch for upcoming investment write downs as an indication of future non-accrual levels. The table below shows the current fair value of each BDCs portfolio as a percentage of cost. There are numerous factors that affect this and it can be seen as an opportunity for some of the BDCs with asset values that have been written down and start to perform or appreciate such as the case with ACAS which is where much of the recent NAV per share gains have come from (and the share buybacks). However the higher amounts generally indicate better underwriting skills and investors should watch for trends in these percentages: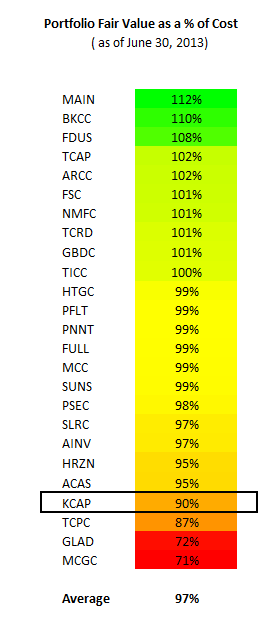 Investors should only use this information as a starting point for due diligence. See the following for more information:
Disclosure: I have no positions in any stocks mentioned, and no plans to initiate any positions within the next 72 hours. I wrote this article myself, and it expresses my own opinions. I am not receiving compensation for it (other than from Seeking Alpha). I have no business relationship with any company whose stock is mentioned in this article.