"You don't have to be the biggest to beat the biggest." -Henry Ross Perot
When investing in healthcare REITs, there are three companies within close reach of the $20 billion market capitalization. These three leaders are HCP, Inc. (NYSE:HCP), Ventas, Inc. (NYSE:VTR) and Health Care REIT, Inc. (HCN). While these REITs may all provide a great investment opportunity, the perks of investing in a small-cap healthcare competitor may be more rewarding.
Small Cap REIT Advantages
Small-cap stocks in general offer several advantages over their larger counterparts. As such they may offer higher yields, greater long-term gains and a higher total return. Here are a few advantages small-cap REITs retain versus their larger peers:
Higher yield versus larger REITs.
Lower visibility or market presence to investment community equates to disconnect between price and fundamentals.
Thinly-traded versus peers, demand will increase with growth.
Lower analyst coverage equates to less investors, growth leads to more coverage thus an increase in demand.
Target for larger suitors as price disconnect offers value.
Small-Cap REIT Disadvantages
Less diversification among the asset class, too much concentration in one subsector equates to higher risk.
Less geographic distribution of properties, more concentration on particular region/state draws an increase in risk.
Higher beta/volatility leads to price swings greater than peers.
Lack of information available by analysts, rating agencies and company itself.
Ranking The REITs By Market Cap
In ranking the REIT stocks, there is a common thread between market capitalization and yield. As all REITs are oriented toward income-generation and use the same business model, it can be observed that with smaller companies there is a larger risk. In this case, the market requires a lower valuation and higher yield.
Below is a proprietary REIT market capitalization and yield association chart. Note that the definitions of cap size vary from the general market definition, which is largely attributed to the market-cap range of REITs, inflation and the REIT market cap and yield association observations which do not occur in the general market. In this chart, a small-cap REIT is one valued between $2 and $8 billion.

The Contenders
Currently there are three REITs that fit the bill of a small market cap and a focus on healthcare. These companies are established players with diverse holdings spread throughout the country.
1. Omega Healthcare Investors (NYSE:OHI)
Based in Maryland, Omega Healthcare Investors is a play on the aging demographic. The company portfolio consists of 400 healthcare facilities, of which over 90% are skilled nursing facilities (SNFs), also known as nursing homes.
2. Healthcare Trust of America (NYSE:HTA)
This Scottsdale, Arizona, company invests in high-quality medical office buildings, specifically those on highly-recognized campuses located in major U.S. metropolitan areas. The company owns properties in 27 states across the country, however is specialized with a 90% weighting in the medical-office subsector.
3. Healthcare Realty Trust Incorporated (NYSE:HR)
Healthcare Realty Trust is based in Nashville, Tennessee, and owns medical office buildings (MOBs) and outpatient facilities in 28 states. HR holds 82% of their assets in MOBs and outpatient facilities.
The Common Bond
All three of the small-cap healthcare REIT competitors have a common thread - they are all highly specialized in one particular area of the healthcare space. Rather than diversify between SNFs, hospitals, MOBs, senior housing and life science buildings as their larger competitors do, they each specialize in one niche.
While less of an asset distribution among healthcare sub-sectors increases risk, specialization can also be a good thing. By using a few simple and trusted metrics, the investor can rate the investability of these REITs to see if they are in fact healthy to run the distance.
Rating The Contenders
In rating the smaller REITs, stability and dividend growth prospects can be understood using metrics derived from key data that is accessible to investors. One metric imperative to REITs, the FFO (funds from operations), is often measured in terms of a multiple (Price/FFO). FFO is also analyzed for trends and measured against dividends as a specialized REIT payout ratio. A second key metric to measure is long-term debt to equity, which showcases financial flexibility.
Part 1: FFO/Share
FFO is an imperative term to understand for REIT investors. According to Investopedia, "The FFO-per-share ratio should be used in lieu of EPS when evaluating REITs and other similar investment trusts." The TTM (trailing twelve month) FFO data on the selected small-cap healthcare contenders are showcased below.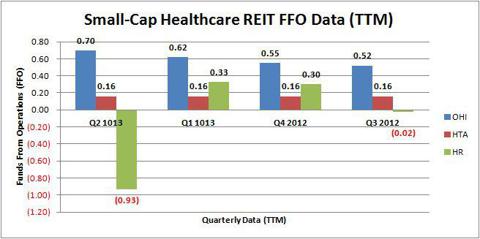 When measuring the FFO data versus the price of these select REITs, OHI is valued much lower than HTA, while HR is unranked due to a negative TTM FFO.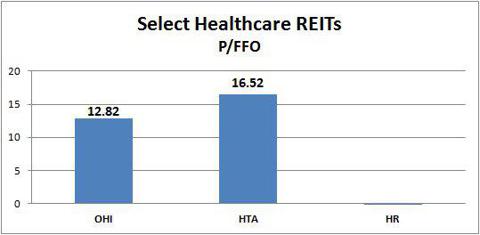 Part 2: FFO Trends
REITs that increase their FFO/share over time are likely to increase their dividends down the road. By looking at the trends over the recent four quarters, the investor can project stability, short-term FFO growth and the potential of a dividend raise.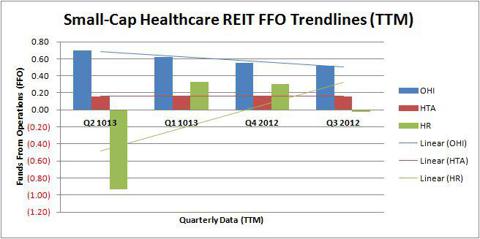 Clearly when trend-lines are established, OHI takes a leadership position with continual quarter-over-quarter FFO growth. HTA remains stable, while HR is inconsistent at best.
Part 3: FFO Payout Ratio
A low payout ratio can be a cushion in economic downturns if vacancies rise and FFO growth surrenders. A high payout ratio, however, offers the possibility of dividend cuts if vacancies rise. A payout ratio of over 100% should caution investors looking for safety in the REIT space.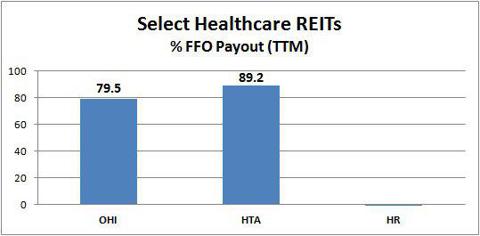 Part 4: Long-Term Debt to Equity Ratio
By measuring the long-term debt versus the market capitalization of a REIT, one can determine financial flexibility and leverage. Companies that have a debt ratio over 50% have limited financial flexibility and those over 60% could be over-leveraged.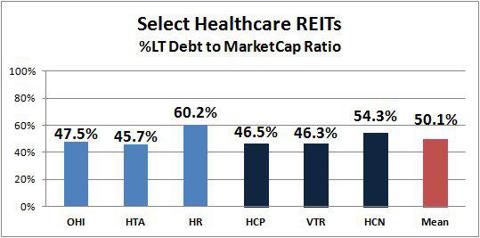 When ranked versus their larger peers, OHI and HTA have similar LT Debt/Equity ratios as HCP and VTR. HR is more aggressive, showing a 60.2% ratio that could be seen as too high. Versus the mean ratio of all six healthcare REITs (which are the largest six healthcare REITs in the U.S.), HR's ratio is 20% higher than the average.
The Basic Assessment of REIT Safety - Investabiltiy Quotient (BARS-IQ) Score
The BARS-IQ Score (1-100 points)
With the ranking weights below, the highest score a company can receive is 100 points. When added together the score is an investability quotient for investors looking for safety in the REIT space. This proprietary score is a complex yet easy-to-comprehend number that in theory allows investors a basic REIT grading system suitable to their needs.
In this study, each REIT is ranked according to different weightings on the following four criteria: P/FFO, TTM FFO stability, FFO growth (if stable, TTM), the payout ratio and the long-term debt to equity ratio. The weightings rely heavily on pricing, recent FFO stability and the LT debt/equity ratio, as these are the generally accepted mandates of REIT safety. Below the BARS-IQ algorithm is explained.
The BARS-IQ Ranking Metrics (100 Points Max)
1. P/FFO (40% weight)
REITs that are priced lower versus their FFO earn a higher score. Using a proprietary formula, a P/FFO of 11 or lower equals 40 points, while anything above 23.5 earns less than 10 points. The formula is (26.667 - P/FFO) x 2.4 = 40 points maximum.
2. FFO Stability and Growth, TTM (30% weight)
Recent FFO stability and growth are key in determining yield safety. While a dividend cut could spook investors and send the share price into a tailspin, a dividend raise will offer marginally higher pricing. 20 points for FFO TTM stability, 10 points for quarter-over-quarter growth (3 1/3 points each per last three quarters).
3. Payout Ratio (10% weight)
REITs with a payout ratio of over 100% are a higher risk to the investor as it is unstable over time. 8 points for a payout ratio under 100%, 10 points under 95%. A company with a negative TTM FFO receives no points.
4. LT Debt/Equity Ratio (20% weight)
REITs that are over-leveraged risk default on debt or bankruptcy in a sharp economic downturn. While such a crisis is often difficult to forecast, REIT safety is measured here using a proprietary formula where a ratio of 42.6% or below equals 20 points and only ratios under 60% earn a positive score. The formula is (60 - LT debt/equity) x 1.15 = 20 points maximum.
The BARS-IQ Score of the 3 Small-Cap U.S. Healthcare REITs
The BARS-IQ scores of the U.S. small-cap healthcare REITs fall into a range of -0.23 to 90.07.

The Passing RIPE-IQ Scores
The highest score is Omega Healthcare Investors, with HTA coming in second. Both companies passed because they all have a solid recent year of FFO stability, a payout ratio under 60% and acceptable long-term debt/equity ratios.
Omega Healthcare Investors is the only company that received an A ranking, with a score of 90.07. Healthcare Trust of America fell behind OHI with a C grade, just passing the BARS-IQ with a score of 73.86. Also, HTA was lower due to a higher P/FFO multiple. With more favorable market pricing as well as consecutive quarterly FFO growth, HTA could grade higher in the future.
The RIPE-IQ Low Score
The lowest score is an F grade from Health Care Realty Trust. With a negative TTM FFO, the company could only achieve a score through a favorable debt to equity ratio. Unfortunately, the HR debt to equity ratio was above 60%, thus showcasing limited financial flexibility and short-term risk. To pass our test, these REITs need to show a positive TTM FFO. HR is stuck in a rut. To pass the BARS-IQ test, HR will need to achieve at least four quarters of FFO earnings that are positive, while responsibly assessing its financial debt issues.
Conclusion
With a little research, investors are able to select REITs that make long-term sense in their portfolio. The BARS-IQ scores here showcase small-cap healthcare REITs that are investable. Those with a passing RIPE-IQ grade are REITs that have attained positive FFO numbers for the trailing twelve months and are leveraged well financially.
For further insight into the three mid-cap healthcare REITs discussed here (HCP, VTR and HCN), please read The Top Mid-Cap U.S. REITs For Income Investors.
To learn more about the healthcare secular-growth trends in the U.S. and select REITs that may benefit, please read 7 Secular Growth REITs to Generate Income Now.
Disclosure: I have no positions in any stocks mentioned, and no plans to initiate any positions within the next 72 hours. I wrote this article myself, and it expresses my own opinions. I am not receiving compensation for it (other than from Seeking Alpha). I have no business relationship with any company whose stock is mentioned in this article.