A decreased unemployment rate coupled with persistently low interest rates has helped to revive the U.S. housing sector. A recovering housing market, decreasing unemployment and improved labour market conditions have played a vital role in boosting consumer confidence and consumer spending.
The housing recovery has sparked an upturn in spending on home goods and has boosted the performance of many related industries. One such industry enjoying a boost from the housing recovery is the consumer electronics industry. The shift in consumer spending this year has resulted in excellent quarterly results from consumer electronics retailer Best Buy Co. (NYSE:BBY) as spending increased on home appliances, tablets, smartphones and other big ticket items.
Last year, Best Buy delivered a series of disappointing results causing investors to leave and the company's stock to fall down to a level not seen in more than a decade.

Source: Y-charts
Best Buy is the nation's largest big box electronics retailer and has had quite an impressive run this year; shares were up by more than 110%. This can be attributed to the company's new CEO Hubert Joly and his efforts to revitalize the business with his "renew blue" turnaround plan. Best Buy is a multinational, e-commerce and physical retailer of consumer electronics with two operating segments: domestic and international.
Recent Performance
Second-quarter results for Best Buy were mixed. The company experienced a 0.4% decline in year-over-year revenue due to weaker same-store sales. On the other hand, online sales rose to 10.5% year over year due to increased traffic and high order values. Online demand increased to more than 16%. The company has changed its focus to that of the CEO's new initiative known as "Renew Blue." This new initiative is accelerating online growth, increasing revenues and gross margins per square feet, driving down cost of goods sold as well as reducing selling, general and administrative expenses.
During the second quarter of fiscal year 2014, the company has been successful in taking on some of the priorities of new initiatives. The company's progress includes a 10.5% increase in its domestic online sales growth, a $65 million reduction in the company's annualized cost and a 0.3% reduction in selling, general and advertising expenditures. Due to the success of the company, analysts have increased the earnings forecast for the company's full-fiscal year 2014.
Online sales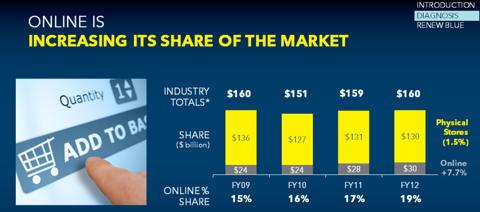 Source: Company's Presentation
As technology continues to evolve, more customers are shopping online, and retailers are strengthening their e-commerce operations in order to cater to the increasing online traffic. Best Buy has never been particularly strong in terms of e-commerce. The company's website gets a billion annual visitors but the company is only able to convert 1% of visitors into buyers.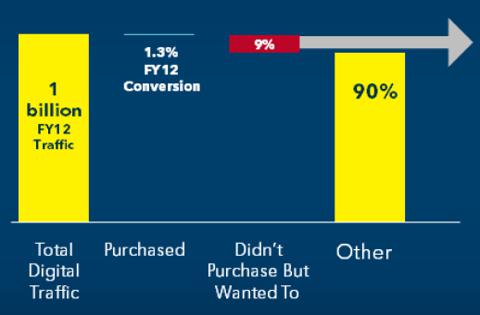 Source: Company's Presentation
Nine percent of customers wanted to make a purchase but refrained from doing so due to product unavailability, high prices and prolonged shipping periods. In order to deal with these issues the company decided to offer its products online at prices lower than its competitors.
In order to increase its online sales, the company's CEO is aggressively hiring tech workers to reinvent the company's website. Product views and shopping guides are being added to the website and a new search system was introduced earlier this year. The website would also be able to recommend additional shopping items to customers based on their search history.
In order to boost online revenues and product availability on the company site, Best Buy is planning to introduce 1000 in-store mini warehouses in its 1000 stores across the US. This would allow shipping products directly from stores and avoid missing revenue opportunities previously caused by lack of product availability. Enhancing its online services would bode well for the future of the company. Best Buy's CEO has a plan to double its online U.S. consumer electronics sales to 18% with all these changes and I believe the company will definitely be able to accomplish this.
Growth Opportunities
It's been hinted that Google (NASDAQ:GOOG) will partner with Best Buy and is expected to rent 6000-square-feet inside of every Best Buy store in the U.S. to promote and sell its highly anticipated "Google Glass," which is expected to launch next year. The reason behind the Google and Best Buy partnership is that Google wants to give customers an opportunity to try out the merchandise before buying. It is expected that Best Buy would earn $5 billion in revenues from leasing the space to Google annually.
Earlier this year, Samsung Electronics (OTC:SSNLF) announced its unique relationship with Best Buy. Samsung seeks to install "The Samsung experience Shop" in more than 1400 Best Buy stores across the U.S., in order to provide customers with the ability to purchase, explore and experience the broad variety of Samsung mobile products and accessories.
The potential partnerships with Samsung Electronics and Google, and an attempt to increase its online sales market share would bolster Best Buy's revenue for the next two years. This would also serve as a catalyst for the future development of the company.
In order to capture some market share of the newly released iPhone 5C, Best Buy has dropped its price to $50 just two weeks after its launch. The company is offering this through a $50 gift card to trim its $99 regular contract price. This move by Best Buy would result in a better deal than competing offers. By using the iPhone 5C, Best Buy is trying to entice customers and encourage more traffic to its stores.
Conclusion
The online consumer electronics market presents a huge growth opportunity for retailers. Best Buy's online business is still a work in progress but still accounts for a significant portion of the revenue of the company. Best Buy still has a long way to go before it can call itself the largest e-commerce retailer but its recent performance has at least restored investors' confidence.
Improvement in the housing sector would result in an increase in sales for Best Buy. Also, the company's partnerships with Samsung Electronics and Google would boost revenue growth in the near future. The company's plan to enhance product availability is also an advantageous move toward increasing its online revenue market share. On the basis of these developments I would recommend buying the stock.
Disclosure: I have no positions in any stocks mentioned, and no plans to initiate any positions within the next 72 hours. I wrote this article myself, and it expresses my own opinions. I am not receiving compensation for it (other than from Seeking Alpha). I have no business relationship with any company whose stock is mentioned in this article.