The full service restaurants industry has been going through a tough time due to the struggling economy. A consumer spending rebound in mid 2013 was positive news for this industry. However, there are customers who are still reluctant to part with their money plus the rising health concerns. The recent shutdown of the US government has also had an adverse impact on this industry. Darden Restaurants (NYSE:DRI) is an active player in this industry. Let's take a look at how this company has been tackling its way out of the recession and its future growth prospects.
Company profile
Darden operates in the full service dining segment of the restaurant industry, primarily in the United States. It operates restaurants under the Red Lobster, Olive Garden, LongHorn Steakhouse, The Capital Grille, Bahama Breeze, Seasons 52, Eddie V's Prime Seafood, and Wildfish Seafood Grille brand names. As of September 24, 2013, it owned and operated roughly 2,100 restaurants.
Historic financial performance
Revenue growth
Source: Darden's SEC Filings
Overall, the company has posted healthy revenue growth over the last five years with the exception of the year 2010. The company's top line grew at a 5 year CAGR of 5.23%. This is quite reasonable keeping in view the recessionary phase that the US economy was undergoing during the last five years. The year 2010 saw a negative revenue growth of 1.4% primarily driven by the impact of the 53 operating weeks in fiscal year 2009 and the combined same restaurant sales decrease for Olive Garden, Red Lobster and LongHorn Steakhouse. U.S. same restaurant sales for Olive Garden declined by 1.0% due to a decrease in same restaurant guest counts by 3%. Similarly, annual U.S. same restaurant sales for Red Lobster decreased 4.9% due to a fall in same restaurant guest counts by 6.3%, partially counterbalanced by a 1.4% increase in average guest check. Same restaurant guest counts had dropped by 4.2% for LongHorn.
The company had achieved positive revenue growth by increasing same restaurant sales in an attempt to improve restaurant earnings because these incremental sales provide better leverage of the fixed and semi-fixed restaurant level costs. Same restaurant sales increases were achieved by Darden through increases in guest traffic, increases in the average guest check (as shown in table below), and/ or a combination of the two.
Source: Darden's SEC Filings
In 2011-12, the rate of revenue growth continued to rise. Increase in sales from continuing operations for fiscal year 2012 was driven by the acquisition of 89 new company owned restaurants plus the addition of 11 Eddie V's purchased restaurants, and the 1.8% blended same restaurant sales increase for Olive Garden, Red Lobster and LongHorn Steakhouse. During the period 2010-2012, average check per guest also continued to increase which was one of the reasons for Darden's revenue growth.
In 2013, revenue continued to increase with higher rigor despite the slight decline in average revenue per guest. The 6.9% increase in sales from continuing operations for fiscal year 2013 was driven by the addition of 104 net new company owned restaurants and a 2.1% blended same restaurant sales increase for The Capital Grille, Bahama Breeze and Seasons 52. Sales growth also reflected same restaurant sales increases of 3.3% at The Capital Grille, 1.2% at Seasons 52 and 0.2% at Bahama Breeze. Average annual sales per restaurant for The Capital Grille, Bahama Breeze, and Seasons 52 were $7.0 million, $5.5 million and $6.2 million in fiscal 2013 compared to $6.8 million, $5.6 million and $6.4 million, respectively, in fiscal 2012.
Margins
The company's operating margin followed a rising trend initially which reversed from 2012 onwards. The operating margin continued to decline despite the rigorous increase in the company's top line. The major factors contributing to this fall included restaurant labor costs, restaurant operating expenses and administration expenses. As a percentage of sales, restaurant labor costs increased to 31.5% in fiscal year 2013 from 31.3% in 2012 as a result of wage rate inflation and lost sales leverage. Similarly, labor expenses had gone up to 15.7% of sales in 2013 compared to 15% in 2012 owing to Yard House's higher restaurant expenses after the acquisitions and lost sales leverage. Sales, general and administrative expenses also increased proportionately due to higher media costs and acquisition and integration costs related to acquisition of Yard House.
Fixed charge coverage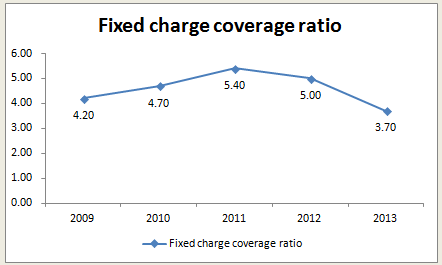 Source: Darden's SEC Filings
Fixed charge coverage ratio signifies the restaurant's ability to satisfy fixed expenses as it is obligated to meet these expenses regardless of its operating rate. Therefore this means that by calculating the fixed charge coverage ratio, we can ascertain the restaurant's ability to pay its fixed costs in case Darden is unable to perform well in the coming years.
The ratio continues to deteriorate for Darden as fixed costs have been increasing more rigorously compared to its earnings. In fact, the year 2013 saw a decrease in consolidated earnings along with an increase in fixed costs. Lower ratios are not good for the financial health of Darden. It is because the lower ratio suggests the restaurant's incapability to sustain against the fixed charges. In simple words, the restaurant is not earning sufficiently to pay off the liabilities and thereby creates a risk of insolvency should business activity decline.
Valuation
The company has been quite generous in returning value to its shareholders in the form of annual dividends. Hence, I have chosen dividend discount model to calculate the intrinsic value of this stock.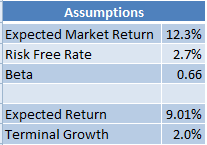 The above table shows the computation of the cost of equity and the growth assumptions. CAPM has been employed to calculate the required return. The model presumes a market return of 12.28% (return of S&P 500 in the post financial crisis period) and a risk free rate of 2.74% (10 year Treasury bond yield). The beta of the company is currently 0.66. Employing the formula of CAPM gives a required return of 9.01%.
The table above shows the calculations of the dividend discount model. Dividends are not expected to grow in the intermediate term while the long term growth rate is assumed to be 2% once the US economy stabilizes. Using these assumptions, I have employed a two stage dividend discount model that uses a negative growth rate in the first stage (five years) and the long term growth rate in the second stage (terminal growth). Thus, a target price of $23.27 per share was derived by applying the dividend discount model which indicates a downside potential of 53.05%.
The negative growth in dividends has been taken on the base of following future industry outlook for restaurants. The full service restaurant industry is currently experiencing a low revenue growth phase and may have reached market saturation. The limits of population size and growth within a city that can support a number of competing restaurants are being reached. Competition for prime operating sites is also quite high.
Some important market changes are also happening as demand for smaller portions and healthier food choice increases. The market is switching from high-calorie, high-salt and super-sized meals as awareness of the obesity related problems rises. This industry may also see its customers switching to ready to eat foods due to time constraints.
In the midst of the negative industry outlook and the restaurant being overvalued based on dividend discount valuation, I believe this stock is a perfect short sell.
Disclosure: I have no positions in any stocks mentioned, and no plans to initiate any positions within the next 72 hours. I wrote this article myself, and it expresses my own opinions. I am not receiving compensation for it (other than from Seeking Alpha). I have no business relationship with any company whose stock is mentioned in this article.