Amgen's (NASDAQ:AMGN) Nplate, was the first biotherapeutic to get approved for the treatment of low blood platelet counts in adults with chronic immune thrombocytopenia.
Immune thrombocytopenic purpura (ITP) is a disorder that can lead to easy or excessive bruising and bleeding. The bleeding results from unusually low levels of platelets, the cells that help the blood clot.
ITP affects both children and adults. In children, idiopathic thrombocytopenic purpura usually runs its course without the need for treatment. Adults, however, may contract a chronic form of the disease and symptoms could become troublesome.
Traditional treatment for adults with the chronic form of the disease consists of either immune suppressing medications like corticosteroids or Roche's (OTCQX:RHHBY) Rituxan (Rituximab). If symptoms persist, surgical removal of the spleen, splenectomy, might be required.
Amgen's Nplate (romiplostim) and GlaxoSmithKline's (NYSE:GSK) Promacta (Eltrombopag) are two recently approved medications from a new class of therapeutics called Thrombopoietin Receptor Agonists. They work through helping the bone marrow produce more platelets, which can prevent bruising and bleeding.
The FDA approved Nplate in August 2008 and Promacta in November the same year. Initially, Nplate dominated the market and the drug is expected to achieve $400 million in sales in 2013.
However, in November 2012, the FDA extended Promacta's approval to include supportive care treatment for patients with thrombocytopenia with chronic hepatitis C, and Promacta took off.
We've examined recent global quarterly sales for the two medications to try to figure out the impact of Promacta's new thrust on potential Nplate's sales.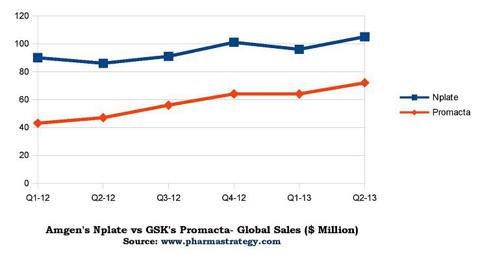 Nplate realized revenue of $370 million and Promacta realized $210 million, globally in 2012. Looking at recent quarters' sales it seems that Promacta is giving Nplate a run for its money.
Promacta is an orally delivered small molecule drug, as opposed to Amgen's injectable formulation, so Promacta is more convenient to deliver. If head-to-head clinical investigation proves the two equally efficacious, which seems quite the case based on clinical data, then we might expect an interesting catch up game developing in this space.
Both molecules are designated as orphan drugs due to the fact that the chronic ITP population is under 200,000, in either the US or Europe. So, the race will be won either on clinical merits or marketing acumen.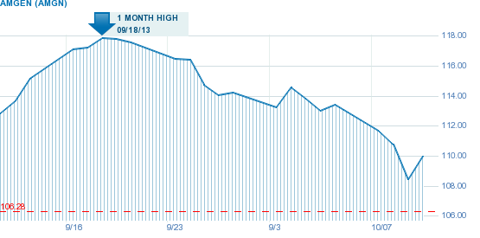 | Company | Ticker | P/E | P/S | Mrkt Cap |
| --- | --- | --- | --- | --- |
| Amgen | AMGN | 18.5 | 4.8 | $83 Billion |
| GlaxoSmithKline | GSK | 19.3 | 2.3 | $122 Billion |
Amgen has been under some pressure recently and the stock is down 6.5% from its peak for the month. However, it seems there is some movement towards a rebound.
Nplate contributed only 2% to Amgen's total revenue, so the impact of a slowdown in sales is unlikely to affect Amgen's overall performance. However, in this current environment of cost-cutting and layoffs, every percentage of market share surely counts.
Nplate and Promacta are the only two approved medications in this therapeutic class. They offer patients, who failed other treatment protocols, both relief from symptoms and hope for a complete cure.
I guess it would be appropriate to give both companies thumbs up for their R&D efforts and wish them luck in their competitive race. Another company that might stand to benefit from this race is Ligand Pharmaceuticals (NASDAQ:LGND), which co-developed Promacta with GSK and receives royalty payments with every package sold.
Disclosure: I have no positions in any stocks mentioned, and no plans to initiate any positions within the next 72 hours. I wrote this article myself, and it expresses my own opinions. I am not receiving compensation for it (other than from Seeking Alpha). I have no business relationship with any company whose stock is mentioned in this article.