Overview of Wabash National Corp (NYSE:WNC)
Wabash National Corporation is a leading manufacturer of truck trailers in the US. The company is comprised of three product lines: Commercial Trailer Products (Dry & Refrigerated Vans, Platform Trailers, and Fleet Used Trailers), Diversified Products, through recently acquired Walker Group, and existing Wabash Composites, and Wabash Wood Products, and lastly Retail, servicing new and used truck parts, services, and sales. Given the company's tailwinds and expanding profitability, the stock represents a reward/risk ratio as high as 7:1.
Investment Thesis & Catalysts
My investment thesis is based on three catalysts: The continuing tailwinds provided by the North American trailer cycle, the company's ability to drive profitability and margin expansion, and the benefits from diversification through product expansion and acquisition.
Thesis One: The improving tailwinds from the trailer cycle.
Transportation in the US is a highly cyclical industry. According to the American Trucking Association (ATA), US Trucking was an estimated $604 billion industry in 2011, representing approximately 81% of the total transportation industry revenue. Trailer demand is a direct function of the amount of freight being transported. As the economy improves, ATA estimates that the percentage of freight tonnage carried by trucks will grow to be 70% by 2023, from 67% in 2011. In 2006, according to the ATA statistics, freight tonnage began to decline and remained at depressed levels through 2009, concluding an 89 month cycle. 2011 and 2012 were years of significant improvement in which the total trailer market increased year-over-year approximately 69% and 12%, respectively, with annual shipments of 213,000 and 239,000, respectively. While 2013 is obviously not the precise bottom of the trucking cycle, there are still demand factors that could drive the stock higher over the next several years. According to company filings and presentations, the general market overview can be characterized as one with strong demand due to the average age of the current truck trailer fleet reaching an all-time high of nearly 8.3 years against an average annual life of 10 years. Since 2008, the fleet population has decreased by over 10%, and the industry has experienced 3+ years of significant under buying (2008-2010). Historically, industrial production has peaked between 250-300K annually, a level not seen since pre-crisis. Industry forecasts provided by WNC call for a maximum annual demand of approximately 256K in 2014, however this would significantly lag the two most recent production cycle peaks. These factors combine to provide continued demand for purchase of additional trailers by end users.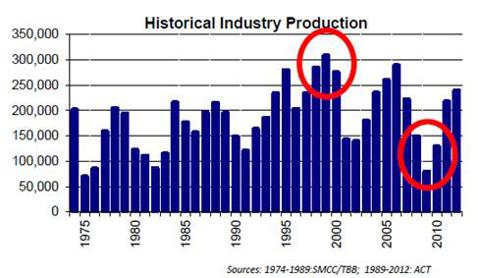 Importantly, there are also regulatory initiatives in place. The 'Hours of Service' rule and CSA 2010 are increasing trailer purchase demands as driver's work weeks have been reduced to 70 hours from 84. In response to this, management notes an increase in 'drop and hook' activity, where a driver detaches from one trailer and attaches another, which will necessitate additional trailers (source: CSIMA).
Thesis Two: Improving profitability, margins, and cash flows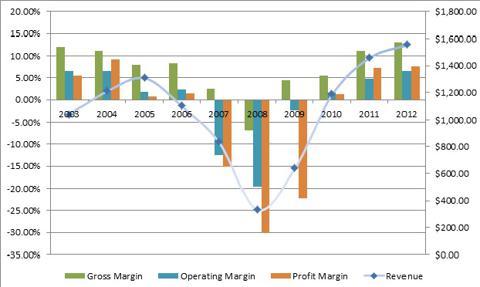 A few years ago, Wabash management raised prices, caused an initial drop in volume. However, it claims now that customers who initially balked at the higher prices have begun to return, providing a boost in margins. Additionally, the company has hedged its exposure to wood and rubber prices by implementing escalators in customer contracts. Long term, the company is forecasting gross margins greater than 13% and EBITDA margins greater than 10%, against TTM Gross and EBITDA margins of 13.18% and 6.5%.
Thesis Three: Product Diversification
In order to protect and expand competitive advantages, the company in 2007 introduced initiatives to further expand the company's product offerings. The acquisition of Walker is most notable, as it gives Wabash exposure to the liquid transportation segment and Walker's 25%+ gross margin operating environment. The acquisition was completed as an all-cash transaction, with Wabash acquiring Walker on a cash-free and debt-free basis, with estimated annual synergies over $10M. Overall, Walker's #1 position in liquid transportation systems complements Wabash's #1 positions in dry can semi-trailer manufacturing in North America. Other benefits include access to Walker's blue chip and non-overlapping customer base and expansion into attractive end-markets such as chemicals, dairy, food & beverage, energy, aviation, and pharmaceuticals.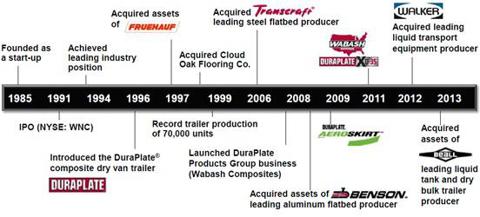 Competitive Environment & Demand
The below table from Wabash's most recent annual filing states new trailer production as provided by Trailer Body Builders. It includes Wabash's biggest competitors in the trailer industry in North America. As you can see, Wabash has consistently been near or at the top of the list on an annual production basis. It should be noted that Wabash primarily participates in the van trailer segment, the largest segment within the trailer industry, which has seen demand grow from approximately 52,000 trailers in 2009 to an estimated 163,000 in 2012.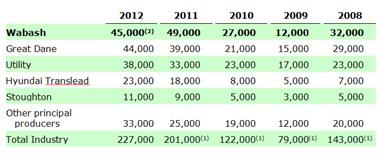 Source: 10-K
Competitive Advantages
In order to protect company market share, Wabash relies on several key competitive advantages:
Long Term Core Customer Relationships - According to Transport Topics, Wabash's van products are preferred by many of the industry's leading carriers with customers including approximately half of the top 50 and one-third of the top 100 for-hire fleets. Additionally, Wabash will benefit from the Walker acquisition, as a leading provider of liquid transportation systems and engineer products. Walker also provides Wabash with an estimated one-third market share of the tank trailer industry.
Significant Market Share: Clearly, the Walker acquisition has significant implications for market share and brand recognition. According to data published by Trailer Body Builders Magazine, the Transcraft subsidiary is one of the top three leading producers of platform trailers. This combines well with Wabash's position as one of the largest manufacturers of stainless steel and aluminum tank trailers in North America through the Walker and Beall acquisitions.
Innovative Products: Wabash's DuraPlate proprietary technology allows the company to offer a superior product according to management. A DurePlate trailer has several advantages over standard trailers that include extended life service (operate 3-5 years longer), lower total cost of ownership (less costly to maintain), less downtime (higher utilization for fleets), extended warranty (10 years), and improved resale (higher trade-in and resale values).
Overview of Company Financials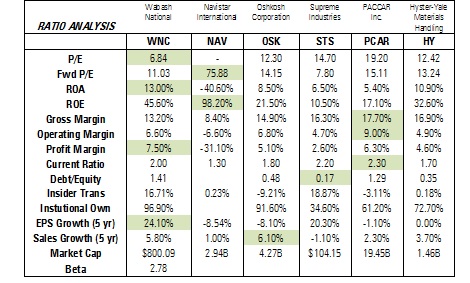 Relative to Wabash's peers, it trades at the lowest P/E, with very strong returns on assets and equity. Margins across the board are very strong and have been trending higher the past few years. While Wabash is significantly more levered than its peers, it is very liquid, as evidenced by a 2.0 current ratio and Interest Coverage ratio of 3.4 (below). Also, recent insider activity has been strong over the past six months, as evidenced by a net +16.71% change in insider share purchases.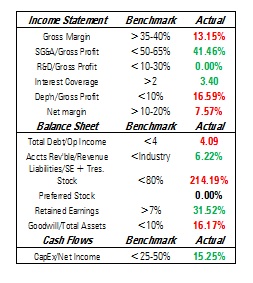 Looking at firm-specific benchmarks, representing subjective thresholds I created, a couple things jump out. The first is the relatively high proportion of goodwill as a percentage of total assets. While not incredibly significant figures, this is still a negative as an amortized asset. The same goes with depreciation. However, neither of these non-cash charges are significant enough for me to discard Wabash. One positive that sticks out is Accounts Receivable as a percentage of sales. This figure is very low, representing a high degree of cash transactions that in no doubt benefit the company's ability to consistently generate free cash flows.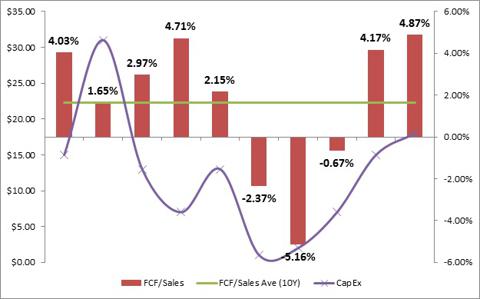 Speaking of free cash flows, I typically consider a ratio of FCF/Sales greater than 5% to be a sign of a very efficient company. Over the last ten years, the company has averaged less than 2%, however, the company has converted over 4% of sales into FCF the last two year amidst a strengthening environment.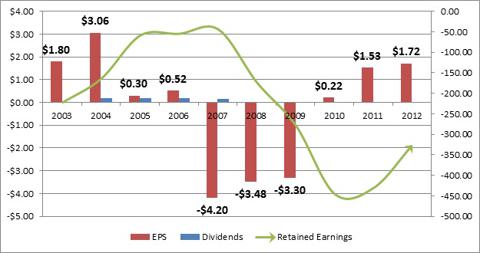 In terms of dividends, the company has not paid a distribution since 2008. Given the fact that the company is now both FCF and EPS positive, with a rising trend in earnings per share and strengthening cash position, it would not surprise me to see a dividend reinstated in the near future.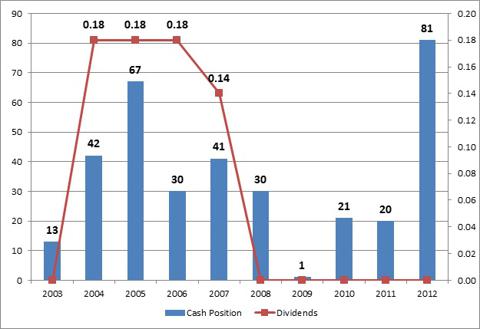 Valuation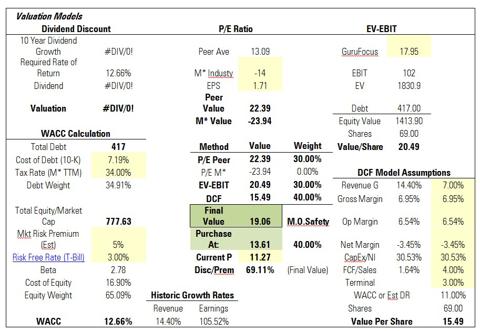 Based on a P/E, EV-EBIT, and DCF Model, a weighted average valuation of $19.06 is calculated. Given a share price of $11.27 at the time of this writing, this represents a 70% upside. The DCF model assumes a 7% 10-year revenue growth rate and a 4% FCF/Sales figure. The current average 10 year revenue growth rate is over 14%, so this is a relatively conservative model, yielding a 15-16 dollar valuation, still a 30% premium to current prices.
On the downside, the stock currently trades less than 8% from its 52 week high and contains inherent volatility risk as a small cap stock with a high beta. According to Morningstar, the stock currently trades at discounts to the Truck Manufacturing industry in terms of TTM P/E, P/B, and P/S. This could mean investors feel this is an inferior company and demand a higher risk premium for holding the stock. More likely, the stock was decimated during the crises and has been slow to fully reflect the value of the company given the advantages and thesis throughout this article.
For those of you technical traders, the stock displays clear resistance-possibly-turned support levels at $11. Also, a longer term cup and handle formation since early 2012 has formed with a breakout at current prices. This greatly limits downside risk on a technical aspect. Further, given the discounts on a fundamental multiple basis, I believe the downside is capped to no more than 5-10%, representing an easy 3:1 reward/risk ratio, and as high as 7:1.
Source: FinViz
Before purchasing a stock, I also like to review what Funds and Institutions own the stock. Below are two tables from Morningstar that display Fund and Institutional activity: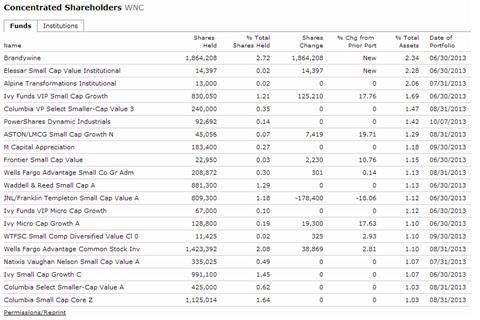 As you can see, there a couple new positions as well as several net additions by mutual funds, against just one net seller. Most of these funds are in strong families such as Wells Fargo, Ivy and Waddell & Reed.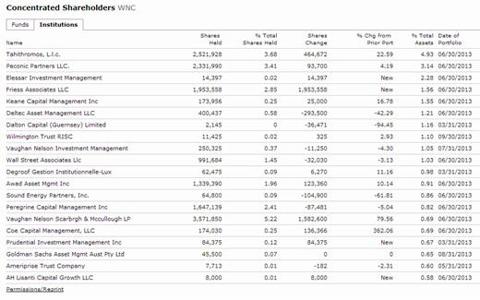 On the institutional side, top holders have initiated new positions or are mostly net buyers. These two suggest that there is institutional momentum coming for the stock. While the stock already has a high institutional ownership base, at over 96% according to FinViz, net buying over the past year while the stock traded between 9.50 and 10 leaves a great amount of potential upside left in this stock at current prices.
Conclusion & Recommendation
The market does not appear to be fully reflecting the recent acquisition activity nor the cyclical upswing since 2009. The stock did recover from low single digits to roughly $10 in 2010, but since then has traded between $5 and $10, only reaching $11 on three monthly occasions. Based on a valuation using historical and TTM figures, I believe Wabash's stock warrants a higher price, closer to $16, and as high at $19.
Wabash should be able to capitalize on strong industry tailwinds and acquisition synergies to further improve profitability through margin expansion. There are clear incentives for increasing demand across the company's products, which should bode well for future revenues. With the stock trading at a significant discount to intrinsic value, the risk /reward ratio in this investment is incredibly favorable. Given the current market environment, I would consider a position on weakness.
Disclosure: I am long WNC. I wrote this article myself, and it expresses my own opinions. I am not receiving compensation for it (other than from Seeking Alpha). I have no business relationship with any company whose stock is mentioned in this article.
Additional disclosure: I originally wrote this article prior to a position in WNC, since then I have initiated a position around $11.27.