There was a great moment in the recent hit movie "World War Z," when Brad Pitt is meeting with a Mossad agent asking how they knew something was coming (a zombie apocalypse) and began preparing. The Mossad agent explains to him the 10th man rule:
To avoid unwanted surprises like The Yom Kippur war with Egypt and Syria in 1973, Israel had instituted a policy known as "the tenth man."

It goes like this:

When nine people agree on something, it's the tenth man's responsibility to disagree no matter how improbable the idea.

When the email came through that zombies were on their way, the tenth man proposed that they prepare for a zombie invasion, no matter how ridiculous the idea seemed.
So as crazy as it may seem, this is a great lesson for the financial industry, especially since many times investors end up moving money around in a type of "group think - follow the crowd - here comes the zombie hoard."
J.C. Penney is (NYSE:JCP) is one company where I see a lot of people proclaiming its imminent bankruptcy with no hope of recovery. In essence, here comes the zombie hoard. So I'll take this opportunity to be the 10th man, and disagree with everyone else, even though the thought of JCP recovering may be improbable.
The new board member
Ron Johnson was brought in from Apple and charged with turning the company around. Unfortunately, his efforts failed to gain momentum, and investors and a board expected results faster than he could turn them. After he left, the board brought in Mike Ullman, the former CEO, who also has connections to Starbucks and Saks.
This past week it brought in Saks (NYSE:SKS) CEO Stephen Sandove to join the board, and released the following statement:
"Steve built luxury retail chain Saks Fifth Avenue into one of the world's most prominent fashion retailers today. He also boasts a distinguished marketing and consumer products career spanning over 25 years."
The inclusion of people close to a retailer that has thrived over the past four years should be a good sign to investors. Both companies are in the same industry, however SKS represents a higher-end luxury brand. I don't believe the company's executives will be able to bring JCP up from a middle class mall anchor to the same level of luxury that SKS enjoys, but the same principals of sales, advertising and supply chain basics will carry over.
Many of JCP's problems stem from the economic down turn, but can also be directly traced back to management inefficiencies. By bringing in a new management team, the board is hopeful it can still right the ship and get it back on course.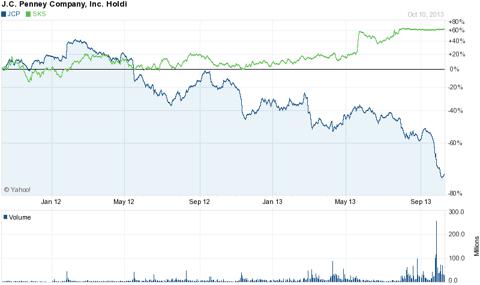 The upcoming holiday season
While the government is shut down, and with some of the normal avenues for metrics and predictions are lagging, there are some business and financial analysts that are making predictions about the 2013 Holiday Sales season.
Dr Anthony Liuzzo, professor Business and Economics at Wilkes University, predicts retail holiday spending will increase by 3.2% this year.
The Consumer Electronics Association is predicting a 4% increase over last year, reaching $738 billion in total revenue.
The National Retail Federation, the nation's largest retail trade group, forecast that sales in November and December will rise 3.9 percent to $602.1 billion, better than the 3.5 percent increase a year ago and the 10-year average growth of 3.3 percent. However these predictions were calculated prior to the government shutdown, and could be lower.
We won't know for sure how JCP did until probably January, but most retailers earn 20% of their yearly revenue during this season. That could be a huge shot in the arm for the company, and potentially be a litmus test for how the turnaround is going.
September sales
The September sales report was not so bad. Even though it had declined 4% year-over-year, it was still better than the 9.8% decline for August. And online sales are strong, with a 25% year-over-year growth in September, and 18% online growth for 3Q13. It's still not great, but is something to be hopeful about. Every turnaround begins will small steps and increments.
Too big to fail?
I've also seen the arguments that JCP may be too big to fail, in terms of how it is an anchor store in large shopping malls. One of the first signs in the failure and decline of shopping malls from high class establishments to being overrun by crime and litter is the pull out of the anchor stores. There is an incentive for mall owners to renegotiate rents and other incentives to keep them open.
Summary
I'm not advocating putting all your money into JCP. However, as the "10th man" I feel a duty to offer a counter to the argument that JCP is on the verge of bankruptcy. The company is highly shorted with 83,522,500 shares (56% of the float) and the community feels it is about to go off the cliff. If it is able to turn around, investors could make a lot of money. My recommendation is to get in small, and watch closely how this Holiday season goes and see how the board uses its experience with SKS to change the business model.
Disclosure: I have no positions in any stocks mentioned, and no plans to initiate any positions within the next 72 hours. I wrote this article myself, and it expresses my own opinions. I am not receiving compensation for it (other than from Seeking Alpha). I have no business relationship with any company whose stock is mentioned in this article.