Ever since Frontier Communications (FTR) acquired landlines from Verizon back in 2009, it hasn't been all gloomy for the company. It enjoyed a rise in revenue in the first two years, but eventually its sizable debt started affecting its operations. There was also a rise in the interest expense, significantly affecting its net income. With Frontier expecting free cash flows around $825 million - $925 million for this year, we believe it will start reviving and experience some improvement in its financial statements this year onwards.
Need to continue reducing the debt pile
In 2009, Frontier acquired 4.8 million landlines from Verizon, which it leased to residential and small business customers. This deal was worth $8.6 billion, giving Frontier access in more than 13 states. Since then, the company's total debt took a two-fold rise, amounting to over $8 billion in 2010, and further rising to $8.9 billion in June 2012.
Presently, through the planned capital expenditure for this year, Frontier is aiming at slowly reducing its debt, by prioritizing it over its organic investments and quarterly dividends. Over the past three quarters, the company has been reducing this debt. As of the second quarter this year, the total debt for Frontier stands at $8.15 billion, which is a significant deduction, given its income levels.
This will have a major effect on the company's biggest issue, the higher interest expense. These are almost equal to 14% of its total revenue. With the decline in the debt, the interest expense in the second quarter of this year was $166.55 million, a decline from $177 million in the fourth quarter of 2012. With capital expenditure set around $625 million - $675 million for this year, we believe this strategy will help Frontier recover from this debt pile. Reducing its interest expense will provide enough to boost its net income in the coming quarters. Overall, Frontier will be able to experience better free cash flows, which may allow it to increase its dividends in the coming year to the level of $0.18 per share it had in 2011.
Peer Comparison
Free cash flow yield: Since, most of the companies from this industry distribute cash to shareholders, it's necessary to find out how efficiently the company is generating free cash flows, or FCF. The FCF yield of Frontier, Windstream (WIN), and TW Telecom (TWTC) are 0.20 times, 0.11 times, and 0.01 times respectively. Though these are not great results, when compared to each other, Frontier impresses the most with the highest FCF yield. Since TW has the lowest FCF yield, there is little hope for any cash distribution strategy in the near future.
Frontier and Windstream have both consistently distributed cash to investors in the form dividends in the past five years. When compared to peers, Windstream provides the highest dividend yield at 12.40%. Frontier isn't far behind, as its dividend yield stands at 9.50%. On the other side, industry giants like Verizon, Vodafone, and AT&T, are almost halfway behind. Their dividend yield stands at 4.50%, 5.80% and 5.40% respectively.
Over the past five years, Frontier distributed dividends worth around $312 million to $400 million every year. The company increased dividend spending to over $530 million in 2010, and around $746 million in 2011, post the huge acquisition from Verizon due to revenue rising147% in this period.
With the decline in business from 2012 onwards, the company decided to reduce dividend distribution and concentrate on organic improvements. Given the stable business in the past few quarters, we believe the company will continue distributing dividends around $0.10 per share in the coming quarters of this fiscal year too.
Meanwhile, Windstream has been consistent since 2006 in providing a quarterly dividend of $0.25 per share. The company is doing good business; it has almost doubled its total revenue to $6.16 billion in the past five years. In contrast, TW has never distributed dividends. It has undertaken share repurchase programs in the past three years. Additionally, it initiated a $300 million program in 2011, followed with a $500 million program in August this year. Windstream plans to continue this activity in the coming quarters of this year too.
Return on equity: To provide clearer picture in terms of the efficiency of these companies, we will consider the return on equity metric as a comparison tool. The return on equity of Frontier, Windstream and TW are 2.74%, 13.02% and 7.01% respectively. From the league, Windstream appears the most impressive, despite having profit margins as low as 2.44% compared to TW's 4.53%. However, the whole scenario changes when considering the domestic telecom service industry's ROE, which is presently 14.1%. This shows that none of the companies has shown great performance this year, when compared at industry level.
Enterprise value/ Revenue: We will further consider enterprise value, or EV, to revenue metric, in order to find the valuation standpoint of these companies. The EV to revenue of Frontier, Windstream and TW are 2.44 times, 2.25 times and 3.57 times respectively. This shows that Windstream is the most undervalued stock, while TW is the overvalued stock of the three. Frontier isn't far behind Windstream in terms of undervaluation. Still, Windstream looks better with less long-term debt of $5.36 billion, compared to Frontier's long-term debt of $7.9 billion. This makes Windstream a better stock in terms of EV to revenue when compared to the other two companies.
This one will improve on long-term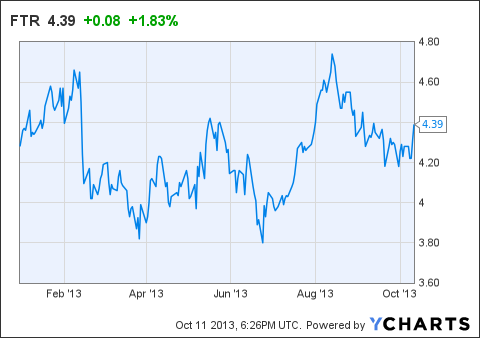 FTR data by YCharts
Looking at the stock price of Frontier on year-to-date basis, a mixed pattern is evident. It displays an increase of 1.83% on year-to-date basis, despite the 8.82% fall in February, and nearly 10% fall in June, both due to the fall in the company's total revenue in the first and second quarter of this year.
Once the company finishes dealing with the huge debt burden it will be able to concentrate more on its organic enhancement, through integrating or consolidating its three-fold business post the Verizon acquisition. With no such fundamental in the near term to provide a boost in the stock price, we do not expect any massive changes in the stock price, at least through the end of this year. However, if you are a long-term player, this surely is one stock you must have in your portfolio.
Disclosure: I have no positions in any stocks mentioned, and no plans to initiate any positions within the next 72 hours. I wrote this article myself, and it expresses my own opinions. I am not receiving compensation for it (other than from Seeking Alpha). I have no business relationship with any company whose stock is mentioned in this article.
Additional disclosure: Fusion Research is a team of equity analysts. This article was written by Rohit Gupta, one of our research analysts. We did not receive compensation for this article (other than from Seeking Alpha), and we have no business relationship with any company whose stock is mentioned in this article.