Frontier Communications Corporation (NYSE:FTR), at its current price, is one of the best buying opportunities the market has to offer. This stock is such a good buying opportunity for a number of reasons including:
A Piotroski F Score of 8 that is the second highest out of 111 companies in the Communication Services sector with a market cap greater than $50 million.
It passing our Next Generation High Potential Stock Screener that has highly outperformed the market in the past
A very competitive dividend that has provided shareholders with over an 8% yield
A significant drop in share price over the past 5 years that makes FTR highly undervalued
Frontier Communications Corporation, according to our data from AAII, is a "Communications company providing services primarily to rural areas and small and medium-sized towns and cities in the United States." The main services offered are Internet, phone, TV (provided by DISH), and protection and online security for residential and commercial customers. As of now its services are offered in 27 states with most of those states being in the Northeast and Western United States.
Piotroski Score
The Piotroski F Score (0-9) is a great measure of fundamental health within a company. On average stocks with higher Piotroski scores will heavily outperform stocks with lower Piotroski Scores. The score is calculated by awarding points based on how many conditions the stocks passes. The conditions are:
Most recent Yearly Net Income > 0
Yearly Cash Flow from Operations > 0
ROA has increased
Cash Flow from Operations > Net Income
Long-term Debt to assets is decreasing
Current Ratio is increasing
No new shares were issued
Gross Margin is increasing
Asset turnover is increasing
Frontier Communications has a trailing 12-month Piotroksi F Score of 8 out of 9. This is significant because out of the 111 publicly traded communications services companies in the world with a market cap greater than 50 million, only 12 have an F Score greater than 7. All companies in communications services are subject to relatively the same fundamental risks so this tells me that Frontier Communications is a leader in that area.
Like I mentioned earlier, stocks with higher F scores will significantly outperform stocks with lower F scores on average. Stocks with an F Score of 8 and a market cap greater than 50 million have produced a 15% annual return since 2003 while the S&P 500 has only produced a 5.5% annual return.
High Potential
Our Next Generation High Potential Stock Screener combines multiple criteria to locate stocks that will outperform the market on average. The criterion that goes into the screener includes:
A closing price between 1 and 6
An average trading volume greater than 50,000 within the past 15 days
American companies only
A positive trailing 12-month EPS
A trailing 12-month Piotroski F Score greater than 7
The stocks that currently pass the stock screen in order of market cap are Frontier Communications Corp , Crown Media Holdings (NASDAQ:CRWN), Vonage Holding (NYSE:VG), MCG Capital Corp (NASDAQ:MCGC), 1-800-FLOWERS.COM (NASDAQ:FLWS), MTR Gaming Corporation (MNTG), Alaska Communications (NASDAQ:ALSK), and Enzon Pharmaceuticals (NASDAQ:ENZN).
Why should you care that Frontier Communications passes the High Potential stock screen?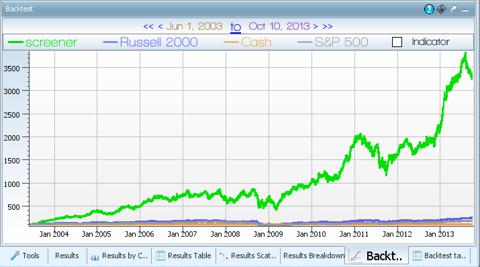 You should care because of how strong the strategy has performed versus the market in the past outlined in the back test graph above. Since the beginning of 2003, the strategy has produced a 39.87% annual return while the S&P 500 has produced a 5.5% annual return, according to our accurate back test. So if you would have bought the stocks that passed the strategy and sold them when they no longer passed the strategy with a weekly rebalance then you would have received a 30%+ return on average since 2003. Over the past year, October 11, 2012, to October 10, 2013, this strategy has produced a 70.93% return while the S&P 500 is up around 16% throughout that time.
The High Potential strategy produces such great returns because it locates low priced stocks (not necessarily small market-cap companies) that have been profitable over the past 12 months and that have good fundamentals outlined by their Piotroski F Score. When individual investors and institutions find such a company, they want to own shares with the expectations of high returns. This creates a lot of demand for the stock that on average will significantly inflate the share price.
Dividends Galore and Other Financial Highlights
FTR's current yield of 9.3% ranks in the top 2% of the entire market. Its average yield over the past 7 years is 9.9%. Although the company hasn't experienced any dividend increases over the past 7 years, it still provides long-term investors with a substantial amount of income.
After reviewing the company's second-quarter 2013 investor update I noticed the company is undergoing an initiative to decrease debt levels in the long term, and over the past 3 quarters that is what we are seeing. In Q4 of 2012 the total debt amount, according to Google Finance, was at $8.942 billion. In Q1 of 2013, that number decreased about 6% to $8.426 billion and in Q2 of 2013, it decreased another 4% to $8.158 billion.
Share Performance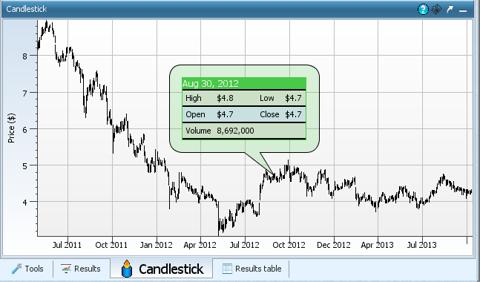 Since mid-2011 FTR has experienced terrible share price performance and declined almost 50%. Taking all things into consideration I see this poor performance as an excellent opportunity rather than a red flag. I believe this stock is now one of the best buying opportunities the market has to offer and will provide investors with significant returns over the next 3 years at least.
All Together Now
Taking all things into consideration including the minor decreases in revenue as of late and some share price dilution, the good in Frontier Communications far outweighs the bad. At its current price I believe there is significant upside in the near-term future, and I believe it has enough catalysts to create enough demand for the stock to achieve that upside.
Disclosure: I have no positions in any stocks mentioned, but may initiate a long position in FTR over the next 72 hours. I wrote this article myself, and it expresses my own opinions. I am not receiving compensation for it (other than from Seeking Alpha). I have no business relationship with any company whose stock is mentioned in this article.