With the holiday season fast approaching, Coach's (NYSE:COH) current valuation allows investors to own a strong luxury brand with enormous cash flow generating potential at a bargain price.
Continued share buybacks and a reversal of North America comp store sales declines should contribute to stock returning to double-digit earnings growth.
International growth is a major opportunity for Coach and is beginning to have a more significant effect on earnings. FY 13 results demonstrated how profitable an opportunity international expansion has become for the company.
Income oriented investors should find comfort in Coach's strong dividend yield (2.5%) and high free cash flow yield (6.3%).
While it is true competition has increased, Coach's brand transformation to a global lifestyle product company, coupled with a core focus on innovation and disciplined expense control, will allow Coach to maintain significant market share over the long term with only slight margin declines in North America.
Stock offers reasonable upside with limited downside potential at these levels.
Share Price (10/9/13): $53.86
52-Week Price (High/Low): $45.87 - $61.94
Market Capitalization (billion): $15.15
18-Month Target Price: $61
Average Daily Volume (3 months.): 3,153,720
Est'd FY 2014 Earn's (Loss)/share: $3.84
Est'd FY 2015 Earn's (Loss)/share: $4.30
Company Overview:
Coach is one of the most recognized fine accessories brands in the U.S. and in targeted international markets. Coach offers premium lifestyle accessories to a loyal and growing customer base and provides consumers with fresh, compelling and innovative products that are extremely well made, at an attractive price. Coach's modern, fashionable handbags and accessories use a broad range of high quality leathers, fabrics and materials. In response to Coach's customer's demands for both fashion and function, Coach offers updated styles and multiple product categories which address an increasing share of its customer's accessory wardrobe. Coach has created a sophisticated, modern and inviting environment to showcase its product assortment and reinforce a consistent brand positioning wherever the consumer may shop. Coach utilizes a flexible, cost-effective global sourcing model, in which independent manufacturers supply their products, allowing them to bring their broad range of products to market rapidly and efficiently. Coach offers a number of key differentiating elements that set it apart from the competition, including: A Distinctive Brand - The Coach brand represents a blend of classic American style with a distinctive New York spirit, offering a design that is known for a distinctive combination of style and function. Coach offers accessible luxury products that are relevant, extremely well made and provide excellent value.
Revenue is broken down into four key categories:
Coach Revenue Breakdown
| | | | |
| --- | --- | --- | --- |
| Category | June 2013 | June 2012 | July 2011 |
| Women's Handbags | 58% | 61% | 63% |
| Women's Accessories | 23% | 24% | 25% |
| Men's | 11% | 8% | 5% |
| All Other Products | 8% | 7% | 7% |
| Total | 100% | 100% | 100% |
*Metrics as of ending FY
Catalysts:
-Continuation of Share Buyback Program ($700 million expected for FY14)
-Strong Growth in International Markets
-Coach maintains and/or expands brand equity
-Improved trends in North American Markets (specifically women's handbags and accessories)
-Transition to open sell model (change from high-service, pressure-selling approach to a softer, hands-on approach that lets the shopper play. Technique popularized by successful Sephora)
-Multiple expansion (Currently trades at 15 P/E ratio, significant discount to peer set)
-Improving Cash Flow Yield and Dividend Yield
-Sell Side upgrades or initiations (Cantor Fitzgerald recently initiated with a buy)
Analysis of Coach's Revenue Streams
Global Handbags:
Premium handbags and accessories are some of the fastest growing segments in the overall luxury market and is where Coach generates most of its revenue. There has been a huge increase in disposable income recently with a significant number of wealthy individuals emerging overseas. This growth in income coupled with increasing female purchasing power are dramatically increasing the market size for luxury accessories. Countries like China and India with rising high net worth individuals and high female purchasing power will disproportionately boost the market growth in future years. New channels like E-Commerce or online shopping have become popular mainly driven by consumers looking for good bargains.
Recently the combined North American premium women's and men's market rose about 15% in FY '13 to about $11 billion. This market expansion should also assist Coach in maintaining its revenue growth. Domestically Coach has been moving to more outlets and heavily discounting some of its products. I do not see this as necessarily indicative of the end of the company's growth. The graph below shows that price is not a major differentiator for Coach and the outlet expansion is also consistent with a transition to a luxury lifestyle brand. Outlet expansion is also something competitor Michael Kors is pursuing with outlet growth of 28% in its most recent quarter.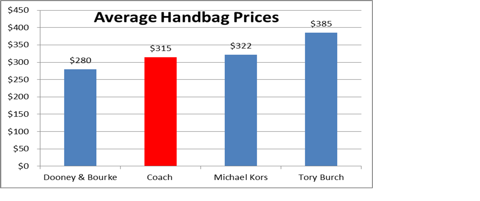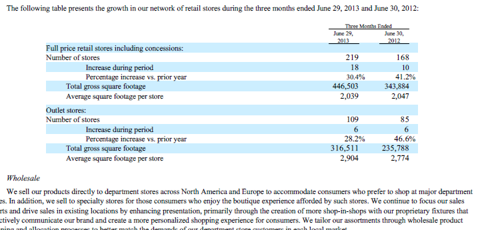 Coach has recently expanded its share of revenue from international opportunities. International sales increased 9.9% to $1.54 billion during fiscal 2013 from $1.40 billion during fiscal 2012. This growth was driven in part by strong growth in comparable store sales in China, with double digit percentage growth. In China, Coach sales exceeded $430 million. This has the potential to produce $1 billion over the long term. The Chinese consumer seems interested in Coach products as repurchase intent has remained high at over 80% among existing consumers.
Footwear and Men's Division: Footwear and Men's products represent two large opportunities for Coach. In Footwear Coach has recently focused on building its market share within the fragmented $20 billion global category. Footwear re-launched in FY '13 in 170 retail stores, footwear in these locations went to almost 12% of the business immediately and stayed up the level for the fourth quarter versus about 7% in the year ago quarter, positively impacting productivity in these stores. Coach's sales of men's bags and accessories increased 50% in North America, driving the overall men's premium category, which grew 25% to about $1 billion. On the recent earnings call management said, "Looking ahead, we remain excited about the prospects to our global men's business where we believe we can reach $1 billion in sales in three years from the $600 million achieved last year."
Competition:
The premium handbag and accessories industry is highly competitive. The company competes primarily with European and American luxury and accessible luxury brands as well as private label retailers, including some of Coach's wholesale customers. Coach is the market leader in the US luxury handbag market. Other major players include, Michael Kors, Burberry, Prada, Louis Vuitton, Gucci, Hermes and Chanel.
Coach's competitive advantages include its strong brand, innovative new designs, high quality product offering and ability to adapt rapidly to consumer preferences. I believe a luxury brand offering discounts can be done successfully if the execution is very thought out and the value offering to each type of customer is disciplined.
3 North American Earnings Scenarios:
1- Downside (Short Case): Market share loss due to increased competition with dramatic margin erosion. Stock goes to $47 (15% chance).
2- Base Case: Slight margin declines but Coach maintains U.S. market position. Stock goes to $61 (70% chance).
3- Upside Case: Coach expands U.S. market share with stable margins. Stock goes to $68 (15% chance).
I am not predicating an investment on the upside case in order to provide a margin of safety if it occurs. I look at the base case as the likely investment scenario.
Analysis of Downside Case:
Analysts and myself are in agreement on this name. We both view this as a decent upside investment with very limited downside. The lowest price target is $50 representing only 6% downside from current levels, with a high target upside of 38%.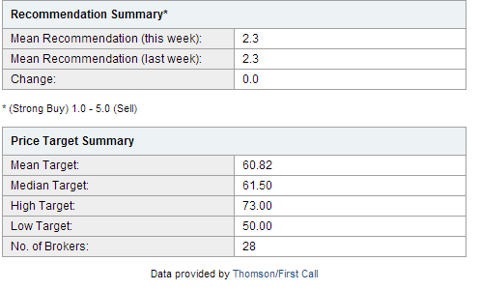 The short case is predicated on North American sales not improving (recent YOY Comp store sales decline) and outlet sales and substantial discounting (recently shifted from 20%-40% off coupons to 50% off) tarnishing the brand equity. Given the size of the markets Coach is targeting and traction is already evident in key products I see this as unlikely. Concerning brand tarnishing many retailers are flocking to outlet locations as off-price renditions of luxury department stores including Neiman Marcus, Last Call and Saks Off 5th, and more recently, Bloomingdale's Outlets. These retail brands are not tarnished by their outlet strategy, and focus on acquiring a differing customer base that would be missed out on otherwise: those seeking style at great prices. Competitor Michael Kors, as shown above, also utilizes outlets as a core sales strategy.
Valuation:
Two methods were utilized in order to value Coach. My price target places 75% weight on the discounted cash flow, and 25% weight on the comparable company analysis ($58). The weighting is such due to the differing margins, product mixes and growth profiles of Coach's competitors.
(1) Comparable company analysis

Model a 20% discount from peer group multiples given the recent loss of North America market share and recent margin concerns, which I feel is conservative given free cash flow generation of Coach is still robust.
(2) Discounted Cash Flow Analysis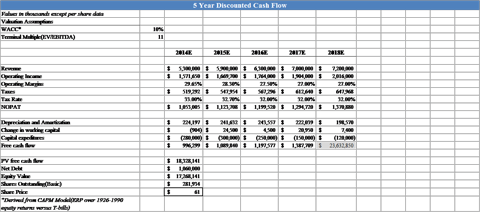 Discounted Cash Flow Yields a price target of $61
Risks:
Macroeconomic Slowdown: COACH'S sales are exclusively reliant on consumers' discretionary income and spending. Anything reducing consumer discretionary income could affect sales growth and profitability.
Foreign Currency Risk: Approximately 31% of net sales come from operations outside of North America. COACH'S international subsidiaries primarily use local currencies as the functional currency and translate their financial results from the local currency to U.S. dollars. If the U.S. dollar strengthens against these subsidiaries' foreign currencies, the translation of sales may result in decreased revenue and profits.
Increasing Competition: COACH faces intense competition in the product lines and markets in which it operates. Increased competition from KORS and other similar brands could continue to impact sales growth.
Brand Equity Declines: Fashion companies' sales are determined by sometimes fast to change consumer preferences. A material, sustained decline in brand equity could impact COACH'S valuation.
Exhibit 1: E-Commerce Review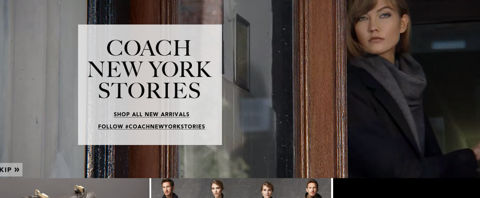 Coach appears to be managing its e-commerce transition well with an extremely well designed website. Each landing page appeals to a specific audience the company is targeting.
CEO Lew Frankfort recently discussed online engagements and improvements on the June 13 earnings call: "We made changes in a variety of areas. First, we have moved to horizontal navigation. But we have elevated photography which does include on-figure handbag shops, stronger product pages, and the alike, and what we're finding is an overall increase in demand. We do have a reduced bounce rate and improve conversion rate. And we are also finding that a greater portion of people are engaging with mobile and tablets just because it's easier to navigate. So net-net, we're very pleased."
Exhibit 2: Glassdoor Employee Survey Versus Major Competitor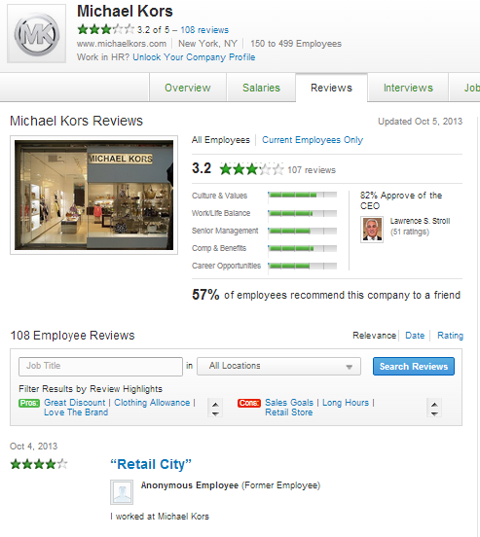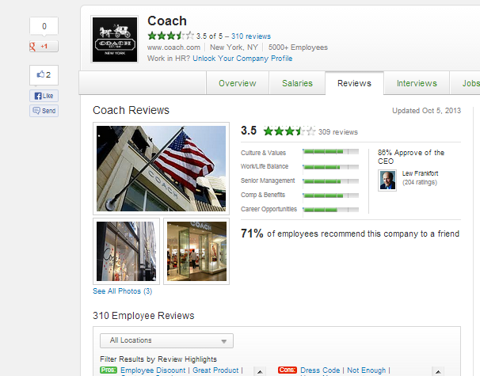 There is a significant difference in percent of employees recommending working at each company and a higher CEO approval rate for Coach. This suggests Coach's ability to acquire top talent in the industry.
Exhibit 3: Management Biographies
Lew Frankfort (Chairman and Chief Executive Officer): Joined Coach, Inc. in 1979 as Vice President of New Business Development. Since joining, Mr. Frankfort, now Chairman and Chief Executive Officer, has grown Coach into the premier American accessories brand, with sales of over $5 billion.
Victor Luis (President and Chief Commercial Officer): Prior to his current role, Mr. Luis served as a member of Coach's leadership team for seven years, holding a variety of key international leadership roles. Most recently, Mr. Luis served as President, International Group, with oversight for all of Coach's operations outside of North America. Prior to joining Coach, from 2002 to 2006, Mr. Luis was the President and Chief Executive Officer for Baccarat, Inc., running the North American operation of the French luxury brand. Earlier in his career, Mr. Luis held marketing and sales positions within the Moët-Hennessy Louis Vuitton (LVMH) Group.
Jane Nielsen (Executive Vice President and Chief Financial Officer): Jane Nielsen became an Executive Officer of the Company and assumed the position of Coach's Executive Vice President and Chief Financial Officer in September 2011. Ms. Nielsen joined Coach from PepsiCo, Inc., where since 2009 she was Senior Vice President and Chief Financial Officer of PepsiCo Beverages Americas and the Global Nutrition Group, with combined revenues of $17 billion. In her role, Ms. Nielsen was responsible for all financial management including financial reporting, performance management, capital allocation and strategic planning.
Stuart Vevers (Executive Creative Director): Replacing Reed Krakoff. Stuart brings strong experience in the leather goods sector. Previously was creative director at Mulberry and Loewe where he helped to build leather good lines.
Talented Management Team with History of Results
Exhibit 4: Financial Projections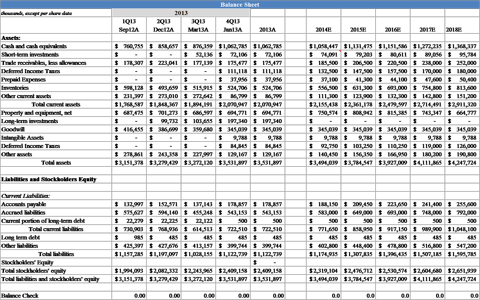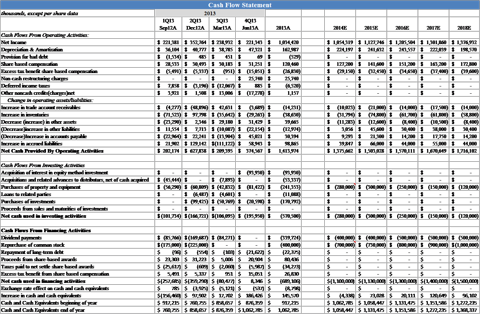 Disclosure: I have no positions in any stocks mentioned, but may initiate a long position in COH over the next 72 hours. I wrote this article myself, and it expresses my own opinions. I am not receiving compensation for it (other than from Seeking Alpha). I have no business relationship with any company whose stock is mentioned in this article.