"A strong tide lifts all boats" is a saying often heard in the context of strong bull markets in which most stocks appreciate in share price. It has been suggested, partly tongue in cheek of course, that in such a bull market stock pickers might as well turn to throwing darts at the ticker board.
Stimulus in various forms issued generously by the Federal Reserve has ignited such a tidal bull run in the aftermath of the 2008/2009 disaster aka. the GFC as evidenced by the all-time record breaking performance of various indexed funds such as the Dow Jones Industrial Average (NYSEARCA:DIA) and S&P500 (NYSEARCA:SPY) shown in the chart below.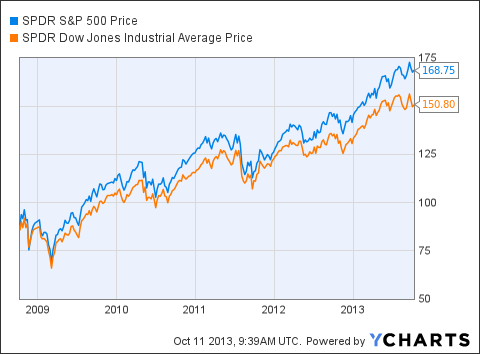 Sentiment has been running high for several years now and until recently it appeared that continuation of this bull run could be taken for granted, provided the Fed continues to work its cornucopia supplying markets with ample cash while keeping interest rates low.
We sensed a change in sentiment around the time the term "Septaper" was coined. The prospect of scaling back the enormous monthly expansion of the Fed's balance sheet seemed to support a sentiment of taking money off the table and selecting investments more carefully and selectively than before.
Of course, by now we all know that Septaper has been a storm in the tea cup and Octaper has become highly unlikely thanks to the shenanigans of what passes for politicians in the US capital. Commentators increasingly dismiss the prospect of any taper at all for the rest of this year and one could assume that such a back ground would reinstate the tidal lift of all stocks powered by unencumbered QE for the coming months at least.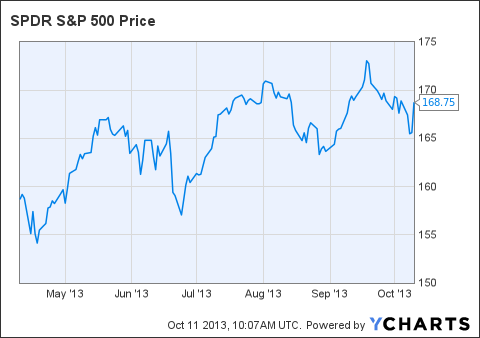 Consider the performance of the S&P 500 over the past six months as shown above. On the surface we observe all the typical ingredients of a healthy bull market; and most notably a text book series of higher highs and higher lows. "All good", one could be tempted to conclude, "let us forget about the mentioned sensation and get on with throwing our darts".
But this is not what we sense on our daily scan of the share market and associated commentary. And as pointed out in a noteworthy news item yesterday, a change in market sentiment is slowly manifesting and should provide for some food for thought for fellow investors. As it turns out the rising tide is supporting fewer and fewer ships. By counting advancing and declining stocks on a daily basis this effect can even be measured quite simply. The associated indicator is called "Advance/Decline Line", or A/D-line.
A broad advance has the majority of stocks on an exchange participating causing the A/D-line to move sharply higher. Such a broad advance is a bullish indicator signaling a "tide that lifts all boats".
A narrow advance with only a limited number of stocks participating will cause the A/D-line to move only slightly higher, or even sideways. Such a narrow advance indicates a mixed market that has only selected stocks benefiting.
The same, only in inverse, is true for declines.
A divergence of market indicators and A/D-lines are often signs of imminent trend reversals and deserve attention when they occur.
The chart below provides confirmation of our market sense of more selective participation in the bull market. It shows the A/D-line for the NYSE. The dark blue line shows the 50 day moving average which has been essentially flat since the beginning of June. The purple line highlights a series of three falling highs coinciding with the mentioned three rising highs in the S&P 500, also highlighted by a purple line in the lower portion of this chart.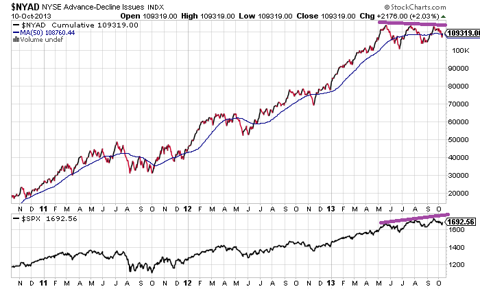 This chart indicates a weakness in the bull market which we will not take lightly. In checking back to 2009 we were unable to find another instance of a stockmarket high that was not confirmed by the A/D-line. We interpret this divergence between the S&P 500 chart and the associated A/D line as a warning signal, indicating a strong possibility of a turn in market fortunes.
One could assume that gold-related investments would breathe some fresh air in such an environment of increased insecurity. Gold could be viewed as a safe haven in times of a turning market. Moreover, conventional wisdom has it that the stockmarket and gold are performing inverse to each other at most times in remembered history.
The next chart below shows the relationship between the S&P 500 and the gold price as represented by the SPDR Gold Trust ETF (NYSEARCA:GLD). Since the lows of 0.65 at the onset of fall in 2011 this ratio has more than doubled to 1.36 at the time of writing. This is of course just another representation of the stock market outperforming the yellow metal since the all time high of the gold price in 2011. GLD has suffered during this period of time and lost about 30% of its price.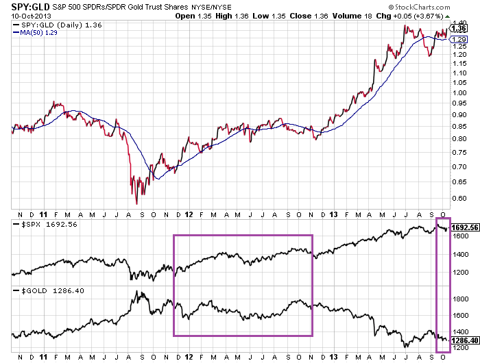 One could be tempted to assume that now is a good time to get out of stocks and into GLD for the sake of buying some security against a possible bear market. Should fortunes for gold not reverse if the stockmarket turns bearish? We have our doubts and contend that the pain might not be over for gold bugs just yet.
Gold has continued to trade heavily during the past week or two, despite many catalysts that could have been used as an excuse for a bull run. Septaper cancellation, the nomination of Ms Yellen, the government shutdown comedy and above all, the possibility of a US default are issues that should have lifted gold. Alas, they have been unable to do so. Sentiment of gold traders continues to appear bearish.
In the lower portion of the chart above we have marked a prolonged period of time in 2012 in purple where GLD and SPY were performing more or less in tandem. And we have drawn another much narrower rectangle at the very right of our chart where this tandem-like behavior is occurring yet again. It is too early to call, but for a month or so GLD and SPY have trended in a very similar fashion - and mostly downwards.
As it appears, the money taken out of the stockmarket is not being redeployed into gold at the moment. Moreover, it appears that money continues to flow out of gold as well. And this observation makes us thoughtful and begs the question: is it time to follow suit an go into cash in order to join the gathering crowd at the sidelines?
Disclosure: I have no positions in any stocks mentioned, and no plans to initiate any positions within the next 72 hours. I wrote this article myself, and it expresses my own opinions. I am not receiving compensation for it (other than from Seeking Alpha). I have no business relationship with any company whose stock is mentioned in this article.
Additional disclosure: I am long gold and gold miners, but with diminishing conviction.