Even with all of the posturing that goes on in Washington, D.C., the fact remains that investors see U.S. treasury bonds as one of the safest investment alternatives. The real issue for most treasury bond investors, though, is not so much the fear of losing their money but, rather, the fact that these bonds do not generate much of a return.
The 10-year treasury is currently providing a meager 2.68 percent yield, which leaves you underwater once inflation and taxes are subtracted out. Investment grade corporate bonds are probably the next step up the risk ladder, but at 4.59 percent, there's not much of a net return there either (October 9, 2013, source: U.S. Federal Reserve).
That takes us to the highest quality preferred stocks (see Preferred Stock Investing, Fifth Edition, page 132) such as those offering cumulative dividends and investment grade ratings.
The Big Question
So the question for income investors becomes: How much extra reward does it take to compensate for taking the extra risk that comes with preferred stocks?
Put another way: Is the current spread between the 10-year treasury yield and the yield being offered by the highest quality preferred stocks any greater than it usually is and, if so, which is likely to change in order to eliminate that excess?
The answer, of course, depends on investors' perception of risk given the market and economic conditions at the time. For example, during the crisis years (summer 2007 through spring 2010) concerns about banks caused investors to avoid investing in securities issued by financial institutions (common stock, preferred stock, bonds), while fleeing to the safety of U.S. treasuries. Prices of bank-issued securities went down, pushing yields up while, simultaneously, prices of U.S. treasuries went up, driving yields down. The spread between the two, fueled entirely by investors' perception of risk, became enormous, ultimately reaching 13.2 percent in February 2009.
Lingering Effects
The additional yield above what U.S. treasuries are paying to preferred stock investors can be used to measure how much extra reward it takes, at any point in time, to compensate investors for taking the additional risk that is inherent with even the highest quality preferred stocks.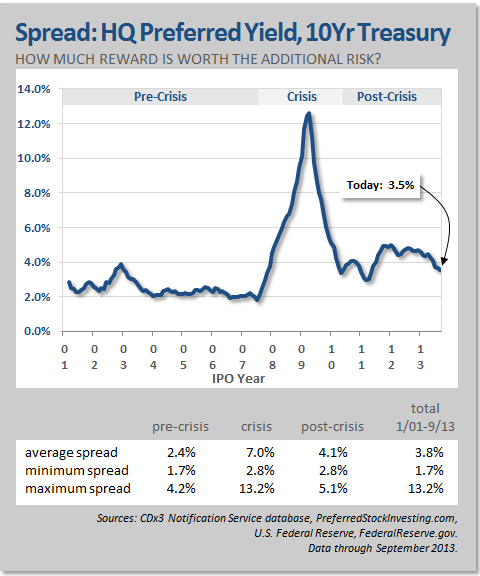 Notice how the effects of the crisis are still with us. Prior to the crisis, it took an average of 2.4 percent in additional yield above that offered by the 10-year treasury to compensate preferred stock investors for the additional risk of the highest quality preferred stocks. After the crisis, preferred stock investors have received an average of 4.1 percent in additional reward with today's preferred stock buyer being rewarded with an additional 3.5 percent yield. If this spread is going to return to normal, something's got to give.
But is the extra 3.5 percent reward we see today caused by a 10-year treasury yield that is too low or a preferred stock yield that is too high, given the historical norms?
Treasury yield high or preferred stock yield low -- which is it?
In light of the pending "tapering" of the Fed's Quantitative Easing (QE) program, it would be hard to argue that the yields offered by preferred stocks are currently poised to move lower. In fact, high quality preferred stock prices have been stable since mid-August and have returned to their pre-QE2 level (see "Preferred Stock Prices Return to Pre-QE2 Level, Bargain List Grows For Buyers"). And the average yield offered by these securities is now (October 11, 2013) about even with their long-term 7 percent level as well (see "Have Preferred Stock Investors Already Moved Beyond QE?").
The 10-year treasury yield, on the other hand, continues to be artificially low, pushed down by the Fed's QE bond-buying program.
So if the current 3.5 percent extra reward that preferred stock investors are receiving above that offered by the 10-year treasury bond is going to return to something closer to its pre-crisis 2.4 percent, it seems more likely that such a "compression" in the spread will come from an increase in bond yields rather than a decrease in preferred stock returns.
Put another way (and remembering that yields and prices move in opposite directions): bond prices may be more poised to decrease than high quality preferred stock prices are to increase, which is great news for today's preferred stock buyers.
Disclosure: I have no positions in any stocks mentioned, and no plans to initiate any positions within the next 72 hours. I wrote this article myself, and it expresses my own opinions. I am not receiving compensation for it (other than from Seeking Alpha). I have no business relationship with any company whose stock is mentioned in this article.