When the largest bank in the Eurozone is selling below its book value per share, it is worth taking a look at as an investment. Banco Santander (NYSE:SAN) has been beaten down as a result of the European economic woes over the past few years. However, Europe is digging its way out of the economic malaise, so I think that Banco Santander is positioned well to benefit from the recovery. The company is currently undervalued with above average earnings growth potential.
Business Background
This Spain-based company provides banking solutions for individuals and businesses. In addition to Spain, SAN also operates in Brazil, Chile, Argentina, the United States, the United Kingdom, Mexico, Portugal, Germany, and Poland. The company currently serves over 100 million customers through a network of 14,400 branches. This global presence allows SAN to operate as a major player in the banking industry. Although the company experienced declining EPS for the past few years, it has remained profitable during a highly economically challenging time period. The company has also strengthened its balance sheet as evident in its core capital ratio which increased to 10.33% by the end of 2012.
SAN's Retail Banking segment comprised 86% of gross income and 71% of total profit in the 1st half of 2013. This segment has a strategy of defining and creating a business model for each customer category. For example, Santander Select was created for high-income customers. This popular concept includes a unique upscale retail bank design that can also be used for seminars, networking, and social events. The banks are designed with contemporary art, fashion, and technology to appeal to the high-income customer segment. The banks have a modern, attractive look, and are also functional for collaborating. This concept should help the Retail Banking segment grow as it brings innovation to the industry.
The Global Wholesale Banking segment comprised 12% of gross income and 24% of total profit in the 1st half of 2013. This segment's strategy focuses on global markets and corporate clients while actively managing risk, capital, and liquidity. Investments in this sector were made in operating capacity and in the distribution of transaction and treasury products.
The Asset Management and Insurance segment comprised the remaining 2% of gross income and 5% of total profit in the 1st half of 2013. This segment's strategy is to drive global business to achieve a forecasted doubling of volume in the next five years. SAN has an agreement with Warburg Pincus and General Atlantic to push Santander Asset Management (SAM). This agreement will help improve its capacity to compete with large international fund managers and to leverage strengths in its markets.
Valuation
Banco Santander is currently priced below its book value per share. The low price to book ratio of 0.92 was a result of the problems plaguing Spain and the Eurozone over the past few years. The stock prices of good companies don't remain below their book value per share forever. Many companies trade at two, three, or more times their book value per share. With the Eurozone in recovery mode, SAN stands to increase its stock price to meet and exceed its book value per share of $9.50. The company's PEG ratio is attractive at 0.41. This shows that SAN's expected earnings growth significantly exceeds its forward PE ratio. Therefore, the stock has plenty of room to run higher. I think that the improving economies of the Eurozone will help SAN to approach a fair valuation over time. Investors will eventually come around and put more risk on the table as their fears subside.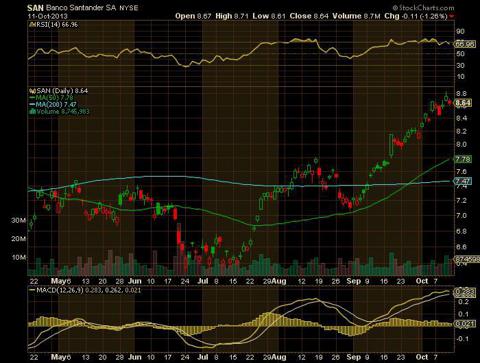 The Risks
Although the Eurozone is showing signs of improvement, the fragile nature of the economies there could cause another economic decline or another debt crisis. If this were to occur, the company could see increases in poor loans or defaults and experience deteriorating fundamentals. I don't think that this is the likely scenario, but the possibility exists.
The company currently pays an above average dividend of 7% on a high payout ratio of 184%. With such a high payout ratio, the dividend payment is at risk of not being sustainable and could be cut. If the company falls short of its earnings expectations, the dividend payment could be reduced. However, if the company meets its earnings expectations for this year and the dividend payment remains the same, the payout ratio would drop to 90%.
Future Outlook
The future growth looks bright for Banco Santander. As the European economies improve, the demand for SAN's services will also be on the rise. Loans and other financial products and services are likely to be increasingly used during this recovery. The company is expected to grow earnings annually at about 32% for the next five years. However, the majority of that growth is expected to come after 2014. The earnings growth for 2013 and 2014 is expected to be close to stagnant. Therefore, investors should have a long-term view for the stock.
SAN's solid liquidity and capital provides a good foundation for building future growth. The company has $424 billion in cash and $389 billion in debt. It has more total assets than total liabilities on the balance sheet. With the Eurozone emerging from the depths of recession, SAN's balance sheet is likely to strengthen.
Overall, the improvements being made in the Eurozone economies should help turn around SAN's fundamentals. With the low valuation and high expected earnings growth, Banco Santander's current stock price of $8.64 could grow to be worth over $35 in five years.
Disclosure: I have no positions in any stocks mentioned, and no plans to initiate any positions within the next 72 hours. I wrote this article myself, and it expresses my own opinions. I am not receiving compensation for it (other than from Seeking Alpha). I have no business relationship with any company whose stock is mentioned in this article.