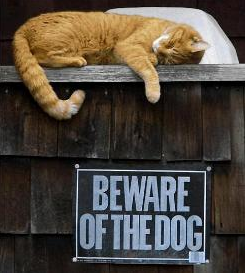 By nature, particularly investing nature, I'm a fairly cautious person. Certainly a near universal application of a covered option strategy is consistent with a cautious approach.
For about 6 months I've been overly cautious, having evolved from a fully invested trader to one starting most weeks at about 40% cash reserves and maintaining about 25-30% by week's end after initiating new positions.
Despite the belief that something untoward was right around the corner, the desire for current income through the purchase of stocks and the sale of options has been strong enough to temper the heightened caution on an ongoing basis for much of the past half year.
With uncertainty permeating the market's mood, eased by late last week's glimmer of hope that perhaps a short-term debt ceiling increase may be at hand, "risk on" isn't the most likely of places to find me playing with my retirement funds, but that's often where it's the most interesting, especially if the risk is one of perception more than one of probability.
While we may all have different operational definitions of what constitutes "risk" I consider beta, upcoming known market or stock moving events, the unknown, past price history and relative performance. Tomorrow the formula may be entirely different, as may tolerance for risk or willingness to burn down the cash reserves.
However, trying to dispassionately look at the current market and all of the talk about a correction, one metric that I've been using for the past few months reminds me that we're doing just fine and that risk is still tolerable, even in the context of uncertainty.
Although I continue to believe that we can't just keep moving higher, I'm not quite as dour when seeing that we are essentially at the same levels the S&P 500 stood on May 21, 2013 and June 18, 2013.
Those dates reflect relative high points, each of which gave way to the FOMC minutes or a press conference by Federal Reserve Chairman Bernanke.
In fact, we're actually at a higher level than either of those two previous peaks, now trailing only the all time high of September 18, 2013 by less than 1.5%. So all in all, not too bad, especially since that 50 Day Moving Average that was breached by the S&P 500 earlier in the week was quickly remedied and the 200 Day Moving Average remains relatively distant.
From May 21 to June 5, then from June 18 to June 24, August 2 to 27 and finally September 19 to October 6, we have gone down a combined 16.7% in a cumulative trading period of 13 weeks or the equivalent of a quarter.
What more do you want? Armageddon?
For the past few months, I've been focusing increasingly on new positions that have been trading below the May and June highs and preferably under-performing the S&P 500 at the same time. However, within that framework I've focused increasingly on near term dividend paying stocks and those more likely to fall into the "Traditional" category, typically low beta and attempting to avoid any known short-term risk factors.
That has meant fewer "Momentum" positions and fewer earnings related trades. But up until Friday's continuation of the hope induced rally, I had a number of "Momentum" stocks on my radar, all of which I had already owned and anticipated being assigned, but ripe for repurchase in the pursuit of risk heightened premiums, but with less risk than readily apparent.
As it turned out Abercrombie & Fitch (NYSE:ANF) got caught up in The Gap's same stores problem and whip-sawed in trading and I ultimately rolled over the position. Meanwhile, Mosaic (NYSE:MOS) fell as investors were somehow surprised that Potash (POT) adjusted its guidance downward to reflect lower prices stemming from a collapse of the cartel.
As it would turn out Phillips 66 (NYSE:PSX) was assigned, but soared, making it too expensive for repurchase, but that can change very quickly.
This week there are two deadlines. One is the end of the October 2013 option cycle, but the other is October 17, 2013, which Treasury Secretary Jack Lew proclaimed to be the day after which none of his "tricks" would be able to sustain the Treasury's count and be able to pay our bills.
In a word? That's when we would see the United States go into default on its obligations.
Under Senate questioning last week Lew acquitted himself quite well and demonstrated that he wasn't very patient with regard to suffering fools. Uncharacteristically there appeared to be less self-aggrandizing statements in the form of questions coming from the committee members.
It may not be entirely coincidental that minutes after Lew's appearance, House Speaker Boehner's office announced that the Speaker would be making a statement reflecting upcoming meetings with the Administration, reflecting the possibility of some agreement.
For those that remember past such budgetary crises, you'll recall that the market typically reacted to the hopes and then crashed along with the dashed hopes, in an eerily rhythmic manner.
On Saturday morning, word came from Eric Cantor (R-VA) that President Obama rejected the House offer. Unusually, GOP leadership skipped the opportunity to step up to the microphone to push their version of righteousness.
This week, in anticipation of the possibility of dashed hopes as may come from an appearing setback, my definition of "risk on" includes positions already trading at depressed levels.
As usual, the week's potential stock selections are classified as being in Traditional, Double Dip Dividend, Momentum and "PEE" categories this week (see details).
For dividend lovers, this week offers Foot Locker (NYSE:FL), Colgate (NYSE:CL) and Caterpillar (NYSE:CAT) - all underperforming the S&P 500 YTD.
Colgate, however, is higher than its June 2013 high and has a surprisingly high beta, despite the perceived sedate nature of being a consumer defensive stock. Perhaps that combination makes it a "risk on" position for me. Coupled with a dividend that is lower than the overall S&P 500 average, it may not readily appear to be worth the time, but then again, how much additional downside should accrue from a US default?
I already own two lots of Foot Locker and three is generally my limit, as it precluded including Mosaic in this week's recommendations. Foot Locker doesn't report earnings until the December 2013 option cycle, so a little bit of risk is removed, although in the world of retail you are always at risk for any of your competitors that may still report monthly comparison data, just look at the pall created by The Gap (NYSE:GPS) and L Brands (LTD) this past week.
While a pall was created by L Brands and it is higher than those referenced high points, it is now down a tantalizing 10% in a week's time. I've already owned shares on five separate occasions this year and have been waiting for an opportunity to do so again. It is a generally reliably trading stock that had simply climbed too far and for a month's time traveled only in a single direction. That's rarely sustainable. The combination of premium and dividend makes L Brands worthy of consideration in a sector that has been challenged of late. The lack of weekly options makes ownership less stressed by day to day events for those otherwise inclined to like weekly options.
Not to be outdone, Joy Global (NYSE:JOY) is a stock that's been worth owning on 7 distinct occasions this year. It has consistently traded in tight range and has been able to find its way home if temporarily wandering. High beta, well underperforming the S&P 500 and lower than both of the two earlier market high points continues to make it an appealing short-term selection, especially with earnings still so far off in the future.
I've been waiting to add shares of Caterpillar for a while, having owned it only four times in 2013, as compared to nine occasions in 2012. However, the upcoming dividend makes another purchase more likely. Despite the thesis advanced by short seller Jim Chanos against Caterpillar, it has, thus far continued to maintain its existence in a tight trading range, making it an excellent covered option candidate.
JPMorgan Chase (NYSE:JPM) reported its earnings this past Friday and reported a loss for the first time under Jamie Dimon's watch. Regardless of your position on the merits of the myriad of legal and regulatory cases which have resulted in spectacular legal fees and fines, JPMorgan has acquitted itself nicely on the bottom line. While there is still unknown, but tangible punishment ahead, for which shareholders are doubly brutalized, I think a sixth round of share ownership is warranted at this price level.
Williams-Sonoma (NYSE:WSM) was one of the first stocks that I purchased specifically to attempt to capture its dividend and have it partially underwritten by an option premium. It fell a bit by the wayside as weekly options appeared on the scene. However, as uncertainty creeps into the market there is a certain comfort that comes from a monthly or even longer term option contract. While it has come down nearly 15% in the past two months and is now priced lower than during the May and June market highs, Williams-Sonoma's dirty little secret is that it has still outperformed the S&P 500 YTD by a whisker.
SanDisk (SNDK) had its eulogy written many years ago when flash memory was written off as being simply a commodity. Always volatile, especially in response to earnings, which have seen plunges on each of those last two occasions, now may not be the time to believe that "the third time is a charm," although I do. Despite that, my participation, if any, would be in the sale of out of the money puts, as the options market is implying a move of approximately 7% and that may not be aggressive enough, given past history.
Finally, Align Technology (NASDAQ:ALGN) reports earnings this week. In the business of making orthodontic therapy so easy that even a monkey could do it, the company's prospects have significantly improved as its treatment solutions are increasingly geared toward children. That's important because their traditional customer base, adults, views orthodontic treatment as discretionary and, therefore, represents an economically sensitive purchase. But most anyone with kids knows that orthodontic treatment isn't discretionary at all. It can be as close to life and death as you would like to experience. This kind of orthodontic care represents a new profit center for many dental offices and a boon to Align Technology. While I expect good earnings numbers, shares have already had a 13% price decline in the past two weeks. I would most likely consider entering a position by means of selling out of the money puts. In this case for a single week's position, if unassigned, as much as a 12% price drop could still yield a 1.3% ROI, as the options market is implying a 9% earnings related move.
Traditional Stocks: JPMorgan, L Brands, Williams-Sonoma
Momentum Stocks: Joy Global
Double Dip Dividend: Caterpillar (ex-div 10/17), Colgate (ex-div 10/18), Foot Locker (ex-div 10/16)
Premiums Enhanced by Earnings: Align Technology (10/17 PM), SanDisk (10/16 PM)
Remember, these are just guidelines for the coming week. The above selections may become actionable, most often coupling a share purchase with call option sales or the sale of covered put contracts, in adjustment to and consideration of market movements. The overriding objective is to create a healthy income stream for the week with reduction of trading risk.
Disclosure: I am long ANF, CAT, FL, GPS, MOS, PSX. I wrote this article myself, and it expresses my own opinions. I am not receiving compensation for it (other than from Seeking Alpha). I have no business relationship with any company whose stock is mentioned in this article.
Additional disclosure: I may buy, add shares or sell puts in ALGN, CAT, CL, FL, JOY, JPM, LTD, SNDK and WSM