E. I. DuPont de Nemours and Company (DD) has been transforming over the past few years and will continue its transformation in the foreseeable future. DuPont is changing its identity as a chemical conglomerate to a food and agriculture company. Despite positioning the company to benefit from secular growth trends, it changes the character of the business. In essence, management is moving the company away from being a sleepy chemical play to a research driven growth company. As a result of this effort, management has been making acquisitions in the food and agriculture industry and selling more capital intensive and cyclical businesses such as the Performance Coating business. Yet, despite the stock being up 30% year-to-date, the stock still represents an asymmetric risk vs. return opportunity -- here's why:
Company Description
E. I. DuPont de Nemours and Company is now a science and engineering company dedicated to solving various global challenges. However the business is complicated with six different divisions. Additionally, the company largely manufactures inputs for consumer products under different brand names, meaning DuPont does not get the recognition it deserves. Below is a list of a few of DuPont's brands.
So to start the analysis, let's take a look at the company's different business segments.
Agriculture segment (30% of total revenue) produces seed products (corn, soybean, and wheat) that are engineered to increase crop yields and productivity. This division also produces insecticides, fungicides, and herbicides.
Electronics & Communications segment (8% of total revenue) manufactures materials and systems for photovoltaics (PV), consumer electronics such as touch sensors for cell phones and gas pumps, displays, including LCDs, and advanced printing.
Industrial Biosciences segment (3% of total revenue) develops and manufactures a portfolio of enzymes, which add value to various products including animal nutrition, detergents, food manufacturing, ethanol production and industrial applications.
Nutrition & Health segment (10% of total revenue) produces products that improve food ingredients, health, and safety. Products include antioxidant blends, cellulose gum, and yogurt cultures.
Performance Chemicals segment (20% of total revenue) includes the world's largest manufacturer of titanium dioxide, the leading manufacturer of flurochemicals, (chemicals that make air conditioning and refrigeration possible), fire extinguishants, fluoropolymers (a chemical that is used to make nonstick cookware and all-weather apparel).
Performance Materials (18% of total revenue) segment manufactures high performance polymers, which are primarily sold to automotive original equipment manufacturers and associated after-market industries.
Safety & Protection segment (11% of total revenue) manufactures products to help improve life safety and security. Protection Technologies business finds solutions to protect people by producing body armor and personal protective gear. Sustainable Solutions business sells training products and offers consulting services to help reduce workplace injuries. Building Innovations business produces solid surfaces, which offer durable and versatile materials.
DuPont's Business Segments Recent and Future Performance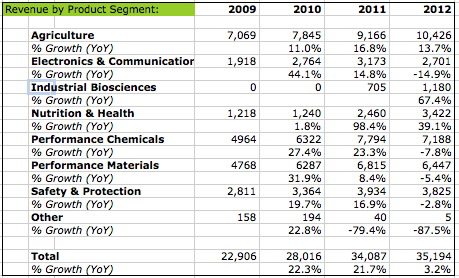 The table above shows the annual revenues and yearly growth rate for each business segment.

The table above shows the percentage of revenues for each segment for the past 4 years.

The table above shows the pretax operating income (OTCQB:PTOI) margin for each segment for the past 4 years.
Agriculture segment - DuPont's agriculture segment has shown strong growth over the past four years. Management expects this trend to continue as planted area increases worldwide. In 2012, PTOI margin decreased due to an increase in input costs and increased research and development spending. However in 2013 this trend has moderated.
Electronics & Communications - Sales in this segment are bottoming as the solar industry rebounds and consumer electronics continue to grow. Management expects an increase in sales for this segment due to higher volumes compared to 2012 which will help to stabilize margins.
Industrial Biosciences - DuPont realized strong sales growth in the Industrial Biosciences segment. This growth was primarily driven by DuPont's acquisition of Danisco enzyme. DuPont expects to introduce new enzyme products into the market this year, which is expected to drive sales growth.
Nutrition & Health - Nutrition and Health sales has experienced strong growth over the past few years. In 2012, the segment saw higher growth due to the acquisition of Danisco specialty food ingredients. The company expects future sales growth driven by enablers (which are basically sweeteners), probiotics, and cultures. PTOI margin was exceptionally low in 2011 due to transaction related cost, but the Danisco acquisition substantially increased its margin in 2012.
Performance Chemicals - Sales in the Performance Chemicals segment dropped in 2012 after a cyclical peak in 2011. The company expects Performance Chemicals segment's sales to decline again in 2013 due to a decrease in demand for titanium dioxide. DuPont also settled a price-fixing lawsuit in this segment for $72 million the third quarter of fiscal year 2013. Management has expressed its interest to divest this business due to slow growth. We will explore this divestment opportunity more.
Performance Materials - This segment's revenues decreased slightly last year due to lower prices and a portfolio change. 2013 revenues are expected to grow due to an anticipated increase in global motor vehicle production.
Safety & Protection - DuPont saw a slight decrease of revenues in this segment due to lower demand in industrial markets. Additionally, the segment experienced a decreased in PTOI last year due to a restructuring charge. However, innovation and a strong competitive advantage should continue to drive long-term sales growth benefiting margins.
In summary all of DuPont's business segments are either stable or growing nicely. The lone exception is Performance Chemicals which is under cyclical pressure but also the subject of a strategic review by management.
Overall Operations
Our investment analysis heavily relies on a discounted cash flow (DCF) analysis. Our DCF differs from traditional DCF in two main ways: (1) costs are normalized and averaged as a percent of annual total revenues and (2) annual capital expenditures are estimated based on balance sheet growth.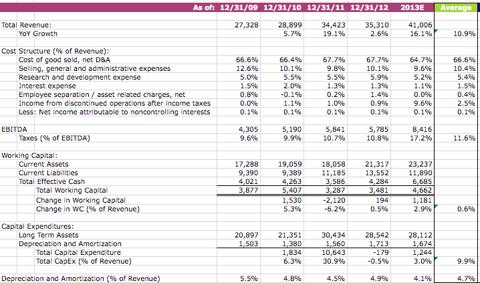 The table above shows the average revenue and cost structure for DuPont over the last five years. It is important to note that the 2013 data is annualized using data from its latest 10-Q.
Management has been successful in many operational aspects of the business and has kept costs steady. Meanwhile, capital expenditures have fluctuated over the last five-year period due to business acquisitions, which is continuing with its 80% purchase of Pannar, a South African seed company. Going forward, management believes that capital expenditure will be approximately 5% of revenues for 2013.
DCF Analysis Implies the Risk Is to the Upside
As an investor, it is essential to make decisions that minimize your chances of losing money. We use a discounted cash flow analysis to determine how the business must perform to justify today's stock price, while concurrently analyzing and understanding the odds of today's expectations being surpassed.
Today's stock price of $57 can be justified by keeping cost lines at its historical averages and dropping capital expenditures to 7% of revenues (about 1.5x depreciation), which is higher than management's expectations.

If management can reach its goal of 7% average revenue growth combined with a lower capex, the stock has room to the upside.
Divestitures Could Be a Catalyst
As previously stated, management has discussed plans to focus more on expanding its Agriculture and Nutrition & Health segments, two of DuPont's highest growth segments, by selling its Performance Chemicals business. This business represents approximately 20% of DuPont's revenues, but has experienced slow growth recently, especially in the titanium-dioxide industry.
Because the Performance Chemicals segment had the highest PTOI margin and the second highest revenue contribution in 2012, an obvious question is what will the company look like after a divestiture of this magnitude. The company's weighted-average PTOI margin is 14.6%. Holding everything else equal but not including Performance Chemicals, margins will decline to 12.7%. This implies a 200 basis point decline from the company's current level.
Huntsman is currently acquiring Rockwood's Performance Additives and Titanium Dioxide business for 6.7x estimated FY14 EBITDA. Using this forward multiple, DuPont can estimate the value of its Performance Chemicals business at over $10 billion. Using today's share count of 932M implies about $10 per share in cash. Factoring in the margin decline from current levels and taking out the division's revenues yields the following:

It is important to keep in mind management has indicated they are selling the business to decrease capital intensity and boost revenue growth. This argues that management believes the company's metrics will be closer to those in the lower left hand quadrant of the table (i.e. $80 to $112).
Return of Cash to Shareholders Provides Downside Protection
At today's prices DuPont's stock sports a yield of 3.10%. Management has indicated they plan to increase it. Given the current payout ratio is only 37%, which is well below industry average of 50%, management has plenty of room to do so. Additionally, DD has also been returning cash to shareholders in the form of share buybacks. In April 2011, the Board of Directors authorized a $2 billion share buyback plan. Under this plan, the company purchased 7.8 million shares at a cost of $400 million in 2012. Since the end of 2012, DuPont's shares outstanding has decreased by 10 million shares, or approximately 1%. If the remaining $1.7 billion of the 2011 share buyback plan is implemented, then approximately 28 million shares will be bought back, assuming an average cost of $60 per share, shrinking the share count by an additional 3%. In a nutshell, the buyback combined with the dividend, provide downside protection should management fail to reach its goals.

Multiple Ways to Win with Limited Downside
DuPont benefits from a driven and focused management team. Over the past few years, management has changed the focus of the company to faster growing businesses. The sale of the company's Performance Chemicals business would free up cash to expand higher growth businesses, namely Agriculture and Nutrition & Health segments or return more capital to shareholders. If DuPont decides to keep its Performance Chemicals segment, our analysis strongly suggests that the company is substantially undervalued provided management meets it goals. Either way, it is easy to justify price close to $90 per share.
Disclosure: I am long DD.
Business relationship disclosure: Blue Jay Research is a team of financial industry professionals and students. This article was written by Ryan Guttridge, CFA and Kristen Cook. Ryan is a Fellow at the Johns Hopkins Institute for Applied Economics, Global Health and Study of Business Enterprise and Kristen is a student at Johns Hopkins. We did not receive compensation for this article (other than from Seeking Alpha), and we have no business relationship with any company whose stock is mentioned in this article.