By Jeff Bailey
The "hunting equipment" category, which includes firearms, accounted for 45.3% of merchandise sales at Cabela's (NYSE:CAB) last year, and that's up from 40.2% of merchandise sales in 2010.
William Blair & Co. analyst Mark Miller, who initiated coverage of the retailer last week, notes that there is a strong correlation between same-store sales growth at Cabela's and the number of background checks for firearm purchases received by the FBI's National Instant Criminal Background Check System.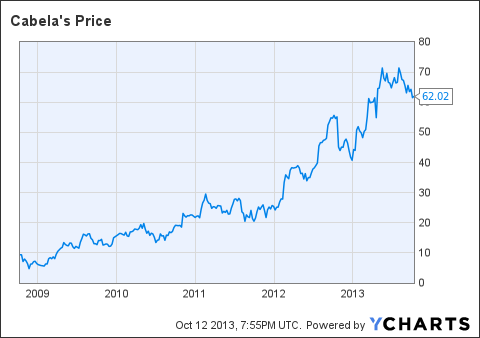 The stock has been a rocket in recent years, as seen in the stock chart, though at least some of the increase is due to valuation expansion, or a higher PE ratio.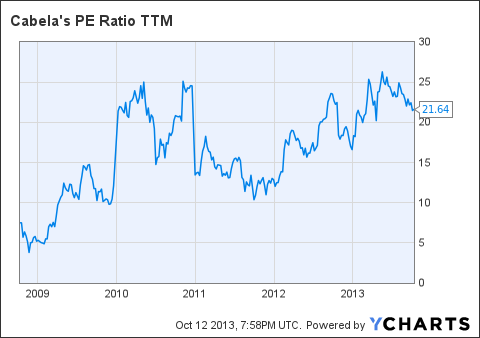 CAB PE Ratio TTM data by YCharts
Miller, whose analysis of conventional retailer vulnerability to Amazon (NASDAQ:AMZN) we particularly like, rated Cabela's market perform. He sees plenty of growth ahead, but the company's reliance on gun sales is something he zeroed in on. Gun sales at times rise swiftly when gun control talk is in the air, and then sales growth slows. Thus, Miller points out, Cabela's has experienced tough comparisons with year-ago results when gun sales were strong (and gun control talk was particularly active).
Cabela's calls the sales "hunting equipment," but its gun and ammo selection includes plenty of stuff one wouldn't likely use to go deer hunting with. According to the company's Web site, it's currently offering $50 off on used .40 caliber handguns that retail for more than $300. Assault rifles start at less than $1,000.
Miller sees Cabela's as well managed:
"The company has superior employee and customer satisfaction ratings compared with its competitors, based on employee and customer evaluations from social review sites, and the most recent ratings are trending higher than historical levels. With a reputation for a superior in-store shopping experience, Cabela's should be able to successfully take market share despite rising competition, in our opinion."
Longer term, Cabela's could suffer if Americans' enthusiasm for gun ownership wanes. At least some of the growth in gun buying in recent years has been driven by fears, largely irrational, that gun availability could be curtailed.
Disclosure: I have no positions in any stocks mentioned, and no plans to initiate any positions within the next 72 hours. I wrote this article myself, and it expresses my own opinions. I am not receiving compensation for it. I have no business relationship with any company whose stock is mentioned in this article.