Company Overview (As If That's Really Needed)
Marvel, Walt Disney World, Disneyland, ESPN, ABC Family. We probably are all familiar, to some extent, with The Walt Disney Company (NYSE:DIS). For years, they have owned what is perhaps the most famous resort on the planet. They have produced movies that will go down in history. They own ESPN, a company with a stronger presence in sports than nearly any other. Disney, founded in 1923 and based in Burbank, California, currently employs 166,000 people and has been a symbol of the American Dream for years.
Recent Performance
Disney, having been in operation for nearly a century now, has grown their business to an astonishing size. According to the company's 10-K, Disney brought in $42.278 billion in fiscal 2012. This translated to $6.173 billion in net income, a 17.4% increase over fiscal 2011. In general, Disney has achieved great success in growing their business and increasing earnings in the last few years. The chart below shows that the company has consistently made progress with only a few bumps along the way.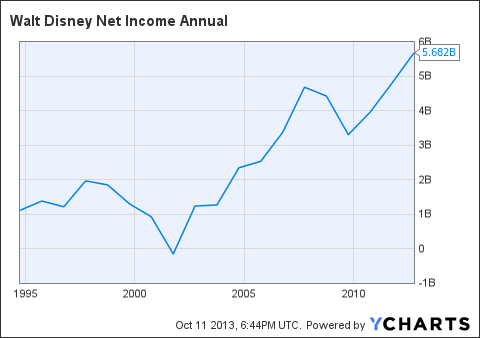 DIS Net Income Annual data by YCharts
Where Is The Value Creation?
Most people already know that Disney is a fantastically successful company, hence the nearly $120 billion market cap. But great returns are realized in the stock market not from greatness, but from improvements over the current position. There is reason to believe that Disney will create value for shareholders that no one expected in the coming years. There are multiple aspects of the business that support this idea, and I will run through them one by one.
ESPN Taking Off
First I will address the media and entertainment segment. In 2012, this portion of the business made up 46% of revenues. Clearly, the growth of this segment is critical to Disney's success. Luckily, there are quite a few encouraging aspects of the operations. First of all, the brands in this segment are nationally (if not internationally) recognized and respected. ESPN and numerous ABC groups are the most notable.
ESPN, in particular, looks like it could have a very profitable future. First of all, it has numerous contracts that extend into the 2020's with notable sports organizations. For example, in 2011, the network extended its Monday Night Football deal with the NFL through 2021 for $15.2 billion. Monday Night Football regularly sits at the top of weekly TV ratings, at least for the regular season. With so many views, it has been quite an asset for ESPN in the past few years. This contract extension ensures that ESPN enjoys the profits as Monday Night Football continues to become more popular as time goes on. The network also has contracts with other prominent organizations, such as the NBA, NASCAR, and the MLB. By agreeing to these contracts, ESPN has set itself up for success in the coming years, as sports remain an important part of our culture.
Another reason why Disney's media and entertainment market are destined for success is that they are moving in the right direction in terms of technology. People like convenience nowadays, and convenience is being able to watch things whenever and wherever you want. This is why Disney jumped at the opportunity to create Watch ABC and Watch ESPN. Watch ESPN allows users to view the programs of the worldwide leader in sports on their Xbox, iPhone, iPad, etc. This is a simple and effective way to reach more customers through new and developing technologies. Disney plans to make their revenue from these types of apps predominantly through ads. Ads on these apps can be just as effective as commercials or ads online, and so they provide a whole new scope of advertising potential that Disney may address and profit from. Greatest of all is that the company is only at the tip of the iceberg, as they have yet to make deals with all distributors. Watch ESPN has already begun to surge in terms of popularity. In 2012, total app downloads more than doubled. Across the United States, distribution has increased to an impressive 46 million households. People simply like this kind of access to their entertainment, and the statistics I've just cited back it up. These types of apps are likely to drive profits a significant amount higher in the future.
Parks and Resorts Segment Entering A New Stage of Growth
As we all know, Disney has also had a profitable parks and resorts segment. Domestically, heavy investments are being made to keep their parks at the top quality in the world. As a matter of fact, the company invested $2.242 billion in this segment in 2012. This is a 73% increase over the investments in that area just two years prior. As Disney continues to pump money into this area of their business now, they will experience billions of dollars in return on their investment in the next few years, as their resorts attract more people. New Fantasyland, for example, is being developed at the Magic Kingdom. This project will continue through 2014, as the park grows significantly. As a matter of fact, it is expected to nearly double in size. Developments and improvements such as this one will drive future earnings growth from the parks and resorts segment.
But even more exciting for this segment are the international opportunities, especially in Shanghai. On April 8, 2011, the Chinese government approved plans for the construction of Shanghai Disney Resort. It is expected to open in late 2015, on 1,000 acres of land with two themed hotels containing a total of 1,220 rooms. Also, it will have a retail, dining, and entertainment complex and an outdoor recreational area. The park will have additional room to expand in the future as well. Disney has entered this venture with a 43% stake in the resort, while Shanghai Shendi Group has the rest of the interest. Costs for constructing the resort will be based on equity. Estimated initial costs for the project total $4.738 billion, meaning it will cost Disney about $2.037 billion.
This resort is likely to fuel growth for Disney in this area for years to come, as it is located in the most populous city in the world's most populous country. With the rise of China's middle class, more sources of entertainment are being demanded, and thus the Shanghai Disney Resort is highly anticipated in the region. The resort will also be benefited by the Beijing-Shanghai High-Speed Railway, which will give hundreds of millions of people easy access to the park. The international parks and resorts portion of the business has not been growing at an exactly ideal speed. Revenues for international parks and resorts grew 3% to $2.581 billion in 2012. This was compared to the 11% increase in revenues from domestic parks and resorts, which totaled $10.339 billion. Shanghai Disney Resort is likely to kickstart overseas operations for the company, especially after the learning eperiences in Hong Kong and Tokyo, which adjusted the company to offering services in Asian cultures.
Disney Has Always Been Loved For Its Movies
The third growth opportunity I would like to address is the bright future for the studio entertainment segment. This segment has revenues of $5.825 billion in 2012, an 8% decrease from 2011. The company has numerous highly anticipated movies that are set to be released in the near future, such as "Frozen", "Captain America: The Winter Soldier", and "Thor: The Dark World". Hopefully these releases will get things back on track.
Of all the upcoming movies for Disney, the most exciting might be the next Star Wars movie, set for release in 2015. Star Wars VI grossed over $475 million worldwide, and hopefully Episode VII will gross even more, as reminiscent fans return to the movie they love. Disney acquired Lucasfilm for $4.06 billion last year and should see a lucrative future with the company. For the next Star Wars movie, sales should not be a problem. This may be one of the most awaited for movies of the past two decades. And Star Wars fans tend to have unbreakable loyalty, so we can expect big things from this movie. What is even more exciting is the example that the movie's production will set for the rest of the company. Value is created when the synergy of the whole is greater than the sum of the parts. This type of situation will arise for Disney when the Star Wars movie renews popularity in the famous trilogy, resulting in increased sales of consumer products relating to the movie. Also, Star Wars attractions should become more prominent at the company's parks after the movie is released.
Risks
So what are the most serious risks for the company? The primary one to address would be a global recession, which would hit the parks and resorts segment the hardest. If a global recession were to hit, disposable income would drop all around the world. It would send Disney's progress back a few steps. Especially in areas like Shanghai, where the China is just starting to experience the rise of the middle class. Luckily, the economy has been steadily improving in recent years and global macroeconomic trends seem to be favoring the company.
Also, Disney could suffer in a similar manner with culture changes. Disney currently is consistent across the board with the types of products it offers. Across the board, Disney is known for high quality and family friendly offerings. These positive traits aren't likely to fall out of the taste of consumers though. Even if the times do change and culture changes with it, Disney has successfully adjusted to these changes for 90 years.
The final significant risk to address is the failing interactive segment. In 2012, this segment experienced an operating loss of $216 million. This obviously isn't good, but it is better than 2011's loss of $308 million. With Disney Interactive Games being founded in 1986, this segment is significantly young compared to the others. Although they have had enough time where they should be profitable now, I wouldn't count the segment out just yet. Gaming and online entertainment are growing rapidly in today's economy, and with appropriate strategy and investment, Disney has the potential to turn things around.
As you can see, each of these risks is possible, but not probable. The reward far outweighs the risk. With any degree of expansion in a company, there will come risks and rewards. There are few cases where they are as positively asymmetric as they are with Disney.
Valuation
Let's compare Disney's multiples to those of a few of its competitors.
| | | | |
| --- | --- | --- | --- |
| | Disney | Time Warner | Twenty-First Century Fox |
| P/E | 20.06 | 18.40 | 10.94 |
| P/B | 2.71 | 2.09 | 4.47 |
| P/S | 2.65 | 2.11 | 2.74 |
| EV/Revenue | 2.86 | 2.65 | 3.11 |
| EV/EBITDA | 11.04 | 10.05 | 14.02 |
As you can see, Disney appears to be available at a price that is about fair, at least in a sense of peer comparison. But in reality, we have to look at this a different way. Disney is a much more diversified company than the other two in the comparison, and so can be expected to have different multiples. One of the ultimate indicators of a whether or not a share price is cheap is the company's share buyback program. It should be obvious that a company would not buy back its shares unless they felt they were available at a discount. And Disney currently has quite a large share buyback program in place. At the Bank of America Merrill Lynch 2013 Media,Communications & Entertainment Conference, Disney's CFO, Jay Rasulo, said, "we really see the opportunity, given where our share price is, given where capital markets are, to target at least $6 billion and possibly up to $8 billion in buyback." This would be a significant amount of share repurchases, indicating that management thinks the stock is cheap. And nobody knows the company better than management.
With the company's stock trading at a fair to undervalued price, and significant opportunities for growth in the near future, Disney is looking like a great investment.
Disclosure: I have no positions in any stocks mentioned, and no plans to initiate any positions within the next 72 hours. I wrote this article myself, and it expresses my own opinions. I am not receiving compensation for it (other than from Seeking Alpha). I have no business relationship with any company whose stock is mentioned in this article.