I feel like I just finished writing analysis and write-ups of bank earnings from last quarter and it's almost time for banks to report again. Where the hell does time go? Earnings season will unofficially kick off this coming week with big names like Coca Cola (NYSE:KO), Citi (NYSE:C), Yahoo (YHOO), Bank of America (NYSE:BAC) and Wells Fargo (NYSE:WFC) reporting. There's sure to be plenty of volatility to keep traders interested for the next week, as we head into the fourth quarter and start to close the books on 2013.
If you can remember last quarter, many banks "engineered" beats by cutting costs; but outlook for this quarter was nothing to write home about, based on interest rate fears and revenue growth stalling for a couple of big name companies.
I've long been bullish on Bank of America, penning a slew of articles on the company since the beginning of this year. However, there are going to be certain items during this quarter's earnings report that I'm going to be watching for to assure myself that BAC remains a solid investment.
Bank of America has stalled recently, flattening around $14.75. Investors that have been in for the last twelve months, however, have yielded 55% on their investments.
The stock has pulled off of its highs recently, on fears of banks underperforming in coming quarters, QE ending, and a macro market pullback related to global economy issues and the boobs in Washington that have decided that the U.S. government shutdown was a good idea.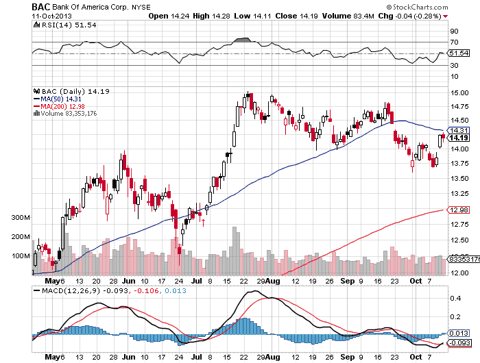 The stock has been a great investment vehicle over the past few years, and nobody knows that more than Warren Buffett, who holds warrants in the $7 region. For those of you keeping score at home, that's roughly a 100% gain on his $5 billion investment. I had previously argued in several articles that BAC remains a great investment, and there's nothing wrong with riding the coattails of one of the world's most successful investors
BAC reports this coming Wednesday, October 16th. Analysts are going to be looking for EPS of $0.19 on revenue of $22.04 billion.
Aside from the numbers, there's going to be four crucial items that I'm going be looking for color on to determine if BAC remains in good shape going forward:
1. Is Cutting Still the Strategy?
BAC was able to engineer a profit last quarter through the cuts that the company has been making throughout the year. Several articles that I've penned this year have revolved around the fact that I like that BAC was getting "learner and meaner," cutting the fat off of the company and approaching profitability from the other angle with revenues underperforming.
The bank had laid off thousands of employees - and I'm hoping that we're privy to more information on whether or not new cuts are coming. I'd be bullish to see more planned cutting of non-crucial sectors of the business as part of CEO Moynihan's continued cost-cutting plan that is supposed to wrap up in 2014.
2. What Does the Legal Situation Look Like?
Arguably one of BAC's biggest liabilities is its pending litigation related to the 2008 financial disaster.
I had remained bullish on Bank of America this year, even in the midst of its recurring legal troubles. One by one, as lawsuits are settled, they cannot be brought up or dealt with again in the future. CEO Brian Moynihan has done well to put his head down and bang out one suit at a time.
What I'll want to hear from the company is that it continues to make progress and knock these liabilities off the books. I want to know exactly how much risk the company feels there is related to legal fees going forward for the quarter, and the possible outlook on the bank's pending legal matters.
A bullish sentiment would be born of the company continuing to make significant headway in removing legal liability from its books.
3. How Has the Shutdown/Potential Debt Ceiling Affected BAC?
Ever diligent CEO Brian Moynihan visited Washington last week and met with the POTUS with the mostess to talk about the debt ceiling. As we all know, failure to raise the debt limit would be absolutely catastrophic for the American financial institution.
I've contended that there's no way it's going to happen - but if anyone can surprise me like getting whacked in the face with a frying pan - it's the United States government.
The Charlotte Observer reported:
The fiscal standoff between Democrats and Republicans in Washington has Wall Street executives and investors nervous as the Oct. 17 deadline for raising the nation's $16.7 trillion debt limit approaches.

Investors generally don't think the government shutdown, at least at this point, will be a big hit to the economy. And global financial markets seem to have largely shrugged it off so far.

But the prospect of the U.S. government defaulting on its debts raises far more serious risks, said Tom Lee, chief U.S. equity strategist at JPMorgan Chase & Co.

"There would be quite a lot of panic," he said.
Should we not have a deal worked out by Wednesday of this coming week, I'd love some color as to how Moynihan thinks a potential default would effect BAC and other banks going forward (short answer: everything would be screwed).
Also, I'd be bullish to know that the recent shutdown of the government had no negative effect on BAC.
4. Dividend Raise and Buybacks
I continue to argue that if BAC continues on its current track, it will raise its dividends. Probably not a ton, but it should raise them commensurate with how the company has performed over the last year. BAC continues its stock buyback as well, and could potentially continue down that path to shareholder value, as well.
SA Contributor Osiris Farol also contends that BAC's buybacks could accelerate in coming years:
While it is true that near-run upside may be limited by earnings (with the current stock price just over 10x 2014 EPS versus 8.6x for JPM, for example), BAC's ability to buyback a meaningful amount of stock at or close to tangible book value is economically accretive. From an accounting standpoint, it will reduce the share count for 2016 EPS estimates which will be increasingly important to valuation this time next year as analysts begin to roll their estimates forward from 2015.
A bullish sentiment would come from hearing that the company has some plans - whether its dividends or buybacks - to continue to return value to its shareholders. With the cuts the bank has been making, this shouldn't be too much to ask for investors that continue to fuel the bank trading at almost 10x 2014 EPS.
QTR's Analysis
In the face of these questions, I still see BAC as a promising long position going forward. However, I'd love to have some of my caveats met and questions answered this week when the company makes its disclosures on Wednesday.
I continue to have confidence that CEO Brian Moynihan will continue to knock out BAC's legal woes one at a time, while at the same time continuing to consolidate and keep the balance sheet strong - probably through more cuts.
It'll only be a matter of time before BAC addresses the dividend issue - as the stock continues to perform, BAC will be more and more likely to up its dividend.
Finally, I'll be listening for more color regarding the housing market and interest rates affecting revenues for the end of the year and outlook into 2014.
Disclosure: I have no positions in any stocks mentioned, and no plans to initiate any positions within the next 72 hours. I wrote this article myself, and it expresses my own opinions. I am not receiving compensation for it (other than from Seeking Alpha). I have no business relationship with any company whose stock is mentioned in this article.