Suncor Energy (NYSE:SU) is a Canada-based petroleum company with cornerstone operations in the oil sands business. Suncor's resources amount to 6.1 billion barrels of reserves and 17.8 billion barrels of contingent resources according to company information. In addition to its core oil sands business Suncor owns and operates four refineries with a capacity of 455,000 barrels/day, a lubricants plant and 1,500 Petro-Canada retail businesses. Suncor Energy also operates Canada's largest biofuel plant with a production capacity of 400 million/litres a year and six wind power projects.
Suncor is committed to develop long-term portfolio assets in its exploration and production business with key investment in East Canada. It further has production assets in Norway, the UK and Libya. Previous Syrian operations with the General Petroleum Corporation were suspended because of the civil war plaguing the country.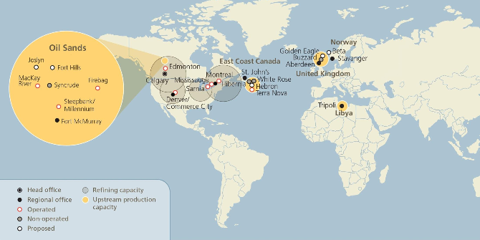 Energy demand
Suncor Energy has huge operations in the Athabasca oil sands fields in Alberta, Canada were large deposits of bitumen are located. Suncor extracts oil sands from the ground and produces heavy crude oil products and diesel fuel. Global energy demand is projected to increase as the global economy expands and the world's population adds billions of people over the next decades. Not only will the aggregate amount of energy consumption increase, but also the energy consumption per capita as transportation- and industrial production needs per capita increase as well. The US Energy Information Administration incorporates this theme in its forecast about world energy consumption (projections until 2040) in order to show that energy demand will be driven by Non-OECD countries. Emerging markets will account for nearly two thirds of energy consumption in 2040.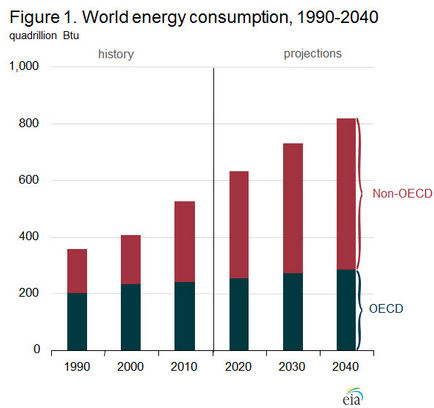 Industry challenges
Lofty demand projections favor petroleum companies with long-lasting, high-quality oil- and gas assets and steady increases in production levels such as Suncor. Excess supply opens new doors for export opportunities especially to Asia. North America currently experiences a surge in oil- and natural gas production and I estimate that high production levels are going to persist since energy independence is a declared political goal of the current administration. Increased hydraulic fracturing activity in the US will probably reduce Canadian oil exports to the United States (over 90% of Canada's oil exports go its Southern neighbor). An alternative export market for Canadian heavy crude oil and diesel fuel is Asia which would require pipeline investments and shipping infrastructure. In the short-term pipeline bottlenecks can cause problems bringing Canadian oil to market. Canadian Prime minister Harper recently traveled to Asia reaching out to his Asian counterparts and stated that diversifying Canada's energy exports are a "national priority" which clearly shows that Canada's crude oil export markets are going to change.
Production levels
Despite specific challenges to Canadian oil sands producers which can be overcome by investment and diversification, a consistent development of portfolio assets creates value for shareholders. In the case of Suncor Energy, higher oil sands production is expected to drive total upstream production by 10% in 2013 compared to 2012. Suncor estimates to produce up to 380,000 bpd of oil sands which will be marketed in Canada and the US.

Warren Buffett is on your side
Suncor Energy investors also need to be aware that the world's most successful investor Warren Buffett bought a substantial stake in Suncor Energy back in August. Bloomberg reported:
Berkshire Hathaway Inc. (BRK/A) reported a stake in Suncor Energy Inc. and added to a holding in General Motors Co. (NYSE:GM) as billionaire Chairman Warren Buffett and his deputies spent the most on stocks in a quarter since 2011.

Buffett's firm owned 17.8 million Suncor shares on June 30, a stake valued at more than $500 million in the Calgary-based heavy-oil producer, Berkshire said today in a regulatory filing.
Warren Buffett obviously doesn't think that undiversified Canadian oil exports will be a drag on Suncor Energy's share price and that Suncor's market position will allow it to overcome short-term challenges such as pipeline capacity shortages. Bloomberg further acknowledged pipeline capacity problems and an increase in crude spreads which contributed to the decline in Suncor's share price in the first half of 2013:
Canadian oil companies including Suncor have benefited as the gap between oil-sands crude grade Western Canada Select and U.S. benchmark West Texas Intermediate narrowed from a record $42.50 a barrel in December. Producers are working around a shortage of pipelines that was depressing Canadian heavy-crude prices by moving more volumes to market by rail.
Valuation
The market values Suncor Energy at 11 times forward earnings which is just as low as the valuation of undervalued Apache Corp. (NYSE:APA) or mis-priced Devon Energy (NYSE:DVN). All of these companies face some short-term issues including pipeline capacity shortages, asset restructurings, political risk and depressed natural gas prices. Converging West Texas Intermediate and Western Canada Select crude prices are likely to provide tailwinds for Suncor Energy's valuation.
Summary
Investors seeking a promising Canadian oil sands play which raises production, commits to reducing cash costs per barrel and has promising free cash flow prospects could consider Suncor Energy. Uncertainty about future global growth is not as high as it was in 2011 and 2012 when Suncor Energy marked a two-year high of $36.96. Shares are now just sitting below the two year high at $35.56 waiting for impulses.
A concentration on its core oil sands business and the divestiture of the majority of Suncor's conventional natural gas business in Western Canada, alleviated pipeline bottleneck problems, recovering prices for Western Canada Select, a low valuation and a Buffett endorsement should give the stock enough support to finally break past its two year high. Long-term Buy.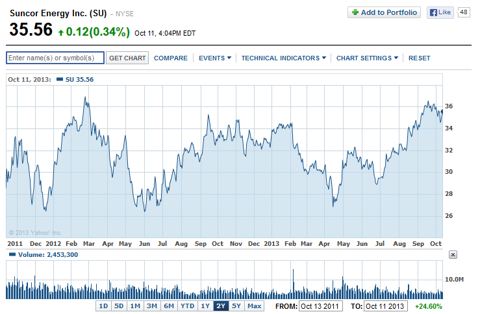 Disclosure: I am long SU, APA, DVN, GM. I wrote this article myself, and it expresses my own opinions. I am not receiving compensation for it (other than from Seeking Alpha). I have no business relationship with any company whose stock is mentioned in this article.