First let me take some things out of the way. I like Tesla's (NASDAQ:TSLA) Model S, I like it a lot. I really believe that it may be the best car in the world right now, and I can't wait for it to become available in my country so that I can buy one.
However, no matter how much I love the product, when I evaluate the company as an investor I have to take an extremely different approach. I believe (and I'll explain it to you below) that Tesla's stock right now is so overvalued that it should be sold if you own some and avoided if you are thinking of buying it. And here are the reasons I'm making this call:
The current price reflects unrealistic expectations for the company's future sales and profits.
The company doesn't have any significant protection against its competitors who are catching up.
The bubble has already burst. It's a matter of time before it wipes out the majority of last year's gains.
Reason 1: Unrealistic Expectations
Let's take a look at Tesla's own expectations about its future. In its Q2 earnings release, the company projects that in 2014 it will be able to sell 40,000 vehicles at an average price higher than that of a 60Kwt Model S. At $70,000 per car that amounts to $2.8 billion of sales for Tesla which is almost double of what is expected for 2013. Using the company's 25% target (now it is at 20%) for its gross margin we come up with $700 million. Subtract from that $400 million of SGA (selling, general & administrative) costs and about $100 million for R&D (which is half of 2013's figure) and we come up with $200 million as Tesla's pre-tax earnings for 2014 or $170 million of net income at a mediocre tax rate of 15%. This is $1.4 of earnings per share.
Tesla's stock is currently trading around $170 (after a 12% decline from all-time highs a few days ago) which is more than 120 times the company's expected earnings for 2014! According to a simple DCF analysis, Tesla MUST grow its earnings more than 50% annually for the next decade or so to justify such an absurd valuation. And I'm calculating that using a very small 5% discount rate. Even if I left something out or made some miscalculation the disconnect between what Tesla is capable of achieving and what the market is pricing in its stock is simply huge.
Reason 2: No Moat
As I pointed out in my previous article about Tesla, its competitors are sooner or later going to catch up and offer their own electric-only models with similar or better features at similar or lower prices. Currently BMW (BAMXY.PK) is already field testing its ActiveE model. Nissan (OTCPK:NSANY) is tasting success with its Leaf model which sold 4,700 units globally just for the month of September with 1,953 of them delivered in the US.
Furthermore, General Motors (NYSE:GM) has tripled the size of its battery development laboratory and pledged to build a 200-mile battery car that will sell for just 30,000. And Ford (NYSE:F) is building electric charging stations for its own all-electric models at every company location in the US and Canada.
Tesla may have the starting advantage but it is putting a lot of pressure on all the other auto makers, who have a lot more resources and engineering capability to employ in their quest to beat Tesla in its own game. It's only a matter of time before one or two of them catch up and show that Tesla is just another regular auto-maker.
Reason 3: The Bubble Burst
After the accident where a Model S caught fire and the video showing it went viral, many investors used that as an excuse to sell their stock and realize their paper gains. However, as you can see this wave of sellers went too far and the trend that Tesla rides since May is now broken. In my opinion and given Tesla's absurd valuation this is nothing less but the start of a selloff that will bring Tesla closer to its true value which is (still assuming a very fast growth rate of 30%) between 40 and 55 its 2014 estimated earnings or between $55 and $75.
And as you can clearly see in the chart below, Tesla's stock has broken the trend that has been following for the past months damaging its momentum. Trends that have been as fast and strong as Tesla's usually end as violently as they begun.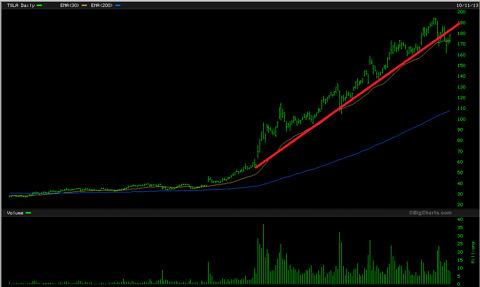 (6-Month Daily chart by bigcharts.com)
BUT...
However, at this point I'd like to offer you something that no one else has. A realistic scenario where Tesla would actually DESERVE its absurdly high price. Here it comes:
I'll start by assuming a more favorable pricing mix for Tesla that skews the average price per car to $75,000 while I keep the estimated sales of 40,000 stable. The pricing mix could improve if people order more 85kwt models (which sell at $81K) instead of 60kwt ones (which sell at $73K). In this scenario, Tesla would have $3 billion of revenue for 2014 ($200 million more). Now let's say that Tesla manages to surpass margin expectations by improving its production line (possible) and thus achieve a 30% gross margin for 2014 instead of its own target for 25%.
In this case, its gross profit would rise from $700 million under the previous scenario to $900 million. Add to that some $50 million of SGA savings because of a cheaper way to build its charging stations and we have a pre-tax profit of $450 million or a net income of $380 million after a 15% tax. That's about $3.2 of EPS for 2014, meaning that at its current price Tesla is trading at "just" 53 times its estimated 2014 earnings.
Now it suddenly doesn't seem that overvalued, does it? That's why I don't believe shorting Tesla is wise thing to do.
Nevertheless, I believe that there are a lot of things that must go too well for Tesla for this to work. That's why my base case scenario is way more pessimistic.
Conclusion
Tesla is a classic case of a company that inspired investors with its great product so much that they got carried and lifted the company's stock at ridiculously high levels. Although as I demonstrated above, I don't think shorting it would be wise; selling your shares in Tesla (if you have any) and taking your profits of the table would be one of the most prudent and beneficial decisions you could make for 2013. If you don't own any Tesla stock you should probably avoid it at this price level and wait to buy at a more favorable valuation.
Disclosure: I have no positions in any stocks mentioned, and no plans to initiate any positions within the next 72 hours. I wrote this article myself, and it expresses my own opinions. I am not receiving compensation for it (other than from Seeking Alpha). I have no business relationship with any company whose stock is mentioned in this article.