I have been writing about Bill Gross' perspective on the 10-year yield over the last few months. His monthly commentaries and media appearances give some insight, but the Pimco Total Return Exchange-Traded Fund ETF (NYSEARCA:BOND), which is managed by Gross, gives a better view. Gross has made a major shift from favoring duration (longer-dated bonds) to preferring shorter-dated bonds. This has happened despite the increase in bond yields, which makes bonds more attractive. According to his recent monthly commentary, Gross thinks that the Fed will keep its policy rate lower for longer than the market expects. Nonetheless, he does not like longer dated bonds. In this article I will analyze Gross' perspective and the positioning of the BOND ETF. I continue to wonder how high the yield on the 10-year needs to rise to attract Gross and Pimco.
Overview of BOND ETF
As of October 11, 2013, the BOND ETF had an NAV of $106.03 and a market price of $105.88. The SEC 30-day yield was 1.74%.
More information about the BOND ETF can be found here.
The BOND ETF suffered sharp losses earlier this summer when Treasury yields spiked, but has since stabilized.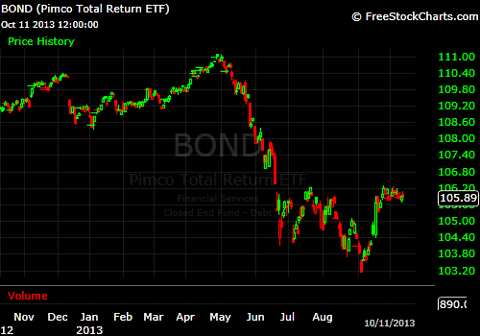 (Source: FreeStockCharts.com)
The BOND ETF has held up well compared to the iShares Barclays Aggregate Bond ETF (NYSEARCA:AGG) and the iShares Barclays 20+ Yr Treasury Bond ETF (NYSEARCA:TLT).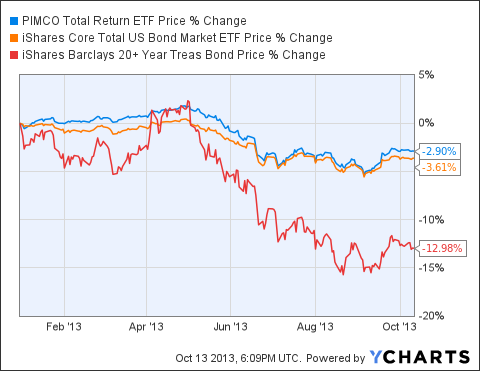 Composition Of The Bond ETF
My last article about the BOND ETF was in August: Bill Gross's Perspective On The 10-Year Treasury. Back then, the composition of the BOND ETF was: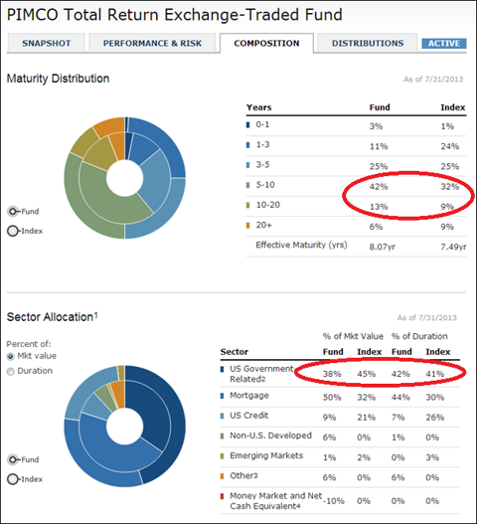 (Source: see my previous article, link above)
Currently the composition is much different, especially regarding duration: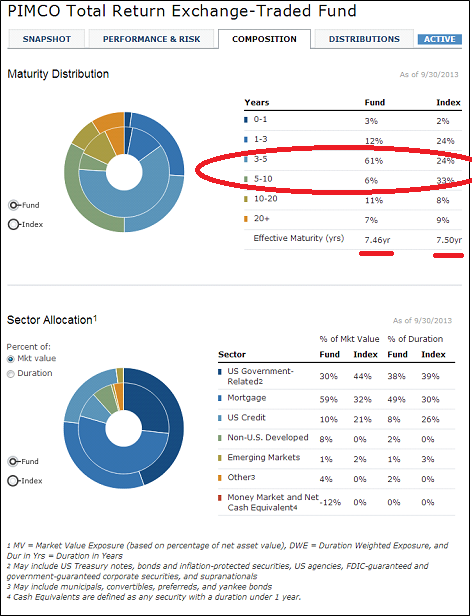 (Source: BOND ETF website, red marks added by author)
The BOND ETF went from having a longer effective maturity than the index to a shorter effective maturity. It is also very underweight the 5-10 year segment and overweight the 3-5 year segment.
Bill Gross' Commentary
The latest monthly commentary from Bill Gross can be found here: Survival of the Fittest?
The following are the main take-aways:
QE needs to end because the Fed can't continue purchasing $1 trillion of bonds every year.
Instead of focusing on QE, investors should focus on the policy rate (the Fed Funds Rate).
The market expects "fed funds to be 1% higher by late 2015 and 1% higher still by December 2016," but Gross thinks the rate will stay low for longer.
The economy is going through a deleveraging, so the Fed will not be able to raise rates for a while.
Investment implication #1: "Portfolios should emphasize front end maturity positions that are stabilized by the Fed's forward guidance as well as volatility sales explicitly priced in 30-year agency mortgages. Because of the inflationary intention of low policy rates, TIPS (Treasury Inflation-Protected Securities) and the avoidance of anything compositely longer than say 7-10 years of maturity should be favored (long liability structures such as pension funds excepted). PIMCO believes that such a modeled portfolio could likely return 4% in future years." (Bold added by author)
Investment implication #2: "Duration and its empowering carry are fading from the nighttime sky, especially for 10- and 30-year maturities."
Gross' perspective on the 10-year is unclear because it falls between the short-term maturities (that he likes) and the long-term maturities (that he does not like).
That said, I think he is negative on the 10-year (meaning that he believes its yield will go up and its price will go down). The BOND ETF is very underweight the 5-10 year maturity segment and he is no longer talking about lower yields on the 10-year like he did earlier this summer (see my previous article on the BOND ETF for more details).
It is interesting that he thinks that the Fed will keep the policy rate lower for longer, but still doesn't like the 10-year at current levels.
Gross and Pimco are not alone. A lot of investors are preferring the relative safety of short duration.
This adds to my conviction that the 10-year yield will reach the mid-3% range in the next few months.
If investors like Gross (that think the Fed will keep the policy rate lower for longer) are not buying the 10-year now, then who will?
There is always a certain amount of demand for Treasuries from pension funds, insurance companies, etc., but it does not seem like there is a lot of demand for the 10-year from the marginal buyer at these levels.
I wonder how high the yield on the 10-year needs to go to attract Gross and Pimco.
Conclusions
Over the last few months, Pimco's BOND ETF has made a big change to its duration profile. It went from a longer duration than the index to a shorter duration.
This is noteworthy for all bond investors because Gross is in the (minority?) camp that the Fed will keep its policy rate lower for longer than the market expects. And yet, he still doesn't want to add duration to the BOND ETF.
I don't have a position in the BOND ETF, but if I did I would be pleased that he is taking a cautious approach and cutting duration. Why take more risk for just a few basis points of more yield.
From a broader perspective, the comments and actions of Gross (and other big bond managers) lead me to believe that the yield on the 10-year has more upside potential.
Disclaimer: The opinions expressed above should not be construed as investment advice. This article is not tailored to specific investment objectives. Reliance on this information for the purpose of buying the securities to which this information relates may expose a person to significant risk. The information contained in this article is not intended to make any offer, inducement, invitation or commitment to purchase, subscribe to, provide or sell any securities, service or product or to provide any recommendations on which one should rely for financial, securities, investment or other advice or to take any decision. Readers are encouraged to seek individual advice from their personal, financial, legal and other advisers before making any investment or financial decisions or purchasing any financial, securities or investment related service or product.
Information provided, whether charts or any other statements regarding market, real estate or other financial information, is obtained from sources, which we and our suppliers believe reliable, but we do not warrant or guarantee the timeliness or accuracy of this information. Nothing in this article should be interpreted to state or imply that past results are an indication of future performance.
THERE ARE NO WARRANTIES EXPRESSED OR IMPLIED AS TO ACCURACY, TIMELINESS, COMPLETENESS, OR RESULTS OBTAINED FROM ANY INFORMATION IN THIS ARTICLE OR ANY LINKED WEBSITE.
Disclosure: I have no positions in any stocks mentioned, but may initiate a short position in TLT over the next 72 hours. I wrote this article myself, and it expresses my own opinions. I am not receiving compensation for it (other than from Seeking Alpha). I have no business relationship with any company whose stock is mentioned in this article.
Additional disclosure: I may trade any of the securities mentioned in this article at any time, including in the next 72 hours.