Shares of Speedway Motorsports Incorporated (NYSE:TRK) shot up 6% on Friday. The bad news for investors is shares now are marginally away from 52 week highs and finally trade above book value. However, with an upcoming football related announcement coming on Monday and new broadcasting deals coming soon, long term investors should be pleasantly rewarded.
Speedway Motorsports owns eight racetracks that host NASCAR, Nationwide, and professional truck races every year. The company also owns SMI Properties (food, beverage, and hospitality at venues), U.S. Legend Cars International (full model race cars), Performance Racing Network (radio broadcasting of races), and Motorsports Authentics (licensed souvenirs, joint venture with International Speedway Corporation (NASDAQ:ISCA).
Here are the eight owned racetracks, which together hold capacity for over 900,000 spectators:
| | | |
| --- | --- | --- |
| Venue | # of suites | Total Capacity |
| Atlanta Motor Speedway | 123 | 98,000 |
| Bristol Motor Speedway | 196 | 158,000 |
| Charlotte Motor Speedway | 113 | 134,000 |
| Sonoma Raceway | 27 | 47,000 |
| Kentucky Speedway | 39 | 107,000 |
| Las Vegas Motor Speedway | 102 | 123,000 |
| New Hampshire Motor Speedway | 38 | 96,000 |
| Texas Motor Speedway | 194 | 137,000 |
A press conference, being held Monday, between two NCAA schools could provide a bump to Speedway Motorsports stock throughout the week. The University of Tennessee and Virginia Tech University will announce a football game to be held at Bristol Motor Speedway. The track, which is owned by Speedway Motorsports, will host a game in 2016. The rumored date of September 10th is likely to see over 160,000 fans in attendance.
Discussed for years between the two schools, a final announcement could be a huge move for NCAA and the future of sporting events. In September of 2013, Michigan Stadium hosted 115,109 attendees to break the NCAA football attendance record when Michigan hosted Notre Dame. Coincidentally, that game broke a previous record also held by Michigan and Notre Dame at Michigan Stadium back in 2011. This event being hosted in 2016 will break the attendance record and could be the first in a long line to continue to break attendance numbers.
Here are some pictures of what the football game may look like and comparisons between the racetrack and the stadiums of the two respective schools.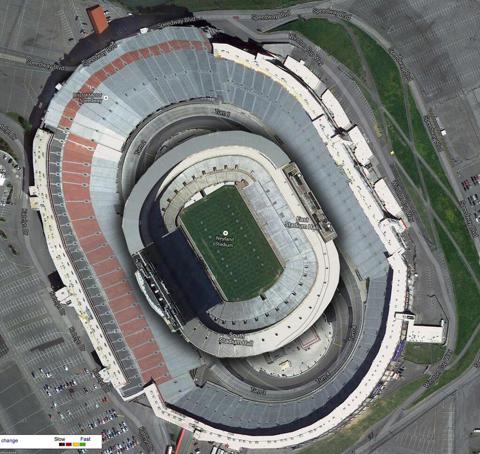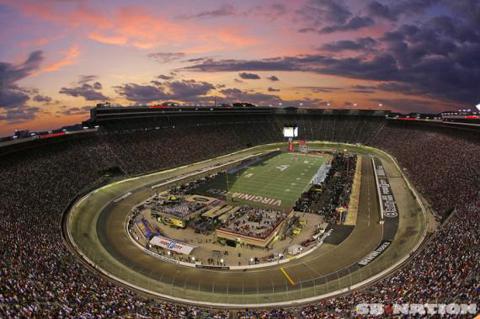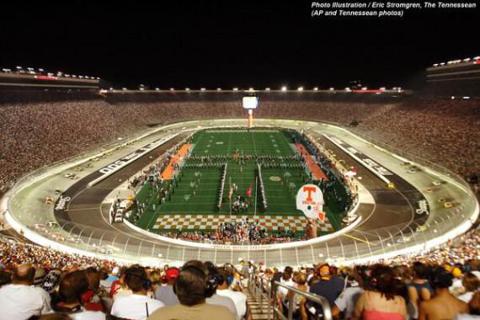 I'll go out on a limb here and say if this is a successful event in 2016, look for more colleges to utilize racetracks as new venues for games. More attendees and fans equals more ticket and concession revenue splits between the stadium and the school. The likelihood of an event like this being on national television also increases the money that comes back the way of the university. As one of several companies that owns racetracks, Speedway Motorsports is a direct beneficiary of the potential shift to college football games at speedways.
Bristol Motor Speedway is located in a great position 110 miles from Knoxville, Tennessee, and 125 miles from Blacksburg, Virginia. The speedway, which has a ½ mil track, opened back in 1961. The site is home to NASCAR, Nationwide, and truck races every year. Currently, two NASCAR races are held at Bristol every year, the Food City 500 and Irwin Tools Night Race.
The other extremely exciting catalyst for the future of Speedway Motorsports is new television contracts. The company remains optimistic and shareholders should be as well. During the recent second quarter call CEO O. Burton Smith had this to say, "We are extremely excited about the new ten-year NASCAR broadcasting media agreement reached with NBC Sports Group that begins in 2015." Of course Smith is only touching on one of two new higher paying deals coming to NASCAR.
In a new $3.8 billion television deal, Fox Sports added additional NASCAR and Nationwide races. The deal also signs the Truck Series through 2022, which will benefit Speedway Motorsports and International Speedway as this underfollowed brand will see more exposure. The new ten year deal will include 16 Sprint Cup NASCAR races, 14 Nationwide Series races, and the entire Truck Series through 2024.
Under the new deals, Fox gets the first 16 Sprint Cup NASCAR races and the first 14 Nationwide Series races. NBC will then air the next 20 Sprint Cup NASCAR races and the final 19 Nationwide Series races. These new deals both begin in 2015, with the Fox deal an extension and improvement on the current one. Also important is the fact that 16 of the NASCAR races (9 Fox, 7 NBC) will be aired on network television. The remaining races will air on Fox Sports 1 and NBC Sports Channel respectively.
With the new deals, NASCAR is set to collect $8.2 billion in media rights from NBC and Fox. This translates to $820 million a year, which is 46% greater than the current $560 million paid annually by Fox, Turner, and ESPN. Remember that Speedway Motorsports gets a large portion of its revenue from broadcasting. In fiscal 2012, revenue broke down as follows:
· Admissions: $116.0 million
· Event revenue: $151.6 million
· Broadcasting: $192.7 million
· Other revenue: $29.9 million
An under mentioned piece of the Fox deal includes a partnership with Fox Deportes. The deal will help extend the NASCAR brand, as Fox airs 15 NASCAR races in 2013 and more in the future to additional international audiences. This creates new advertising opportunities, which should in turn help a company like Speedway Motorsports with broadcasting revenue and merchandise sales.
NASCAR remains the second highest rated regular sports season on television. With ownership of eight racetracks and multiple racing events, Speedway Motorsports should continue to see strong broadcasting revenue growth. With this business segment already an important factor for revenue, it gives a guaranteed source of revenue built in to offset weakness in attendance or weather.
To go along with this exciting growth, Speedway Motorsports is paying you to wait for a higher share price via a strong dividend. The company's shares currently yield north of 3% and Speedway Motorsports continues to buy back shares as well. In the first six months of 2013, the company has bought 62,000 ($1.1 million) shares. In fact, since 2005, Speedway has now retired $3.82 million worth of shares. Shares remain trading at less than current book value ($18.73).
Shares of Speedway Motorsports do trade near 52 week highs, as mentioned at the beginning of this article. I expect shares to take off this week on the heels of the NCAA football game announcement. Investors should be cautious getting into the stock and may be better off waiting for a pullback and profit taking. Remember, this is a long term play as the new television contracts and the NCAA game don't take place for another couple of years.
Disclosure: I have no positions in any stocks mentioned, but may initiate a long position in TRK over the next 72 hours. I wrote this article myself, and it expresses my own opinions. I am not receiving compensation for it (other than from Seeking Alpha). I have no business relationship with any company whose stock is mentioned in this article.