I recently read an article by Gregory Vousvounis indicating that Warren Buffett made a mistake investing in IBM (NYSE:IBM). The central thesis is that Buffett misjudged or ignored the deteriorating state of IBM's moat.
To be clear, a moat is a strong competitive advantage. In the words of Warren Buffett:
"A truly great business must have an enduring 'moat' that protects excellent returns on invested capital. The dynamics of capitalism guarantee that competitors will repeatedly assault any business 'castle' that is earning high returns."
I will not rehash that article but I will highlight the following assertions for you:
IBM is Losing Market Share
IBM is Losing Mind Share
IBM is Pressured in Private Clouds (and More)
I'll address these assertions in this article. But first, let's take a look at some of the evidence provided.
Support for IBM's Moat Erosion
Some of the support for "moat erosion" is that Amazon (NASDAQ:AMZN) and Microsoft (NASDAQ:MSFT) are both technically strong and have the money to fight IBM.
Other evidence is that IBM's brand isn't as strong as some people think because some CIOs see weakness and IBM has lost some lucrative government contracts. For example, Clint Boulton of the Wall Street Journal reported that IBM is struggling to maintain its brand and that CIOs think IBM is facing serious challenges. And, many sources reported that Amazon won a $600 million Central Intelligence Agency cloud computing contract, not IBM.
Now, let's take a look at the bigger picture. What follows is not a detailed financial analysis. Other people can give a detailed breakdown of profits, margins, and the like. This article is about IBM's unique, competitive moat.
But first, as promised, I must address each assertion by Gregory Vousvounis. Let's dig in.
IBM is Not Losing Market Share (That It Cares About)
IBM keeps cutting costs and dropping headcount. That's totally true. And, without getting into the weeds, IBM's total revenue has dropped. The top line slipped from about $106.9B in 2011 down to $104.5B in 2012. We'll see how 2013 turns out, but I wouldn't be surprised to see a revenue drop. Time will tell. Just remember, revenue isn't profit.
In any case, when I see top line numbers slip, I dig to see what's really going on. And, in relation to market share issues, here is one thing that is screaming at me.

(Source: 2012 IBM Annual Report)
So, there are gains for all of the growth initiatives: Smarter Planet, Business Analytics, Cloud and Growth Markets.
But hold on, what about the entire business? Well, IBM is a dancing elephant and they are continuously transforming, remixing, and reinventing. Furthermore, I don't care about small slips in the top line if low margin businesses are being peeled off. As part of the story, I also want to see high margin businesses being grown along with growth initiatives.
This simple chart says it all: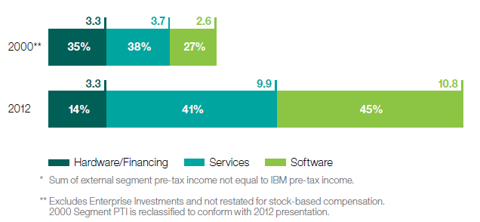 (Source: 2012 IBM Annual Report)
Hardware revenue is flat at $3.3B from 2000 to 2012. OK, but what about the rest of the business?
Many people still think of IBM as a major hardware company. They've deliberately and consciously reduced their focus on hardware. We're still seeing $3.3B in pre-tax income there, but look at the explosion in Services and Software. Does this look like a loss of market share to you?
Combine these forces together. First, IBM is reducing costs. That is mistaken as a negative because of revenue focus versus profit focus. Second, they are showing clear growth on brand new initiatives. This is in line with their strategic plan; it's not random. Third, they are growing their high margin segments. That is, they are deliberately killing low margin business in favor of high margin business.
IBM is Not Losing Mind Share
First, what is mind share? It's the relative public awareness of a phenomenon. In this, awareness of IBM by IBM's customers. There are many buyers, but let me just point to the following:
Forbes listed IBM as the #4 Most Powerful Brand
Brand Z listed IBM as the #2 Brand the World
Interbrand listed IBM as #3 Best Global Brand
I'm sure you've seen these rankings as well. IBM is not new to the brand game or having mind share in business and the world.
But, what about the real buyers of IBM products and services? Aren't CIOs worried about IBM? Maybe, maybe not. I will first tell you to simply look at the financial results because the results are the empirical truth. But, to juice things more, take a look at who IBM is really targeting: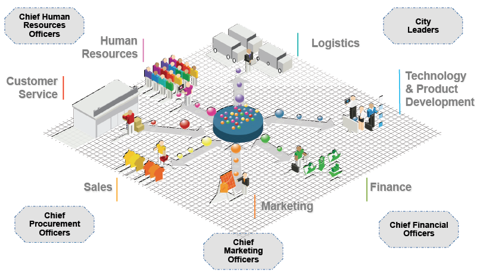 (Source: Business Perspective 2013 Presentation)
Do you notice the lack of focus on CIOs but instead on folks like Human Resources, Government Leaders and Marketing Executives? In other words, IBM takes a holistic view of their markets and they don't just talk to the IT guys. They also talk to decision makers, market makers and other folks controlling money.
We can certainly argue the details here but the key point is that IBM is not losing mind share right now. They are breaking into new markets and they are talking to a wide variety of people responsible for making strategic decisions and spending billions of dollars.
IBM is Competitive (Enough) in the Cloud
I previously mentioned that IBM is not an IT Hardware company. It's not even really a technology company. Instead, IBM is an innovation company focused on transformation, remixing, reinvention and restructuring for higher value. They seek to create value for their customers. It just so happens they use technology to achieve these results by...
"...helping clients to become more innovative, efficient and competitive through the application of business insight and IT solutions..."
(Source: 2012 IBM Annual Report)
That's a goal that their business model is specifically designed to support. So, IBM innovates while helping their clients innovate.
I bring this up because Gregory Vousvounis says that IT Outsourcing and Private Cloud Computing are under fire by the likes of Microsoft and Amazon. If you just look at the technology without looking at the business models and goals of IBM, it's easy to lose sight of the vision.
While it's true IBM "lost" the CIA contract to Amazon, that doesn't mean that IBM isn't growing and isn't making a healthy profit. Furthermore, IBM is pressing forward with M&A like their $2B SoftLayer investment.
IBM's plan is to increase cloud-based revenue from $3B to $7B by 2015. That's still going to be less than 10% of total sales. Now, compare the Cloud to overall Software sales projections. Specifically, by 2015, IBM expects that about 50% of their profit will come from Software.
We could haggle over the last quarter or two for IBM. We could also attempt to go through IBM's financial reports line by line. There's plenty of sour news but there's also a large pile of very good news, some of which I've pointed out above. My point right here is that IBM is competitive enough in the Cloud and they're working through their strategies and they're staying focused on their goals. Their moat doesn't seem to be getting more narrow and it's certainly not being destroyed. This is normal, healthy competition. Nothing more, nothing less. IBM's moat is alive and well.
Summary
Gregory Vousvounis made the claim that Warren Buffett made a poor investment in IBM because IBM's moat is eroding. In this article, I provided a case against that assertion.
First, we see that IBM is "losing" a lot of market share on purpose. They are getting rid of low margin businesses and they are focused on providing higher value products and services. This is according to their clearly outlined strategic plan.
Second, we see that IBM's mind share is still very strong and will likely remain strong into the future. IBM is actively and holistically working with a wide variety of buyers and key decision makers. Large scale IT departments rarely make huge investment decisions without consulting these key decision makers. IBM clearly recognizes who to target and how to target them, by showing clear value propositions.
Third, we see that IBM is in a competitive environment. But, that environment isn't really that much different than other situations they've faced in the past. Furthermore, IBM isn't single-minded about any one particular competitor or customer. They are focused on providing world class solutions based on innovations. Likewise, one single contract loss isn't going to destroy IBM's moat or really even weaken it substantially. You'd need to see a consistent failure over several years to make the argument that their moat is eroding.
In summary, IBM's moat is alive and well. While we can argue about the balance sheet, income statement and cash flow statement, I don't think there's any strong evidence that IBM's moat is eroding. To be specific, IBM's moat is protected by their clear strategic plans, value creating innovations, brand building activities, customer focus, and even their financial engineering. This mix provides IBM with a moat full of boiling hot oil that protects their excellent returns on invested capital.
Bonus
I'd like to remind you that IBM is a Super Dividend Contender. At the start of October 2013, you will notice IBM was ranked 6th out of the 210 total Contenders.
I bring this up because to be a Dividend Contender a company must have paid out growing dividends for at least 10 years. IBM's been paying out growing dividends for 18 years now. I smell a moat.
For dividend growth investors, and similar types of income investors, this should be a source of comfort. More importantly, it's an indication of financial strength. It's pretty clear that IBM is telling shareholders that it's strong; actions speak louder than words.
So, my theory is that by paying growing dividends for 18 years, IBM provides us with another signal of a strong moat. I think there's a correlation between moats and dividend strength. In fact, my gut tells me that IBM's moat is the root cause of their financial strength, including their dividends. What do think?
Disclosure: I am long IBM. I wrote this article myself, and it expresses my own opinions. I am not receiving compensation for it (other than from Seeking Alpha). I have no business relationship with any company whose stock is mentioned in this article.