Overview
I'm in the fortunate position that I get to travel to a lot of interesting places, and being a follower of Nokia (NYSE:NOK), and by extension Windows Phones, I always keep an eye on how they are marketed in different territories. With this in mind, I can see how strong the Nokia Brand is in certain countries, and how, when done right, Windows Phone can gain a lot of traction. Along my travels I have seen no market, so far, that is better represented at retail than Poland.
Albatross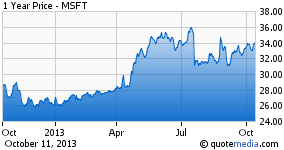 With the sale of Nokia's devices unit the ball is now firmly in Microsoft's (NASDAQ:MSFT) court to continue to build upon the foundations laid. Wells Fargo labeled the devices unit an albatross around Nokia's neck and Nokia's share price has soared ever since the announced sale. It could be assumed, if true, that this 'albatross' has simply been transferred to Microsoft, but it is not as simple as that. With the purchase Microsoft now has the ability to produce and distribute millions of phones around the globe in a manner similar to Apple (NASDAQ:AAPL), and Samsung (OTC:SSNLF); besides this ability, the most important part that Microsoft now possesses is Nokia's brand image, though not as powerful as it once was, it is still a potent force that should not be casually squandered.
U.S. Centric
Microsoft has two or three years to transition these loyal customers to continue to associate Windows Phones with the much loved Nokia brand name, and if it doesn't happen in that period of time the opportunity is, most likely, lost.
This scenario doesn't apply in the U.S. where the Nokia brand has long faded, and where the challenge it to create new customers, not convert old ones. Microsoft's top executives may be blinded by a U.S. view of the market, making it easy to overlook how well loved the Nokia brand still is in many countries. These markets, if handled well, will provide much faster growth and profits than the entrenched markets, such as the US.
Poland
Poland is a perfect example of this with almost a 20% share for Windows Phone. Nokia was always a strong brand in Poland and customers have warmly embraced and transitioned to Windows Phones. Some of the greatest success has come from budget models such as the 520, 620, and 625, which are very appealing to a budget and fashion conscious youth market. Looking at the representation in mobile phone shops is like night and day when compared to the U.S.; the majority of retailers have large window displays for Windows Phones showing special promotions, and inside it is the same story with the phones given prominent displays. Contrast this to the U.S. where the phones are hidden away; with iPhones and Androids taking all the advertising and prime positions.
Once the Devices sale is complete Microsoft will re-brand the smartphones, the agreement only allows the continuation of the Nokia brand for feature phones, and it must ensure that a link is established in consumer's minds between Nokia Feature phones and Microsoft's smartphones, otherwise a lot of that brand loyalty could easily be lost.
This could be achieved in several ways: advertising feature phones and smartphones together; creating designs that feature the same strong identities: colors, great cameras etc.; and software that spans the full range of phones from high-end to low-end.
Revenue
In 2013 the entertainments and devices division had revenues of $10 Billion, just over 10% of Microsoft's revenue; Nokia posted net sales of $16 Billion for 2012 for devices and services; after the buyout, this department will be close to $30 Billion in revenue, making it the largest unit at Microsoft. Microsoft, no doubt, will be looking to slim this department down and make some cost savings, it should be careful not to cut out the parts that Nokia customers have loved for many years, because this could provide a lot of easy growth.
Conclusion
With a partnership between carriers, and manufactures, Windows Phone, when presented properly, is very popular with customers. A lot of this popularity is a result of a long relationship with Nokia products, and in countries such as Poland, with the correct partnerships in place, consumers will make a rapid switch to the new Windows Phones.
Microsoft should be careful not to ignore just how popular the Nokia brand is, and make it a central theme to bringing new users over to the platform. If done right, its new largest division can also be a very profitable one too. This will enable it to compete alongside all the major smartphone players, Google (NASDAQ:GOOG), Apple, HTC (OTC:HTCCY), and Samsung, on an equal footing.
Disclosure: I am long NOK. I wrote this article myself, and it expresses my own opinions. I am not receiving compensation for it (other than from Seeking Alpha). I have no business relationship with any company whose stock is mentioned in this article.