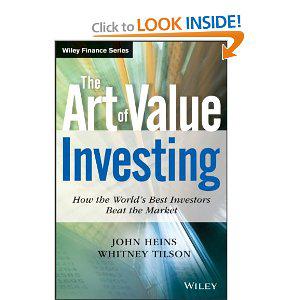 Tha Art Of Value Investing provides investors with a unique insight of the latest thinking from some of the best and the most successful value investors. Based on interviews with the world's most-successful value players in money management, the book offers a comprehensive set of answers to all kind of questions investors are facing during the investment process. Highlighting certain styles and beliefs in value investing.
The book offers much insight to the questions value investors ask themselves.
What market inefficiencies will I try to exploit?
How will I generate ideas?
What analytical edge will I hope to have?
What valuation methodologies will I use?
How many stocks will I own?
How specifically will I decide to buy or sell?
Will I hedge, and how?
Special Situations
I like the Special Situations session in the book. Here are some quotes.
We are often looking from broken growth stories, when a once-great company is no longer considered to be great. The market tends to overreact in these cases, as growth and momentum investors move on to the next new thing and the shareholder base turns. Since I wasn't in the stock before, I am not disappointed if something is no longer a high-flier. All I care about is the future potential relative what I have to pay for it.

-Alan Schram, WellCap Partners

An area we try to mine is busted IPOs. Buying at the IPO often means you are buying from smart sellers, but we'd much rather buy from dumb sellers-which is more likely to happen after an IPO company disappoints in some way and the people who bought in the initial offering bail.

-Steve Romick, First Pacific Advisors

We're looking for businesses that are going through some kind of transition-in management, in the business mix, in the industry. Often a previous management team overextended and overleveraged the company and somebody new has been brought in to straighten it all out, by cutting costs, selling assets or playing down debt. A good business that happens to have a bad balance sheet is much easier to fix than the opposite.

-James Rooney, Avenir Corp
Especially the last quote has been very successful for one of our portfolio holdings. We bought shares in a company called Adept Technologies (NASDAQ:ADEP) on April 16, 2013 at a price of $3.07.
For investors not familiar with Adept Technology. Adept is a provider of intelligent robots and autonomous mobile solutions and services. The company enables customers to achieve precision, speed, quality and productivity in their assembly, handling, packaging, testing, and logistical processes.
For us Adept Technology was a pure turnaround play, which could be an outstanding acquisition target for a bigger competitor going forward. The management changes in the beginning of this year supported our opinion.
The restructuring process and the path to profitability is almost finished. The stock price has reacted accordingly with a rise to a level of $10. We think it's time to look further and are considering taking some cash of the table.
I think every investor can benefit from this book, by learning the lessons of value investing. This book gives compelling inside thinking of successful value investors.
Disclosure: I am long ADEP. I wrote this article myself, and it expresses my own opinions. I am not receiving compensation for it (other than from Seeking Alpha). I have no business relationship with any company whose stock is mentioned in this article. Dutch Trader is managing partner of RJT Capital, a Dutch-based investment fund. RJT Capital is long ADEP. For RJT's current holdings, check: iextraders.nl/Portfolio/1139129/RJT.aspx