The biotech sector appears to be in the midst of a classic equity bubble, with hype, instead of fundamentals, driving stock prices. To be specific, there are a number of mid-cap biotechs with no revenue to speak of, and deficits reaching into the billions, that have recently attained multi-billion dollar market caps based solely on the "potential" of their flagship drug candidates. And when these drugs do finally reach the market, fundamentals kick into overdrive, acting like a black hole on share prices. Arena Pharmaceuticals (NASDAQ:ARNA), Avanir Pharmaceuticals (NASDAQ:AVNR) Dendreon (NASDAQ:DNDN), Horizon Pharma (NASDAQ:HZNP) are just a few examples of this widespread phenomenon in the biotech sector.
With all the hype surrounding potential blockbusters, retail investors have largely missed out on a handful of early-stage commercial biopharmas that are finally turning the corner in terms of profitability. Indeed, these are the types of companies that can lead to astronomical returns over long periods of time, such as Abbott Laboratories (NYSE:ABT), Amgen (NASDAQ:AMGN), Biomarin Pharmaceuticals (NASDAQ:BMRN), etc. Acorda Therapeutics (NASDAQ:ACOR) is one such biopharma that has been totally overlooked by retail investors (see below), and as a result, the retail crowd has failed to participate in ACOR's 40% year-to-date rally. Even so, I believe the stock still has at least another 40% upside over the next year, and offers investors limited downside risk. The best part is that this projected appreciation in ACOR's PPS is based on fundamentals, not hype. With the company expected to release earnings on October 31st, the stock has already begun to slowly drift upwards, although plenty of upside remains in my opinion.
Acorda's Commercially Important FDA Approved Drugs
Ampyra
Ampyra is a potassium channel blocker approved by the FDA in January 2010 for the improvement of walking in people with Multiple sclerosis (NYSE:MS), and has been commercially available since March 2010. Ampyra is covered by all major health insurers in the U.S. and is generally listed in the lowest competitive tier, making the drug widely acessible to those that need it. Outside of the U.S., Ampyra is marketed as Fampyra by Biogen Idec International GmbH. Biogen is presently marketing the drug under a 2009 licensing agreement in a number of European Union countries and Australia, Canada, Israel, and New Zealand, with additional markets coming into play in late 2013. Acorda is currently testing Ampyra for several expanded indications, with a number of proof-of-concept studies well underway. Even so, Ampyra is at least 3 years away from a possible sNDA filing for an expanded indication.
Since its launch, Ampyra has shown particularly strong growth in sales, with total revenue expected to more than double to $315 M in 2013 as compared to 2010. These strong sales have made Acorda cash flow positive since 2011, and are allowing the company to expand its drug pipeline through acquisitions and clinical development. Even so, quarterly sales have been uneven due to inventory issues and the so-called Medicare donut hole that constrains lower income customers from refilling their medications. Consequently, sales of Amypra spiked roughly 25% in Q2 compared to Q1, and the stock reacted accordingly. Investors shouldn't expect this pattern to continue into Q3, and should instead look for steady year-over-year growth in sales over the long-term. Based on the available data, I estimate Ampyra Q3 sales grow modestly to $80M.
Zanaflex
Zanaflex Capsules and Zanaflex tablets are centrally acting muscle relaxants approved in 1996 as short-acting drugs for the management of spasticity associated with disorders such as MS. The company launched Zanaflex Capsules in April 2005 to help build their commercial platform for the potential market launch of Ampyra. Unfortunately, sales of Zanaflex have steadily fallen since Mylan Pharmaceuticals (NASDAQ:MYL) launched a generic version last March. The company is projecting 2013 sales of approximately $25 M, roughly half the revenue generated by Zanaflex in 2011. With increased generic competition, the company is expecting Zanaflex sales to continue to decline. In order to replace the revenue from waning Zanaflex sales, Acorda signed an agreement with Neuronex, Inc. in February 2012 for their Diazepam nasal spray currently in late development as an indication for epilepsy. The company is optimistic about a possible commercial launch in 2014 depending upon clinical trial results, and has estimated the market opportunity at $25-$75 M per year.
Fundamentals
As of June 30th, 2013 Acorda had $332 M in cash and cash equivalents, including their highly liquid short and long-term investments. As such, shares of Acorda are trading at only 4.5 times their cash/share value. To place this into context, Acadia Pharmaceuticals (NASDAQ:ACAD) and MannKind (NASDAQ:MNKD), who have similar market caps compared to Acorda, are both trading well over 10 times their cash/share value. Additionally, the company has announced that they expect to remain cash flow positive for the foreseeable future, which should only add to the company's already strong cash position. Specifically, Acorda is projecting 2013 revenues to come in around $340-$350 M, with total expenses adding up to about $250-$260 M (high estimates for both). Instead of relying solely on their Ampyra platform, Acorda is putting their positive cash flow to good use by acquiring the rights to new drugs (Diazepam nasal spray, NP-1998 & Qutenza), as well as rapidly expanding their clinical development program. These activities are crucial to creating deep value in biopharmas over the long haul.
In Q2, earnings-per-share (diluted) (NYSEARCA:EPS) came in at 9 cents due largely to $77.8 M in revenues from Ampyra. While this EPS seems anemic, the company is expecting to grow EPS by more than 170% over the next year due to increasing sales of Ampyra, with a healthy 5-year forward EPS estimated at an average of 34%. Moreover, shares of ACOR are trading at a compressed P/E ratio of 9.9 compared to both the sector's historical ratio of 17, and the sector's current bloated average of 55. This comparatively low P/E ratio appears to be the result of a complete lack of retail enthusiasm for the stock, combined with a large short ratio.
Namely, institutions have become ultra-bullish on Acorda, holding over 90% of outstanding shares as of 6/30/13. What I find most impressive is that heavyweights like BlackRock and Goldman Sachs have been buying shares hand over fist the past few Quarters. Even so, shorts have also taken a relatively large position in the stock, recently holding as much as 7.2% of the float. In effect, institutional holders appear to be lending out their shares to someone making a substantial negative bet on the stock.
Short Thesis
The short thesis for ACOR is based on the following:
1. Ampyra is expensive (roughly $1400 for a month's supply).
2. Shorts believe the drug is only marginally effective and prescription rates will thus decline over time.
In a nutshell, the short thesis is that the drug is too costly compared to the potential benefits for suffers of MS.
The Short Thesis is Dead Wrong and the Stock is Undervalued
While Ampyra is certainly expensive, most private insurers cover the drug with a co-pay of about $40. Specifically, patients with private insurance are allowed to try the drug free for two months, and if it works for them, their insurance will cover the drug at the lowest competitive tier. Moreover, Acorda has set up a patience assistance program that works with Governmental programs to help cover the cost for low income individuals. The one caveat is that private and governmental coverage tends to be based on a set of prior authorization criteria due to potential seizure risks. Even so, the high price of the drug is basically offset by widespread insurance coverage or assistance programs.
Regarding the posited decline in prescriptions over time, there is no empirical evidence to support this thesis (see graph below). Ampyra sales have averaged > 30% year-over-year growth, and Q2 sales ($77.8M) put the drug on track to continue this trend. If a decline in sales were to occur, one would expect it to happen within the first two years post-launch, i.e., once the majority of potential patients have tried the drug. By contrast, 80,000 patients have now tried Ampyra and sales only continue to grow. Most importantly, the sales are being generated by people that have tried the drug for free and subsequently decided to pay for it. That is a clear refutation of the short's assumption regarding the price tag outweighing patient benefits.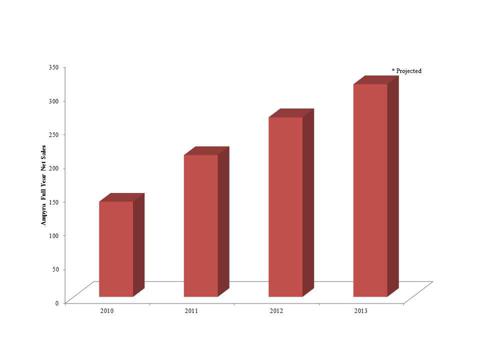 Outlook
Amypra is undoubtedly the main value driver behind shares of Acorda. With almost four years of strong and growing sales in the books, there is a clear precedent that shorts are simply wrong about Ampyra and are going to have to give up the ghost. Given that Ampyra sales tends to increase going into the second half of the year, I believe the October 31st earnings release will be a major catalyst to the upside for the stock, especially as sales continue to grow quarter-over-quarter. If the stock follows its normal pre-earnings trading patterns, I would expect shares of ACOR to appreciate a minimum of 14% over the next two weeks, as shorts temporarily unwind their positions and traders jump in for a momentum trade.
Although shorts have repeatedly re-shorted the stock post-earnings, it's important to understand that Acorda is already undervalued by at least 40% from both a P/E ratio and a cash/share basis- compared to prevailing sector trends. Eventually the continued sales growth of Ampyra is going to force shorts to move onto easier game. At that point, I expect the stock to appreciate to more normal levels in terms of its fundamental indicators.
Conclusions
Acorda Therapeutics is a leader in the development and commercialization of drugs indicated for improving neurological function. Sales of the company's flagship drug Ampyra are only just now starting to ramp up, and are expected to continue to grow at a dramatic pace over the next two years. Institutions have taken notice by buying up outstanding shares in fire sale fashion. While shorts are betting heavily on Ampyra imploding, the drug's historical track record is proving them wrong. Moreover, Acorda's solid cash position and compressed P/E ratio make the stock an excellent value play with limited downside risk. In terms of short-term valuation, the stock should appreciate more than 10% within the next two weeks ahead of its Q3 earnings release. Shorts will not want to be caught in a stock beloved by Wall Street that has the potential to surprise to the upside. That is simply too risky, and creates an excellent short-term trade on the buy-side.
Disclosure: I am long ACOR. I wrote this article myself, and it expresses my own opinions. I am not receiving compensation for it (other than from Seeking Alpha). I have no business relationship with any company whose stock is mentioned in this article.