It's always good to see a REIT that I recommended ten months ago perform well today, especially after the REIT sell-off this summer. Inland Real Estate Corporation (NYSE:IRC), a Chicago-based shopping center REIT, is found in my SALSA ("Safe and Lasting Seeking Alpha") portfolio (see my newsletter HERE), and since I wrote an article on the small-cap REIT back in December (2012), the stock price has climbed 23.4%.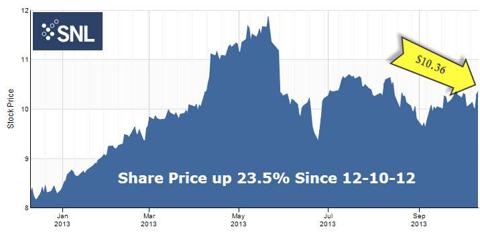 Adding in the healthy dividend yield (currently 5.50%), Inland returned around 30.65% since my last article (eight months ago).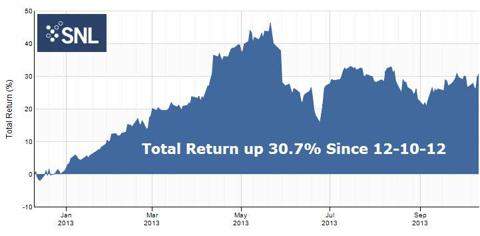 Inland has found its groove and although the $1.03 billion (market cap) is smaller when compared to many of its peers, I remain attracted to the prospects for growth. Here's a snapshot of Inland compared with the shopping center peer group:

Inland is Growing It's Midwest-Focused Model
Inland Real Estate Corporation commenced in 1994 (as a non-traded REIT) and the company was listed on the New York Stock Exchange in 2004. Inland is one of the Midwest's largest owners and operators of community, neighborhood, power and lifestyle shopping centers and single-tenant retail properties, with nearly $1.58 billion in assets (as of Q2-13). The Oak Brook-based REIT owns interests in 154 properties (as of 6/30/13) totaling approximately 15.2 million square feet of space (as of 6/30/13), many of which are grocery-anchored centers. Including joint ventures Inland has around $2.8 billion in assets under management.
Inland's primary markets include Greater Chicago and Minneapolis-St. Paul - two of the top U.S. markets out of 381 MSAs. Chicago is the third largest metropolitan area (9.5 million people) and in Chicago Inland owns 85 assets (9.2 million square feet). 62.9% of Inland's total retail portfolio is in Chicago where the company's occupancy rate (for centers in Chicago) is 92.8%.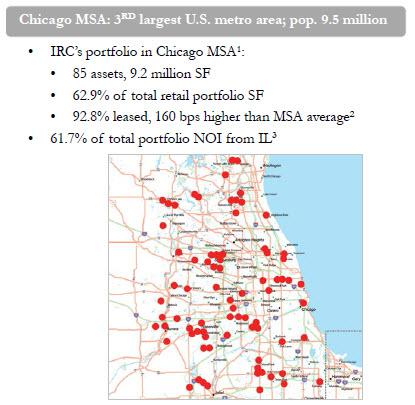 The Twin Cities is the sixteenth largest U.S. metropolitan area (3.1 million people) and there Inland owns 25 assets (2.7 million square feet). 18.4% of Inland's total retail portfolio is in the Twin Cities trade area where Inland has an occupancy rate of 96.6% (for centers in the Twin Cities):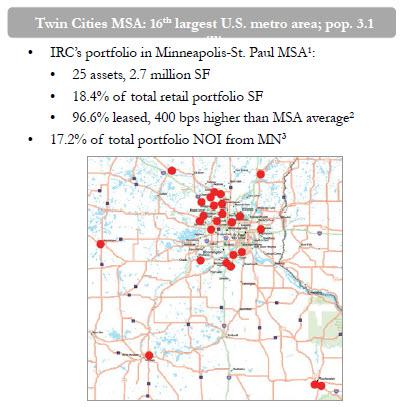 Compared with the REIT peer group, Inland has the most retail square footage in the Chicago MSA: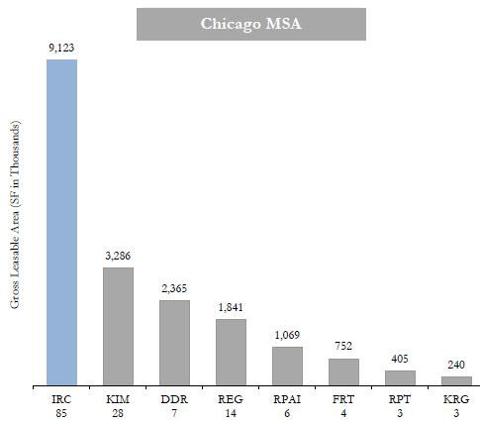 Compared with the REIT peer group, Inland has the most retail square footage in the Minneapolis-St. Paul MSA: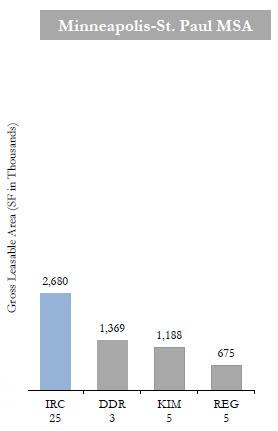 Inland also owns assets in other areas of Minnesota, southern Wisconsin, downstate Illinois, Indiana, Ohio, Nebraska, Kentucky, Tennessee and Florida. However, the company has a concentrated Midwest retail footprint that is targeted in trade areas with strong demographics and high barriers to entry. Accordingly, Inland focuses its investments on #1 and #2 market share grocers and in-demand national retailers. The company's balanced acquisition strategy - of locating in primary and strong secondary markets - is driven by the compelling demographic fundamentals. Inland's 3-mile household income of $65,313 is in the higher percentile of its peer group.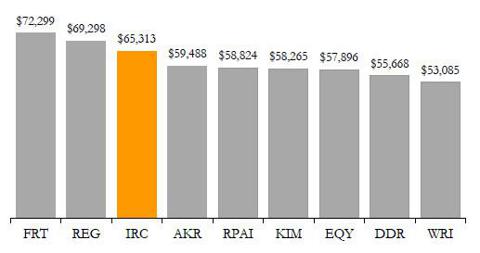 Inland's Circle of Confidence is Shopping Centers
On a recent (Q2-13) earnings call, Mark Zalatoris, Inland's CEO explained:
Most of Inland's neighborhood and community centers are anchored by one or two major stores - most often a supermarket or a drugstore - and contains a number of additional stores that offer other basic services and necessities. As a result, these centers tend to be relatively resilient even in the face of recessions.
Inland's focus on necessity and value retail shopping centers has attracted high-quality national and local tenants. Inland is differentiated by a mid-west focus where around 77% of the company's portfolio contains a grocer, drugstore, or discount component. Also, over 76% of Inland's ABR (annual base rent) has national or regional exposure. Here is a snapshot of Inland's total portfolio based on property type: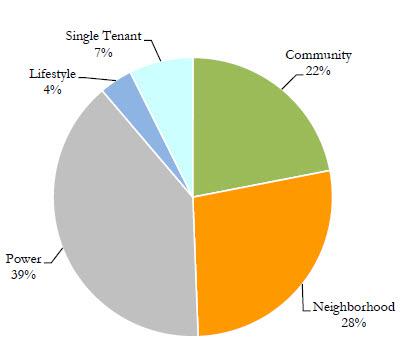 Here is a snapshot of Inland's total portfolio (based on ABR) by retailer type: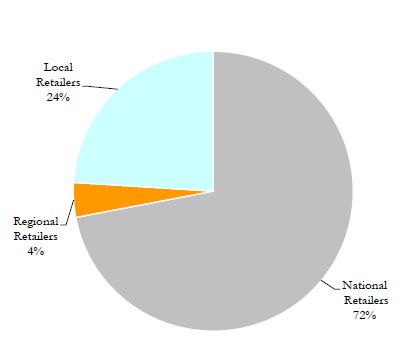 Inland has a diverse portfolio that consists of many high-quality tenants - none with more than 4% of total portfolio ABR. Many of the company's top tenants include leading grocery chains: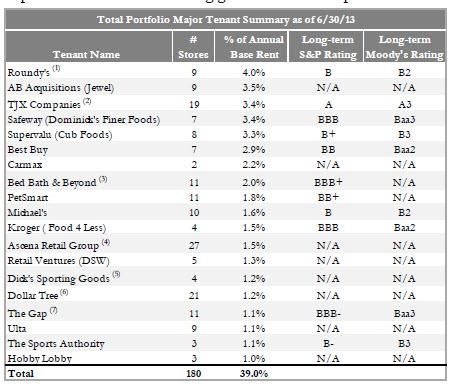 Inland's tenants range from large national retailers to local chains to small independent stores. For the total portfolio (excluding properties held in the joint venture with IPCC - more on that below), the three largest tenants are Roundy's (NYSE:RNDY), which occupies 4.0% of ABR (annual base rent); AB Acquisitions (Jewel), which occupies 3.5% of the company's square footage and Safeway (NYSE:SWY), which occupies 3.4% of the company's space.
Inland's Disciplined Investment Strategy
Inland's disciplined investment strategy of improving diversification has been a key reason that the company has achieved above market returns to enhance net asset value. By acquiring a critical mass of properties in targeted markets, Inland has achieved strategic concentration that facilitates multiple lease signings, expansions, and relocations.
By clustering assets within key submarkets, Inland has gained leasing flexibility efficiencies, including pricing power with vendors. Accordingly, Inland invests in better "best corner" assets that make them highly attractive to retailers.
As a result of its disciplined investment model Inland has maintained 10 consecutive quarters of positive spreads on new leases (Q1-11 through Q2-13) and continued leasing spreads on renewals. As Scott Carr, President of Inland, explains during the latest (Q2-13) earnings call, the trend reflects strength of Inland's locations:
I'd like to note that second quarter marked the 10th consecutive quarter of positive spreads on new leases and continued positive spreads on renewal leases, sign within the total portfolio. Our blended rent spread including new and renewal leases executed within the total portfolio was up 7.6%.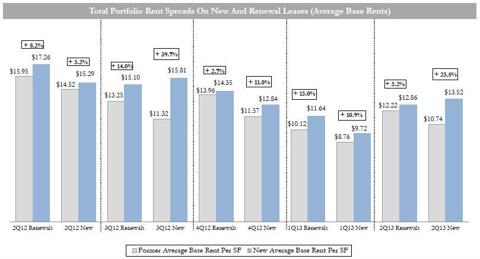 In addition, Inland continues to increase same-store NOI achieved through aggressive leasing and asset repositioning initiatives. During the recent (Q2-13) earnings call, Inland's CEO (Zalatoris) remarked that the company was "raising its prior guidance for consolidated same-store NOI growth to a range of 2% to 3% from a range of 1% to 2%. The guidance increase is primarily due to a lease termination fee of approximately $2 million to be received from Best Buy in the third quarter as a result of asset repositioning."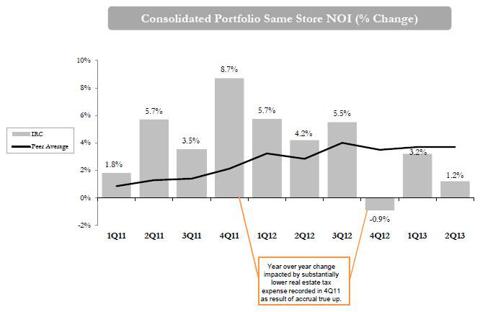 Inland's Differentiated JV Platform
Although some of the larger-cap REITs engage in JV relationships, it is not as common for a smaller REIT like Inland to participate in the use of such value enhancement strategies. Inland has utilized several such JV strategies to diversify its resources and leverage its expanding retail platform.
One such JV relationship is New York State Teachers' Retirement System (NYSTRS). Formed in 2004, this JV was formulated to provide capital to acquire assets and strengthen Inland's balance sheet. In June 2013 Inland announced that it had acquired NYSTRS's 50% ownership interest in the "Indiana" Fund for a price of $121.1 million. The portfolio, now owned 100% by Inland, has 13 shopping centers (2.3 million square feet) and is 97.5% leased (as of 3-31-13). As Inland's CEO (Zalatoris) explains on the recent earnings call:
(IT) simplifies the company's structure by reducing the number of unconsolidated joint ventures…and the NYSTRS transaction primarily funded with equity works toward our goal strengthening the balance sheet by lowering leverage levels and increasing our equity market capitalization.
Inland also continues to diversify its capital resources and expand its platform by maintaining these strategic relationships:
PGGM: Formed in 2010 and upsized in 2012, Inland's PGGM venture allows the REIT to grow its asset base using institutional capital at a time when it's not necessary to issue equity given particular market conditions. Also, Inland is able to build its Midwest asset base concentration faster and on a scale that Inland may not be able to on its own. Buying properties to the joint venture allows Inland to increase its yield on those investments by 100 basis points through the fee income earned. (Inland maintains 55% ownership).
IPCC: Established in 2006 and created as more of a "feed and seed" platform to wholesale assets for a sister company of Inland (its fractional 1031 platform). Inland essentially acquires assets for IPCC using its credit facility and later transfers 100% ownership to IPCC when the sister (1031) company has broken escrow. This partnership generates fees to Inland of around $2.5 million per year and recurring management income of around $1 million (as of 2012).
Inland's use of joint venture projects generated around $31.5 million of fee income from 2006 through the Q2-13. Total JV fee income compound annual growth rate is 23% (2006-2012):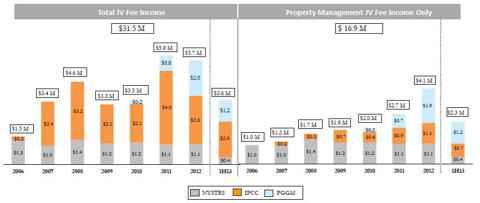 In addition, Inland generated around $16.9 million in JV management fee income in the same period (referenced above):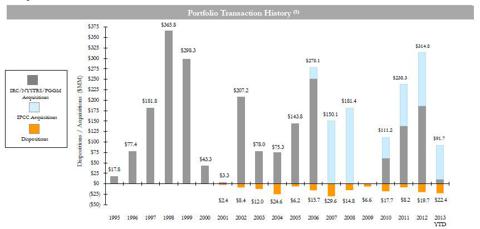 Inland has been an active acquirer of assets and over half of core asset acquisitions have been principal-to-principal transactions, which typically get best pricing in private deals.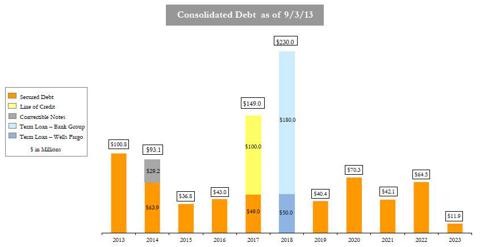 Inland's Balance Sheet Improving
Inland has made substantial progress in enhancing its access to capital. In Q1-12, the company sold 2.4 million shares of preferred stock with net proceeds of $59 million (8% effective yield). In Q3-12 the company upsized its unsecured credit facility from $50 million to $350 million. In Q4-12 the company established a new $150 million ATM equity program and in Q2-13 the company sold 9 million shares (common) for net proceeds of around $91.6 million. In the third quarter the company upsized its unsecured credit facility by $10 million to $360 million. Inland has around 62% of secured debt and the company is moving more of its secured debt to improve its credit metrics and enhance balance sheet flexibility.

Accordingly, Inland is looking towards a long-term goal of achieving an investment grade rating. Here is snapshot of Inland's debt to market cap compared with the peer group:

The following key credit metrics have shown meaningful improvement:
Total Debt/Gross Assets: 48.1% @ Q2-12, improvement of 290 bps and 50 bps, respectively, over 3-31-23 and 6-30-12.
Net Debt/EBITD: 6.6x (Q2-13) vs. 7.3x (Q1-13) and 7.2x (Q2-12)
Here is a snapshot of Inland's well-balanced debt maturity profile: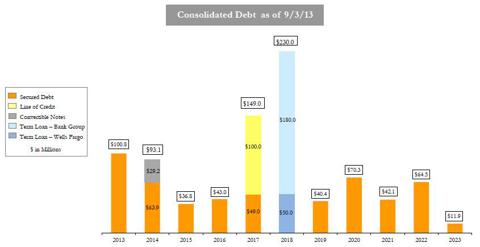 Inland Has Its Groove On!
As I referenced above, I recommended Inland around eight months ago when the shares were trading at $8.30 and since that time (and even after a REIT sell-off that began in late May) Inland has returned over 30%. Let's take a closer look at the company, beginning with the 9-year history as a public REIT. As you can see below, Inland shares were trading at over $20.00 in 2007 and in May of 2009 the shares fell to around $6.98. Of course, like many REITs, the dividend also fell (shaded aqua blue area is the dividend and the solid black line is the price line):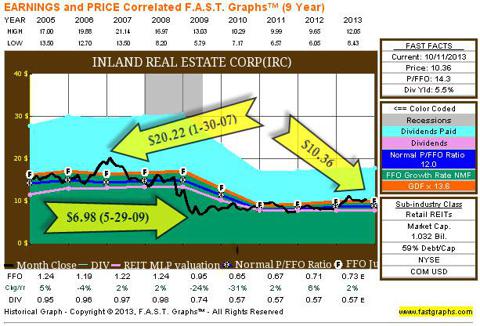 During the same period Inland's market cap also fell significantly: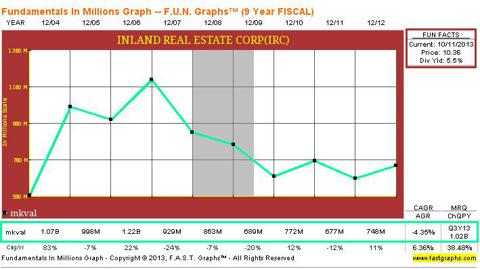 Here is a snapshot of Inland's dividend history:

Inland's dividend did not fall as much as many of the REITs; however, there were a few shopping center REITs that continued to increase dividends (during the Great Recession). Notably, Federal Realty (NYSE:FRT) and Urstadt Biddle (NYSE:UBA) never cut their dividend and they managed to increase during one of the toughest economic downturns in history.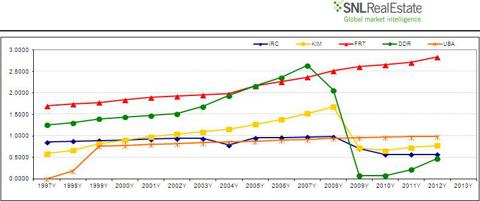 Recently, however, Inland has been a strong dividend performer as evidenced by the 10-year comparison below:

Inland's current dividend yield is 5.5%, one of the highest in the shopping center sector:

Now looking at current valuations, Inland has the lowest Price to Funds from Operations (P/FFO) multiples in the shopping center sector:

Inland is still considered a relatively "cheaply" valued REIT. There are a variety of reasons that Inland has stayed inexpensive, among these: (1) Inland has historically had more debt than the peer group; however, it appears the company is beginning to move the needle closer to an investment grade rating (2) Inland's concentration in two markets has riskier investment characteristics; however, Inland is beginning to move outside of its primary markets (3) Inland has roots in the "retail" investor base (formerly a non-traded REIT) so there has not been as much institutional support for the shares, (4) Inland investors possibly get confused with the company's flagship and Conglomerate Company known as The Inland Real Estate Group of Companies, Inc. Although not directly related (from a legal ownership perspective) to Inland (Real Estate Corporation), The Inland Real Estate Group of Companies, Inc., with a 40-year history as an industry leader and one of the nation's largest commercial real estate and finance groups, has close ties to Inland (Real Estate Corporation) and all related entities.
The FAST Graph below illustrates Inland's "cheap" valuation (Note: FAST Graph has Inland valued at 14.3x and SNL values the company at 11.3x. For the purpose of this article I have used 11.3x and I believe FAST Graph uses a different formula, hence the discrepancy.)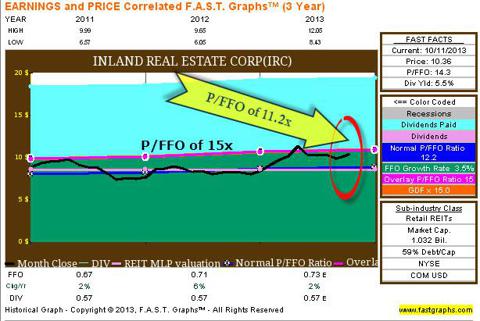 I wish I had initiated a position in Inland when I wrote my article back in December (2012). But, it's not too late. In my SALSA portfolio I have a Target BUY price of $10.75 and I believe there is still plenty of SALSA left… for Inland to keep its groove on. In fact, Inland's announcement last week of Cedar Center South, a 139,000 square foot shopping center located in University Heights (a suburb of Cleveland, Ohio) for a purchase price of $24.9 million, is another indication that the company is leveraging its investment strategy to create more shareholder value.
Inland acquired the center with its JV partner (PGGM) and the property is anchored by a 45,300-square-foot Whole Foods grocery store, one of two serving all of the eastern Cleveland metropolitan area, and a 12,100-square-foot CVS/pharmacy, both on long-term leases that provide a stable, high credit quality income stream. The center also includes a complementary mix of other national and local retailers.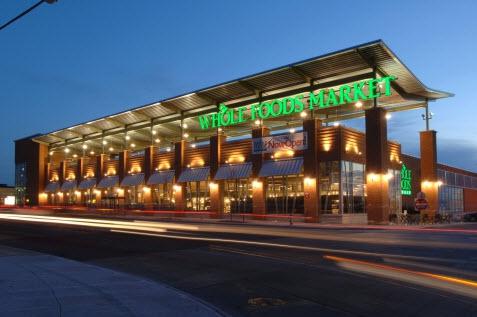 I like the music I'm hearing and I believe Inland's 5.5% dividend (paid monthly) and reinvigorated capital platform will provide me with everything I want in a SALSA REIT - durable income and strong growth. It would be great to see a dividend increase and I wouldn't be surprised to see that in the near future. So maybe instead of watching a "snoopy dance," I can watch Inland dividends compound and witness this "windy city" REIT perform a Salsa dance. That's what I call getting your "groove on"!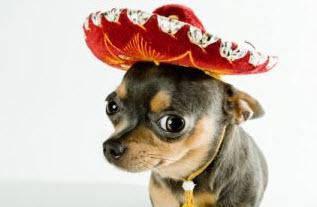 Check out my monthly newsletter, The Intelligent REIT Investor.
Source: SNL Financial, FAST Graphs, Inland Investor Presentation
REITs mentioned:(NYSE:KIM), (NYSE:DDR), (NYSE:REG), (NYSE:WRI), (NYSE:RPAI), (NYSE:EQY), (NASDAQ:ROIC), (NYSE:EXL), (NYSE:AMRE), (NYSEMKT:WSR), and (NASDAQ:WHLR).
Disclaimer: This article is intended to provide information to interested parties. As I have no knowledge of individual investor circumstances, goals, and/or portfolio concentration or diversification, readers are expected to complete their own due diligence before purchasing any stocks mentioned or recommended.
Disclosure: I am long O, ARCP, CSG, GPT, VTR, HTA, DLR, ROIC, STAG, UMH. I wrote this article myself, and it expresses my own opinions. I am not receiving compensation for it (other than from Seeking Alpha). I have no business relationship with any company whose stock is mentioned in this article.