Earning a consistent return on your portfolio should be a serious concern for any investor. There have been many experts who claim that earning dividends is one of the best ways to receive a payout from an investment and surely there are many reasons to pay attention. Stable growing dividends are a sign of a healthy business.
But what if you can't take a simple passive dividend strategy to earn a great return? What if you want to juice your returns and earn as much as possible from a dividend?
There are opportunities using options to limit risk, juice returns, and create a greater income stream. There are a few opportunities this week to do it.
Foot Locker (NYSE:FL) goes ex-dividend on October 16, 2013. The company pays a 20 cent dividend per quarter, with a respectable 2.43% annualized yield. In theory, one could buy the stock before the ex-dividend date, sell it the next day, and collect the dividend. One problem with this strategy is that the stock will automatically be reduced in price by 20 cents on the ex-dividend date. However, with the proper hedge, it may be possible to lock in a selling price at the same time you buy your shares. This is what is called a buy-write covered call strategy.
The mechanics of the covered call strategy are outlined in the following figure. One may purchase several hundred shares and sell call options at a rate of 1 call per 100 shares. In this case, the $32 strike price October 2013 call option has a bid of about 90 cents. Selling this call against shares you purchase for $32.87 would obligate you to sell your shares for $32, but you also get to keep the 90 cent options premium. So, as long as the stock shares continue to trade above $32, you essentially lose nothing (except a small commission). At the same time, you will own the stock during the time that a dividend is awarded, meaning that you collect the dividend.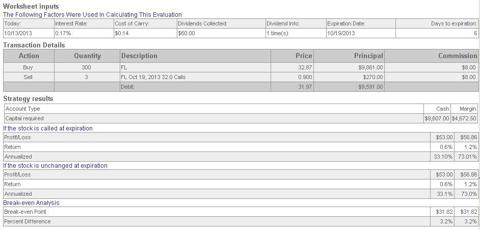 There are risks to this trade. If shares fall below $31.82, you begin to lose money. This type of risk is the same as owning the stock outright. Another risk is that the shares could be called before the ex-dividend date, but again you would lose very little.
Because the risk of the trade is similar to owning the stock, one should do one's due diligence on the company before making the trade. Would you own this stock, regardless of the dividend?
Let's examine Foot Locker's fundamentals. The company currently trades with a P/E ratio of 12.13 and that ratio is expected to fall to 10.67 in the next year. The company reports a Return on Equity of 17.98%, fairly decent for any type of company.
Several analysts also have fairly high target prices for this stock, including Credit Suisse with a $43 target and Outperform rating. One might call this a value stock.
What about pre-earnings announcement volatility? It appears that the company won't report quarterly earnings again until November 11. So, between now and October options expiration, it is unlikely that investors would get some type of nasty surprise.
Another similar opportunity exists with the blue chip stock Colgate-Palmolive (NYSE:CL). This stock goes ex-dividend on Friday October 18. One could sell the $61 strike price call option against their shares, collecting a 72 cent options premium and possibly receive the dividend of 34 cents as well, if the shares don't get called. Earnings will be reported the next week.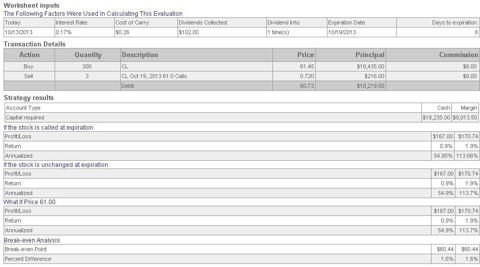 The covered call calculation was provided by a calculator on the Options Industry Council website.
Disclosure: I have no positions in any stocks mentioned, and no plans to initiate any positions within the next 72 hours. I wrote this article myself, and it expresses my own opinions. I am not receiving compensation for it (other than from Seeking Alpha). I have no business relationship with any company whose stock is mentioned in this article.