Because of its expanding nature, the spirits market is attractive to me. In an earlier article I listed "5 plays to profit from the growing spirits market". Diageo PLC (NYSE:DEO) is one of the companies listed. In this article I'll examine Diageo in more depth and explore why this is a great company. Unfortunately, as attractive as the company is, the price is not low enough to be a good bet at this time.
Business Summary Diageo
Diageo plc produces, distills, brews, bottles, packages, and distributes spirits, beer, wine, and ready to drink beverages in North America, Western Europe, Eastern Europe, Turkey, Africa, Latin America, the Caribbean, and the Asia Pacific.
It offers Johnnie Walker Scotch whisky, Crown Royal Canadian whisky, J&B Scotch whisky, Buchanan's Scotch whisky, Windsor Premier Scotch whisky, Bushmills Irish whiskey, Smirnoff vodka, Ketel One vodka, Cîroc vodka, Captain Morgan rum and rum based products, Baileys Irish Cream liqueur, Tanqueray gin, and Guinness stout.
The company also provides other spirits brands that comprise Gordon's gin and vodka, Old Parr Scotch whisky, Bell's Scotch whisky, The Classic Malts Scotch whiskies, Seagram's 7 Crown whiskey, Yeni Raki, and Bundaberg rum.
In addition, it offers other beer brands, which include Malta Guinness non-alcoholic malt, Harp lager, Tusker lager, Senator lager, and Red Stripe lager; wine brands comprising Blossom Hill, Sterling Vineyards, and Beaulieu Vineyard; and ready to drink brands, such as Smirnoff Ice, Smirnoff cocktails, and Bundaberg ready to drink. Diageo plc was formerly known as Guinness plc and changed its name to Diageo plc in February 1998. The company was founded in 1886 and is based in London, United Kingdom.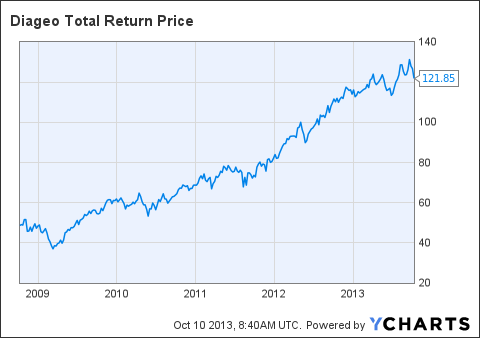 DEO Total Return Price data by YCharts
Diageo managed to grow income an average of 9.21% over the past 5 years. It trades at 19 times earnings and pays a dividend of 2.4%. At these levels it's one of the more modestly valued spirit companies. It's also the largest and pays a nice dividend.
Market Growth
The market for spirits is growing. In the U.S demand is still increasing - Diageo enjoyed a 5% sales increase to June 30 - but emerging markets although slowing down are showing the most growth. For Diageo organic sales growth was still at 11% vs 15% for the year before. Investment bank Demetergroup published a State of the Spirits Industry[pdf] with a lot of interesting figures. These are a few of the key charts: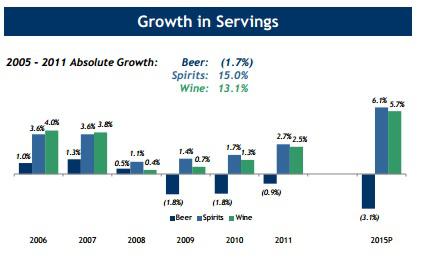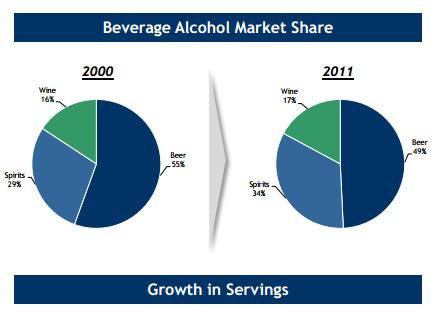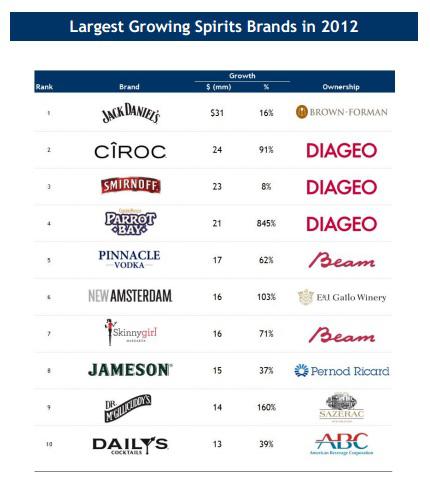 Competitive Advantage Spirit Producers
Recently I realized many spirit makers have an interesting competitive advantage in addition to the economies of scale and customer preference that some of them enjoy. Many types of spirits require years to age. It requires careful planning to produce a product that you will bring to market 10 years later. In addition this start-up time makes it incredibly difficult for incumbents to enter the space.
Raising capital for a venture that may be profitable in 5-10 years time is difficult. Not to mention that significant investments into customer awareness or brand building may be required at the time of launch.
Because of this dynamic I expect its much more likely for existing players to be able to capitalize on a growing market and not necessarily inspire a flood of capital to start-ups.
Competition
There are a few spirit producers that are true global players and I discussed them in my earlier article. Even though these companies will be competing I expect the overall expansion of the market to be powerful enough to decrease the need for these competitors to go after each others market share at the expense of profits. When investing in Diageo it's a good idea to keep an eye on Brown-Forman Corporation (NYSE:BF.B), Beam Inc, (NYSE:BEAM), Pernod Ricard (OTCPK:PDRDY) and Davide Campari - Milano SpA (OTCPK:DVDCY).
Valuation
Diageo's stock is certainly not cheap. It's trading at a P/E near 20 and at almost 7 times book value. Enterprise value / Ebitda is at a whopping 15 as well even though the company decreased debt over the past few years. Capital expenditure is not likely to come down in a meaningful way without decreasing the growth rate of the company so there is little consolation to be found there.
On a relative basis the company is attractively valued when compared to its industry. Many of its large competitors trade at multiples that are even less attractive. Large consumer branded companies trade at large multiples regularly as the market puts a premium on their defensive and stable nature.
Conclusion
Diageo is a great company. But at this time its too expensive. Growth needs to materialize and if it doesn't for some reason, that leaves the investor in a bind.
The company has economies of scale and customers have developed a preference for its brands. Yet at a P/E of 20 outperformance of the market will be a challenge even with these powerful competitive advantages over new market entrants.
Diageo is not a bad investment by any means but I will continue to search for better opportunities. If the price comes down while searching it will be time to re-evaluate.
Follow me on Seeking Alpha or Twitter if you are interested in ideas around the Spirits space or if you have questions and or feedback.
Booze tip
If you want to do field research like every diligent investor should, try the Bulleit Bourbon - if you like Bourbon that is. Try the standard one instead of the 10 year old. That's value investing at its finest.
Disclosure: I have no positions in any stocks mentioned, and no plans to initiate any positions within the next 72 hours. I wrote this article myself, and it expresses my own opinions. I am not receiving compensation for it (other than from Seeking Alpha). I have no business relationship with any company whose stock is mentioned in this article.