On Thursday, word broke out about a leaked Enviromental Protection Agency document that would reduce renewable fuel obligations for U.S. gasoline and diesel refiners.
Major refinery stocks such as Marathon Petroleum (NYSE:MPC) and Valero (NYSE:VLO) rallied strongly on Friday, as well as the smaller MLP refiners such as CVR Refining (NYSE:CVRR) and Alon USA Partners (NYSE:ALDW).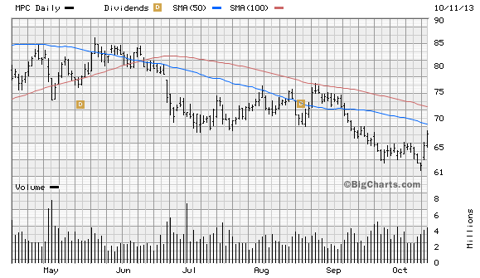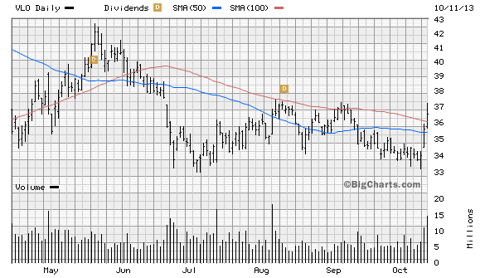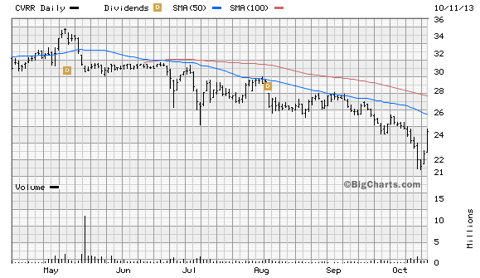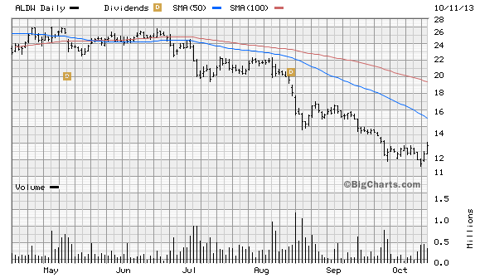 The refinery stocks, which had been treading water due to compressed oil "crack" spreads all summer and fall, had already rallied on Thursday due to the big 323 point gain in the DJIA (NYSEARCA:DIA).
The DJIA gaining another 111 points on Friday helped, but the rise in the refinery stocks was clearly propelled by the good news on the EPA potential action - refineries would be relieved from onerous expenses related to buying "RIN''s or Renewable Identification Numbers under the arcane rules set up under 2005 and 2007 George W. Bush-era biofuels legislation.
So what exactly were the changes proposed, what was the impact on RIN costs, and how might they impact refinery profits going forward?
Five years ago I was touring biofuels plants in the Midwest and trading now defunct names such as VeraSun Energy and U.S. BioEnergy. I've followed the progress of the issue closely. Along the way, I advised a citizens and businesses group that defeated a 400 million liter corn ethanol plant proposed by a stock promoter within the city of Barrie.
RIN futures declined rapidly on the CME on Friday once the EPA news was out although the EPA declined to comment on the document, being closed. The D6 primarily corn-ethanol related RIN credits dropped from 40 cents to 30 cents (per gallon), and the D4 biodiesel-related RIN credits dropped about 9 cents from 63 cents to 54 cents.
Here are charts for CME November contracts for these two main RIN categories, for the 2013 vintage. Futures for 2014 credits also declined. You can see these credits have been declining since at least August, because flexibility on biofuel obligations had already been signaled by the EPA during the summer. RIN credits had skyrocketed to over $1 per unit in the Spring due to the "blending wall" (not enough actual gasoline and diesel demand to actually require the mandated volumes causing a wall for increased usage) hence RIN's became a much sought after commodity due to rationing.
Lower renewable volume obligations have put pressure on trading prices for the various RIN categories, and would be good news for refiners that don't "blend" fuels (which creates new virgin credits), but have to buy either biofuels or RIN credits to fulfill their government regime obligations.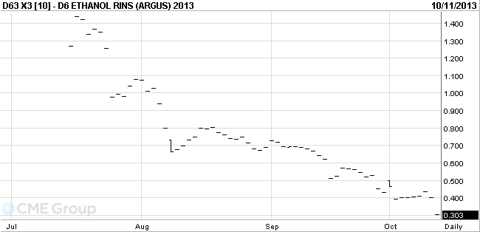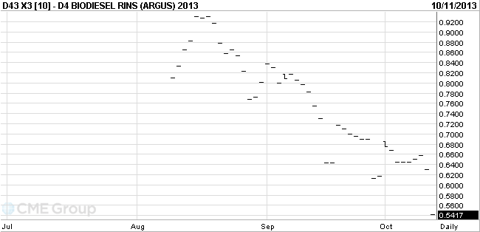 Behind the scenes, frenzied lobbying has been playing out between both pro-biofuels groups such as the Renewable Fuels Association and Growth Energy, and anti-biofuels groups such as the American Petroleum Institute and various processed food and animal feed trade groups.
Here is the breakdown for the 2013 renewable volume obligations. It should be noted it took the EPA almost nine months into 2013 before finalizing the amounts of each biofuel category, adding to uncertainty.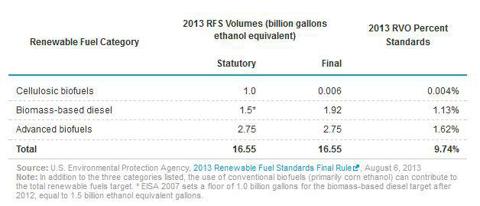 The leaked EPA document shows that what is being proposed is conventional (i.e. corn ethanol) biofuel 800 million gallons less than 2013 and 1.6 billion gallons less than the 14.4 billion scheduled for 2014. That's a huge decrease and the biofuels lobby groups are up in arms. Here is what the RFA's CEO Bob Dineen had to say.
As an aside to nitrogen fertilizer stock traders, the reduction of 1.6 billion in ethanol demand would equate to about 500 million bushels less corn demand, or approximately 10% of that used currently for fuel.
The current ethanol blend wall is estimated at 13.3 billion gallons, below this year's mandated 13.8 billion - hence the spike in RIN prices. The number should be about 10% of estimated annual U.S. gasoline demand, which has been declining due to both the recession and higher gas mileage requirements. Note importers of refined products must buy RIN credits.
Advanced biofuels, which include biodiesel and cellulosic biofuel, would drop from 2.75 billion gallons to about 2.2 billion in 2014. I am not sure what the blend wall is for biodiesel, if one exists. Note that jet fuels and other non-transportation distillates such as heating oil are excluded from the regulations.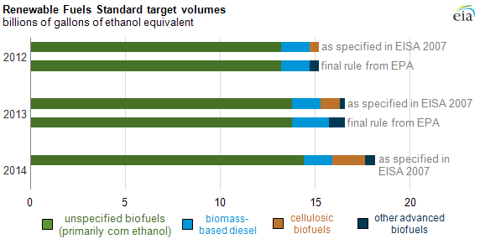 Since RIN credits like any commodity are valued at the margin of supply and demand, they have been dropping steadily in price to reflect a possible oversupply situation. To make matters more complicated, refiners can roll over unused credits from one year to another, and we can only estimate how many RIN's have been stockpiled. Estimates are the carryover could be more than 1.5 billion so you have to watch out: some refiners may have to write off their RIN credits purchased at higher prices. The cost will no doubt be passed on in higher gasoline and diesel prices though.
Thursday's leaked EPA document was only a draft, as the statement from the new head of the EPA Gina McCarthy was quick to point out. The statement also said "the agency has made no final decision on the proposed renewable fuel standards for 2014" and "no decisions will be made on the final without a full opportunity for all stakeholders to comment on the EPA's proposed RFS and to be heard on how to best foster a growing biofuels industry." But the document was sent to the White House Office of Management and Budget for review, which has approval authority.
I think we can assume the proposed volumes are real and probably going to be implemented, assuming the RFA doesn't manage to somehow block them. Legal cases are part of the renewable fuels war that's been going on ever since the RFS was implemented.
How would the RIN credit decline in price impact refiners?
I follow a couple of refiner stocks closely and have written about Alon USA Partners estimated RIN costs at $20 million this year, and I had modeled $15 million going forward due to the possibility some relief might be likely, as well as Alon's own attempts to bring biodiesel in house for blending. Removing the $15 million from Alon's annual expense run rate would improve cash available for distribution from 88 cents to $1.12 providing an improved prospective yield of 8.6% at the recent price of $12.96.
We can't look at RIN costs in isolation. Crack spreads at the Gulf Coast have improved slightly since I wrote the article, but still appear depressed. Here are the December CME contracts for Gulf Coast WTI crack spreads for unleaded 87 gasoline and ULSD diesel.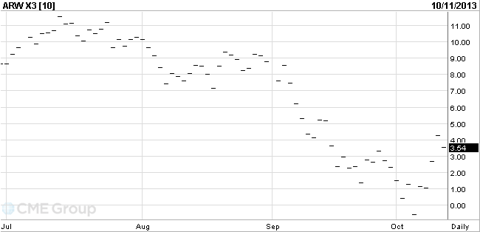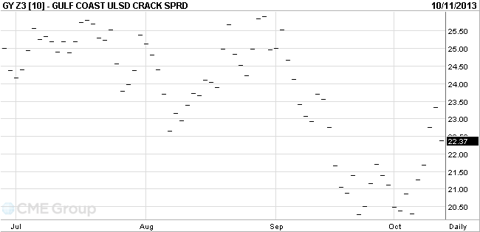 With TransCanada Corporation's (NYSE:TRP) Gulf Coast pipeline near completion, it isn't likely Cushing WTI inventories will be replenished anytime soon, which would have improved margins for inland refiners such as Alon, CVR Refining and Western Refining (NYSE:WNR).
Although Valero ultimately bought several of the corn ethanol plants I toured back in 2007, it also has been on the hook for RIN costs due to the sheer volume of retail fuel it produces and sells. Valero estimated RIN costs for 2013 to be as much as $800 million and would be a major beneficiary of a relaxation in biofuel volume requirements.
CVR Refining's CEO, Jack Lipinski, also complained about skyrocketing RIN costs earlier this year, and estimated the total cost of RIN's for CVR Refining at $200 to $240 million in the second quarter 10Q.
Today's weakness in the stock market might be an opportunity to buy some of these names, keeping in mind crack spreads are volatile and so are refiner earnings.
Disclosure: I have no positions in any stocks mentioned, and no plans to initiate any positions within the next 72 hours. I wrote this article myself, and it expresses my own opinions. I am not receiving compensation for it (other than from Seeking Alpha). I have no business relationship with any company whose stock is mentioned in this article.