Even in the best of times the science of investing is tricky enough that fallacious arguments are made regarding the value of a company, leading to incorrect conclusions. With a situation as complex as Micron's (NASDAQ:MU), including its recent acquisition of Elpida and the shifting backdrop of the industry as a whole, it's inevitable that mistakes will be made. I'd like to dispel a few of the misconceptions that have arisen as a result of these murky conditions.
Micron made $.20, missing expectations by $.04
In the recently reported quarter Micron made $1.51 per share, with $1.31 being a one-time gain from the purchase of Elpida. Hasty math then implied that non-GAAP results were $.20, but what about other one-time gains and losses? Exclude the cost of the acquisition, layoffs, writedowns, and other items, and results are suddenly 45% higher at $.29, or a beat of expectations by a nickel. Micron either made $1.51 or $.29, but not $.20, as was widely reported across the financial world, though it's been corrected in some publications.
Elpida's property, plant, and equipment is worth $935 million.
The PP&E line of the purchase accounting slide gives a value of $935M. That is the value of 100% of Elpida's fab producing around 100k wafers/month, as well as the value of 89% of Rexchip's fab producing around 85k wafers/month, 65% acquired from Elpida and 24% acquired from Powerchip. The Elpida fab is producing at 25nm and 30nm at great yields, while the Rexchip fab is at 30nm and will make the migration to 25nm soon -- these are high tech fabs with a competitive cost basis that were upgraded while in bankruptcy.
Samsung's (OTC:SSNLF) Xi'an, China fab is projected to have a final cost in the range of $7 billion with perhaps 100k wafers/month (NAND wafers rather than DRAM, but the concept is similar.) To construct new capacity similar to what Micron just acquired, you'd need something like $7B - $10B and a couple of years of construction time, followed by months of qualifications and improving yields. Understand that's only a ballpark figure to show the magnitude of the discrepancy, and that we should get more information about the details of Micron's acquisition with the pro forma to be released later this week.
$935 million is a laughable valuation no matter how you look at it, and nevermind the intellectual property acquired and future synergies yet to be produced. I'm not an accountant so I'll leave it to others to discuss the magic of FASB ASC 805, but suffice it to say that the value is an artifact of purchase accounting rules (along with an impairment charge of $2.8 billion in March, 2012), and vastly understates the worth of Elpida and Rexchip. One implication of this is that the book value of the combined company is artificially low, and this should be accounted for in valuing the company. A corollary to this is that cash flow and earnings will be surprisingly high.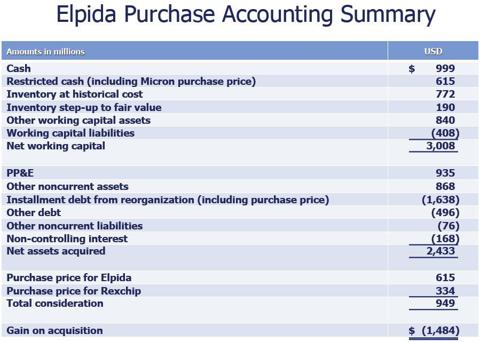 DRAM pricing will rise by a relatively modest amount this quarter
Micron's presentation would make it appear that DRAM pricing will see relatively little benefit in the first fiscal quarter from the current shortage which has been exacerbated by the fire in an SK Hynix (OTC:HXSCF) fab on September 4th.
"Using quarter-to-date selling prices and projected product mix effects for the quarter, ASPs will be up mid-single digits compared to the Q4 average as a result of market increases" -- Ronald Foster, CFO
The above is reflected in the slide, with the fine print of:
"**QTD includes both the impact of market price trends and changes in product mix."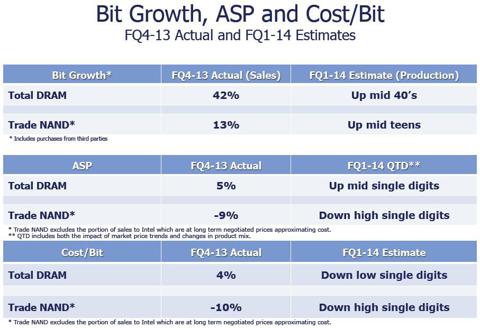 However, this is misleading. First, note that it's quarter-to-date pricing, and that Micron is telling us what already happened, rather than what is going to happen as you can see from this answer to a question on the call:
"This is Mark Adams. As we typically don't do, we'll not comment on future pricing. There's a lot of variables we just don't have a handle on in terms of what the competitive recovery would look like. Obviously, we are in a situation that since then up until quarter to-date, it's further tightened, was a tightening market, but we're not in a position of predicting future pricing."
Pricing has been widely predicted to increase as we approach the holiday season and as the DRAM content of mobile devices continues to steadily rise.
Second, by the very nature of contracts, there's a lag between when supply decreases and pricing increases. About 35% of Micron's business is done with 2 week contracts, but about half is done with longer contracts, as long as 6 to 9 months. The shorter contracts have already risen, and will continue to follow the memory market up and down, while the longer contracts may not be renegotiated until the shortage is even more severe. Regardless of when the various contracts are renegotiated at higher prices and how much of that is in the first fiscal quarter, current market conditions should lead to a prolonged period of high profits for an extended period of time. The situation has been repeatedly compared to that of Seagate (NASDAQ:STX) and Western Digital (NYSE:WDC), who have seen higher gross margins ever since the flooding in Thailand impacted supply of harddrives in 2011. Furthermore, Micron's position as part of an oligopoly has been cited as justification for increasing pricing and gross margins, such as in Citigroup's recent research with a price target of $30.
Third, Apple (NASDAQ:AAPL) buys the bulk of Elpida's mobile DRAM. This is a relationship that was established, not just before the current shortage, but while Elpida was in bankruptcy. Isn't it reasonable to think that Micron might have more negotiating clout now and in the near future than Elpida had while trying to keep the lights on?
While the market saw these misconceptions as a reason to take profits, half a dozen analysts have already raised their price targets, and the forward PE for Micron is now around 7 (which I believe to be overly conservative) and falling as earnings estimates start to catch up to reality. Friday's drop presents a great opportunity, as I expect to see shares over $30 in 2014.
Disclosure: I am long MU. I wrote this article myself, and it expresses my own opinions. I am not receiving compensation for it (other than from Seeking Alpha). I have no business relationship with any company whose stock is mentioned in this article.