Aside from E-House Holdings (NYSE:EJ) which completely fell flat on its face, one of the best earnings reports of the past few weeks was Ctrip.com (NASDAQ:CTRP). Unlike EJ, the stock gapped up after earnings and tacked on a bushel of points.
On Thursday, the stock has came back and filled it's "gap" in the $66s, where I am going to create a starter stake of a 0.5% allocation. I would prefer to be a buyer around $60 (where I'll place a limit buy near) with a stop loss below that point. But it's an OK place to begin a position with hopes of lower prices in the future. (Click chart to enlarge)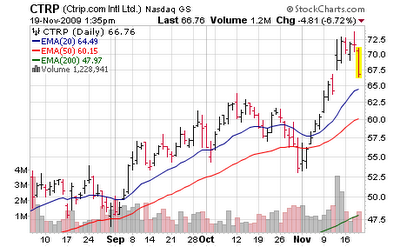 We have not owned this name in a while. This is normally where I'd talk about valuation, growth metrics, fundamentals, etc, but it all has become moot. Stare at the dollar chart, and act accordingly.
As an aside, I am laughing out loud at my main watch list. About 60 stocks, all but one stock is in the red... while the dollar is up 0.25%. This inverse dollar trade is so sickening.
Disclosure: Long Ctrip.com in fund; no personal position