Business Overview:
Credit Acceptance Corporation (NASDAQ:CACC) is the market leader in the subprime auto lending market. The Company partners with auto dealerships to offer consumer loans for used vehicles to customers with low credit that would otherwise have a difficult time finding an auto loan from traditional lending sources. It also generates revenues through the sale of extended vehicle service contracts ("VSCs"), which are basically extended warranties on which CACC underwrites the insurance. CACC markets themselves, through its dealership partners, as "guaranteed credit approval", providing credit to customers regardless of credit history. Make no mistake, CACC lends to the riskiest segment of the market, realizing default rates on its loans during the past decade in the range of 26-32%!
While Credit Acceptance Corp. has achieved impressive results over the past 5 years, I believe the Company is currently overvalued with a high probability of a negative surprise over the coming quarters. There are several reasons why I am bearish on CACC:
Overvalued when compared to peers on a P/E and P/B basis
Regulatory risk from the Consumer Financial Protection Bureau ("CFPB")
Heavy debt load and low cash flow
Multitude of industry risks
Before I develop my bearish opinion on the stock, I will highlight a few of the positives Credit Acceptance Corporation investors may point to. First, the Company is a market leader, with several billion higher in market cap than the next highest public pure player. Second, the Company has achieved high growth rates, with net interest income increasing by approximately 18% in both 2011A and 2012A. The strong growth has driven the stock price up by an impressive ~800% since its lows in 2008. Third, the Company posted a solid 2Q13, beating earnings estimates by 7 cents with an EPS of $2.56. The quarter also saw a large increase in active dealers, growing to 4,484 active dealership partners. Although the dealership growth beat expectations, it is important to note that volume per dealer fell by 17% vs. 1Q13, which is a sign of increasing competition, which I will discuss later.
Overvalued compared to peers:
CACC's pure play competitors in the consumer lending, subprime auto space are Nicholas Financial (NASDAQ:NICK), Regional Management (NYSE:RM), and Consumer Portfolio Services (NASDAQ:CPSS). There are really two relevant valuation metrics for companies in this space - price to earnings and price to book value. P/E is important because there are relatively few fixed assets in the lending business, so the important metric is profitability on the loan portfolio. P/B is important because it tells investors the premium they are paying above its current equity value. IE, P/B multiple gives investors the multiple they are paying above what value would be left if the company went out of business today.

Source: Yahoo Finance
On a P/E basis, CACC appears to be slightly overvalued, coming in just behind RM with a P/E of 11.5x. In such a competitive market, with growth rates and margins likely to compress going forward, it is unlikely that CACC will maintain its premium P/E. Looking at historical P/E's in the market, I believe CACC could see slight contraction, with a P/E in the 10-10.5x range being closer to fair value.
On a P/B basis, CACC appears to be valued well above its comparables at 4.0x (vs. an average of 2.0x for its three comparable companies). This is an enormous premium over book value. Given all of the risks in the business that I will discuss below, it is hard to imagine an investor being comfortable paying such a high multiple of book value. I believe this multiple will contract going forward.
Regulatory Risk from the CFPB:
The Consumer Financial Protection Bureau has spent the past few years carefully evaluating practices in the auto lending market, specifically the subprime space, due to the fact that these consumers are typically the least sophisticated and therefore the most susceptible to deceptive tactics. At a minimum, the CFPB's investigation will cost the industry millions to update its compliance in the form of expanded disclosures and modified marketing. In a more realistic scenario, the CFPB will increase the level of regulation which could put a damper on the growth prospects of the industry.
There are three main areas in which the CFPB has set its focus:
1. Interest rate disclosure. Every state has its own usury laws which limit the amount of interest a lender can charge. Given that CACC has seen default rates approaching 1/3 of its issued loans, it needs to charge very high interest rates to cover this high level of risk. The problem is that this rate often brushes up against the highest interest rate allowable by law. This means the Company literally cannot charge a higher price. Also, there have been rumors that the CFPB is investigating the pricing practices of dealerships, whereby in states with high interest rates, dealerships could be charging higher rates for the vehicle to lower the stated interest rates to comply with the law. This is clearly an area the CFPB could come down hard on in the future.
CACC has dealership geographic concentration with 32% of dealerships operating out of five states. If any one of these states were to change its interest rate laws, the impact could be disproportionately high to CACC's bottom line.
In June of 2013, the CFPB issued a $6.5mm fine to two auto lenders for failing to disclose fees to military service members. Details of the fine can be found here, but I believe this is just the beginning of the fines to come from the CFPB.
2. Discrimination of Minorities. Just a few weeks ago, Automotive News announced that the CFPB is evaluating lending practices that take advantage of minorities, the elderly, and women. As these groups make up a disproportionate amount of subprime loans, regulation in this area could damage the growth prospects of CACC, or even lead to fines.
3. VSCs. While the CFPB has not yet had a heavy focus on the extended warranty contracts for used vehicles, there has been a great deal of speculation that VSCs could be the next area to be evaluated. The selling of these contracts to those who do not understand the coverage could be considered deceptive and could lead to further regulation.
While we are on the topic of VSCs, it is important to highlight that CACC operates like an insurance company with regard to underwriting its VSCs. Since CACC is selling older used cars, the failure rate is volatile and could lead to higher than expected risks. This risk is enhanced by the heavy debt load CACC maintains on its balance sheet.
Heavy debt load and low free cash flow:
CACC's net debt is roughly 6x its net income and maintains a debt to equity ratio of 2x. While a company operating in this space must obviously use leverage to fund its loans, it is always a scary proposition to be in a cyclical, uncertain, volatile market and maintain a high amount of leverage.
From a cash flow perspective, the Company has not generated a large amount of cash historically. It pays no dividends, but it does buy back stock. In 2012, the Company used its excess cash to buy back $152mm of stock. While not insignificant, on a market cap of about $4B, the company is essentially returning 3.8% to shareholders through buybacks. To get a reasonable return, an investor must assume the stock will appreciate significantly, and of course, that the Company will generate enough cash going forward to maintain its stock buyback program.
Another area of risk that CACC faces is that of increasing interest rates. The Company relies on credit availability to lend out its loans. As the Company is not likely to raise its interest rates given the usury laws and CFPB regulation outlined above, as interest rates rise, its profit margins will decrease. Record low interest rates have been to the benefit of CACC in recent years, but as we have seen in the first half of the year, interest rates are likely to rise from here and could do so rapidly.
Multitude of industry risks:
One of the major risks faced by CACC is the default by customers on its loans. CACC is lending money to subprime borrowers - these are the riskiest loans. Since the cars are used and typically older models, repossession of vehicles does not offer much asset coverage on the loan for CACC. In tougher economic times, CACC has seen default rates approaching a 1/3, meaning a third of its customers default on loans. If the economy begins to go south, CACC will face the double whammy of increased defaults on its loans, and a tightening of its ability to get credit to issue new loans. I believe that investors have failed to adequately price this risk into the stock. Sure, the times have been good with cheap credit available for CACC to lend out at high interest rates in a moderate growth economy, but when the cycle turns down again, profit margins are going to decrease significantly.
Another risk faced by CACC is the increase of competition in the market. CACC has very minimal competitive advantages. The Company's only real advantage is its dealership partner network and its risk management experience in lending to subprime borrowers. I don't view 4,484 dealership partners as a huge advantage because when it comes down to it, CACC is only offering those dealerships money, nothing else. The size of your checkbook is a minor advantage at best, because if the returns are there, competitors will emerge and compete on price. In fact, the Company has seen its margins contract, losing 50 basis points in return on capital quarter over quarter 2Q13. I do not believe that investors are pricing in the profitability impact of margins contracting due to competition increasing.
A final industry risk that investors may not be pricing in is that used car prices are at the highest level in years.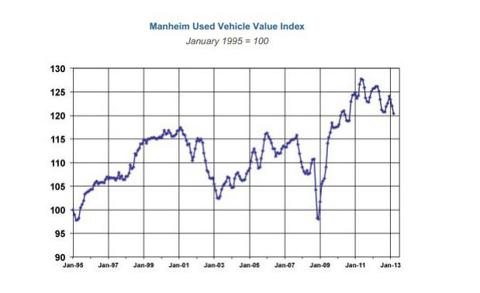 Source: Manheim Consulting
The Manheim Used Vehicle Index above shows that used vehicle prices are well above the bottom of 2009. While the chart shows data through March 2013, the most recent august data release from Manheim shows an index of 122.3. This level borders on all-time highs. With the sale of new cars increasing rapidly this year, the supply of used vehicles should increase in coming quarters. As used sale prices come down, so will the value of loans that CACC issues. I do not believe that investors are pricing in the impact of used car sale prices peaking in the near to medium term.
Conclusion:
Credit Acceptance Corporation has enjoyed near perfect conditions for its business over the last five years, which have driven an impressive increase in its stock price. In my view, these ideal conditions are beginning to peak which will limit future stock appreciation. CACC has been awarded a premium multiple compared to its peers for its strong performance historically, but investors need to evaluate where this company is in the business cycle and what the likely conditions going forward will do to its operating performance. Moderating growth over the next several quarters or a downside surprise from any of the various snake pits I've discussed could reduce CACC's premium multiple AND negatively impact earnings, resulting in a sharp decrease in stock price.
Given the various risks, I believe that CACC is overvalued at this level. In my view, the stock has limited upside potential, but significant downside risk. My overall rating for Credit Acceptance Corporation is a sell.
Disclosure: I have no positions in any stocks mentioned, but may initiate a short position in CACC over the next 72 hours. I wrote this article myself, and it expresses my own opinions. I am not receiving compensation for it (other than from Seeking Alpha). I have no business relationship with any company whose stock is mentioned in this article.