Here's a quick follow up to my Spirit Airlines article at the end of August.
So just over one month later and a few predictions have come true.
1) We have seen a 30% price appreciation in Spirit Airlines (NASDAQ:SAVE) and hit our short-term price target of $40. This has been accomplished in the face of broader market selling over the last week or so.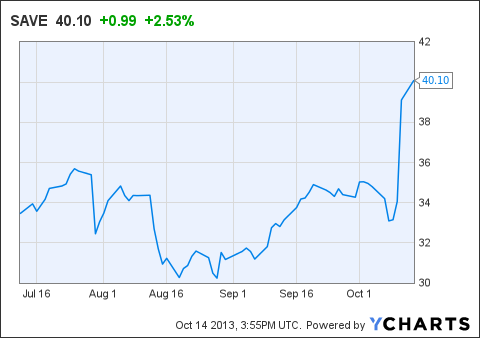 SAVE data by YCharts
2) Oil has come down off its highs and should continue to decline for some time [Gulf States Producing More Oil Than Ever...].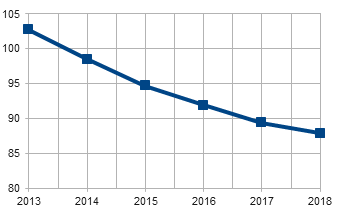 This also has the benefit of expanding margins for Spirit Airlines, as was also discussed in the last article. I had also suggested that further declines in the price of oil could push 25% higher to $50.
So what is new?
Well for a start, Spirit is experiencing stronger than expected growth.
SNPMarketScopeViewsNews2013-10-11 14:56:04.

SAVESPIRIT AIRLINES, INC.MATTHEW MORROWSPIRIT AIRLINES REPORTS SEPT. TRAFFIC. CITI UPGRADES TO BUY FROM NEUTRAL Analyst Stephen Trent tells salesforce upgrades from SAVE on the back of very strong Sept. traffic stats, incl. Q3 RASM growth guidance of 8%-9% y/y. Notes SAVE said stronger close-in bookings late in Q drove Q3's significant jump in expected RASM. Thinks SAVE's strategy of stimulating traffic demand at major airports in the US (and in Latin America, the Caribbean on a more limited basis), its high-density seat configuration and continued growth of ancillary revenues should sustain above-average earnings growth, as other US airlines consolidate.
I expect to see continued strong growth throughout the rest of this year. In these tough economic times there should be a little more budget holiday travel. In the last article we also looked at the additional routes put in place. Many of these new routes enable Spirit to continue to grow through the holiday season. The new planes for this were covered in an article by SA contributor Fusion Research.
A One Hundred Year Event is being over looked. I anticipate even stronger-than-average demand during this holiday season. For the first time since the late 1800s Thanksgiving and Hanukkah fall on the same day.
Conclusion
Things continue to look rosy for Spirit Airlines. I will maintain my overall bullish outlook and increase my longer-term price target to $60. I expect to be trading in the $50 -$55 range during Q3 2014. The only real impediments I could foresee would be extreme weather events during the holiday season or a complete collapse caused by Washington DC. Outside of a total collapse, I would view any pullbacks as bumps in the road. This is a buying opportunity for those with a long-term outlook.
Disclosure: I am long SAVE. I wrote this article myself, and it expresses my own opinions. I am not receiving compensation for it (other than from Seeking Alpha). I have no business relationship with any company whose stock is mentioned in this article.