One of the new taxes included in the 2010 Affordable Care Act (Obamacare) was a 2.3% tax on medical device sales. The tax on medical device manufacturers and importers went into effect on the first day of 2013, and it has been floated as one of the taxes that the GOP is trying to have removed in its negotiations with the President and Congressional Democrats to re-open the government and raise the debt limit.
The medical device tax began at the start of 2013, so how have medical device companies done so far this year? As shown in the chart of the iShares U.S. Medical Devices ETF (NYSEARCA:IHI) below, they have done nothing but go up. While the S&P 500 is up 19% year-to-date, IHI is up 28%.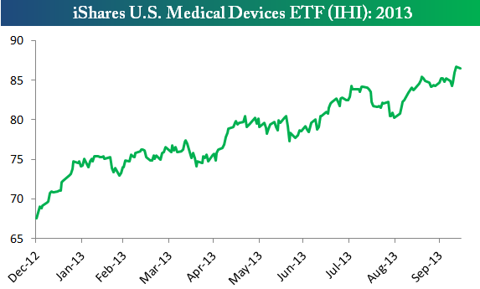 The Medical Devices ETF is also outperforming the broad market since the Affordable Care Act was passed on March 23rd, 2010. As shown in the chart below, IHI is up 48.6% since Obamacare was signed into law, while the S&P 500 is up 45.9%.
One could argue that medical device companies would be doing even better if the tax was not in place, or that investors have been shrugging it off because they expect it to eventually be discarded. Even still, though, the returns have been pretty darn good.