In this article, I examine the dynamics of the non-monetary demand from Asia and the monetary demand from central banks holdings as they have played a significant role in the gold bull market since 2000.
Monetary demand from Central Banks
Exhibit 1: Central bank holdings of ounces of gold (Millions)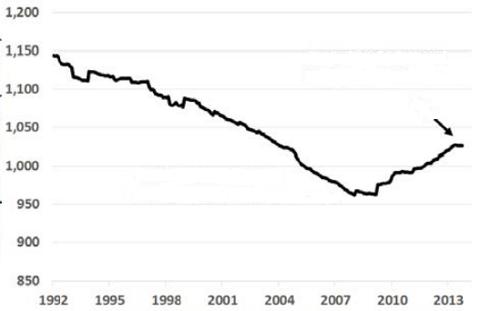 Source: World Gold Council
As seen in Exhibit 1, the world's central banks have been net sellers in the late 1990s, depressing gold prices (NYSEARCA:GLD). Then, they have become net buyers from 2008, supporting gold and dragging gold miners (NYSEARCA:GDX) with it. But more recently, demand from central banks has been moderated in 2013. According to the latest World Gold Council Gold Demand Trends report, which covers the period April-June 2013, even though central banks have now been net purchasers of gold for 10 consecutive years, net central bank purchases totaled 71 tonnes, 57% down on what was a record-breaking quarter a year ago. Consequently, the slowing pace of demand from central banks could continue mainly because increasing volatility in gold prices, weakness in emerging market currencies and declining rate of growth in FX reserves among some banks.
Non-Monetary demand from Asia
As India and China are the largest buyers of gold, physical demand (NYSEARCA:PHYS) out of Asia has been moderated in the recent weeks for different reasons.
In India, gold demand has been affected by a sharp decline in the rupee (making gold prices for Indians higher) and the extreme actions taken by the government to curb gold imports. As a reminder, here is the timeline of India's gold tax since 2012:
Exhibit 2: Timeline of India's gold tax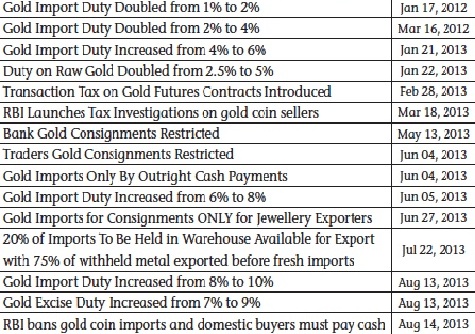 Source: Sharps Pixley
As seen below, in August, India continued to strengthen restrictions on gold imports by prohibiting imports of gold coins, medallions and Dore without license. Moreover, loans against gold jewelry and coins provided by rural banks are now forbidden. India raised its import duty on gold bars for the third time in 8 months to 10%.
More recently in September, the government further raised the import duty on gold jewelry from 10% to 15%.
As the government seems to be ready to do "whatever it takes" to curb its negative balance and to constrain the free-fall in the rupee, gold demand out of India is likely to remain subdued.
In China, even though gold demand remains robust, gross gold imports from Hong Kong have cooled since 2Q. They fell from 113.2 metric tons in July to 110.2 metric tonnes in August as investors became cautious after the rapid increase in prices. Moreover, premiums in Hong Kong for gold bars have declined from $5 an ounce in 2Q to $2 an ounce, reflecting a lack of activity. Finally, investors need to understand that China is a potential macro-risk to the global economy and even though China was able to post annual double-digit growth in the last years, growth is likely to slow for the next couple of years. As a result, gold demand could decline as GDP slows.
In sum, the buying of gold from central banks since 2008 and the strong physical demand from India and China could play a less significant role than it used to be in the previous decade.
Disclosure: I have no positions in any stocks mentioned, and no plans to initiate any positions within the next 72 hours. I wrote this article myself, and it expresses my own opinions. I am not receiving compensation for it (other than from Seeking Alpha). I have no business relationship with any company whose stock is mentioned in this article.