The recent U.S. government shutdown and the potential of a U.S. credit downgrade or default over the debt limit could lead us into an inflationary cycle which historically follows deflations. Central banks are fighting economic contractions with quantitative easing which they are reluctant to taper under Bernanke and Yellen.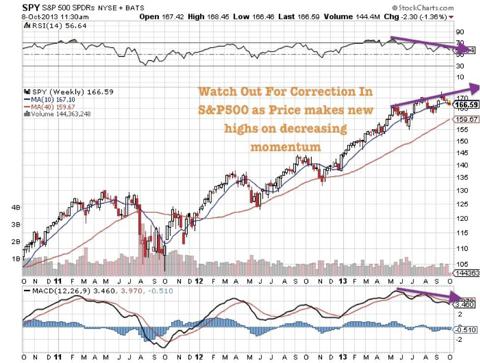 Our metal and mining sectors (NYSEARCA:XME) may begin leading the markets over the near term as they are traditional inflationary hedges. Most notably watch the rare earths (NYSEARCA:REMX) which could rise exponentially if the Chinese tighten exports on these critical metals needed for our latest technologies in healthcare and the military.
Despite the lack of Western Intervention in Syria crude oil (NYSEARCA:OIL) remains above $100 a barrel. Crude oil has broken above the $100 mark and is on the verge of a major multi-year breakout. Geopolitical and financial uncertainty in the U.S. could send energy prices soaring to breakthrough all time highs.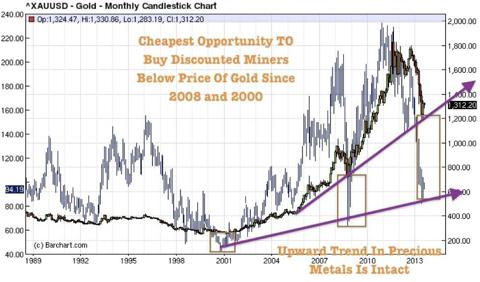 We may soon see one of the strongest upturns in the gold (NYSEARCA:GDX), silver (NYSEARCA:SIL), energy and the junior mining sector (NYSEARCA:GDXJ) which usually follow these volatile corrections and shakeouts. The chances of total chaos in the Middle East and the potential for a major financial event in the United States are rising.
Currencies are declining rapidly, most notably in India, Turkey and Brazil. Hyper-inflation may start rearing its ugly head like I predicted many months ago. The U.S. dollar (NYSEARCA:UUP) is also looking like it is on the brink of a major decline to break 2012 lows as it breaks down from a bearish rising wedge.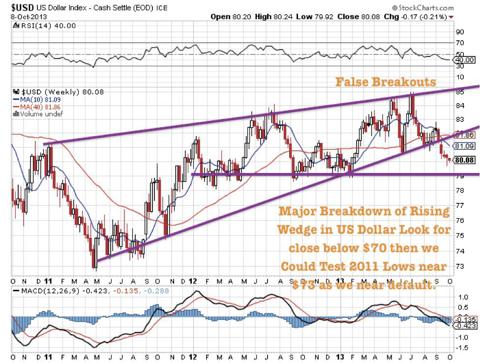 The base building of the past two years could lead to an extended move in the commodities, mining and precious metals sector as it is historically undervalued compared to the overall equity market. Growth looks like it is expanding in Europe, China and the U.S. from all the easy money policies.
Bonds look ugly and equity investors are becoming increasingly concerned about inflation. China demand for commodities is rising as its manufacturing numbers increase and they have large bond and dollar positions which are at risk of declining. China is one of the world's largest consumer of metals and energy and it needs vehicles to diversify away from the dollar and bonds.
Violence could escalate in Africa and the Middle East. Notice the recent terrorist attack in Kenya. There are many forces that could drive oil and precious metals into new highs. Momentum players may soon run into the commodity sector. Hedge Funds which may have been short are now covering and should go long. It is better being a few months or years early rather than being seconds late.
The canary may be in the coal miners (NYSEARCA:KOL). I may have been early buying into the coal sector sensing a bottom earlier this year. Coal stocks have been one of the worst performers during this commodity corrections over the past three years, but it may actually rebound the fastest if there is a turn in commodities. Sometimes the area that goes down the most in the previous down cycle outperforms in the coming upturn.
No sector other than possibly uranium (NYSEARCA:URA) has been so punished by the media as coal. Coal stock prices are down since 2011. Peabody Energy (NYSE:BTU), the largest publicly trading coal company, is one of the worst performers in the S&P 500, as coal has been lumped in with other dying industries.
However, the reality is coal is not going away so fast. As the commodities rebound and as demand rises look for coal stocks to recover impressively possibly breaking through the two-year downtrend. A modest economic upturn combined with oil supply risks could really spark a nice rally in this completely forgotten sector as many producing mines were shut down over the past few years affecting supply.
Purportedly, cheap and abundant natural gas would replace coal. Already natural gas has doubled off $2 lows, proving it is not as stable as many pundits believed. It is important to note that in emerging markets, natural gas prices are almost seven times higher than in the United States.
Demand for coal is rising globally as emerging markets continue to build infrastructure and need cheap sources of energy. Over the longer term pricing for coal should rise. Do not be surprised to start seeing capital reentering the coal sector.
Remember all commodities especially coal are highly cyclical and the best times to buy these stocks are when public sentiment is negative and the mass psychology is downcast on the space. When M&A increases and coal stocks are trading at high multiples leading the S&P 500, then it may be a more propitious time to sell.
Coal investors should look for the companies with the higher quality coals that will meet EPA standards with low sulfur and ash content as they receive premium pricing. I may have been early highlighting this sector a few months ago, but now some major banks are turning bullish on the space as they forecast a shortfall as demand picks up in the fourth quarter of this year.
Look for prices for coal to move higher. China demand for both thermal and metallurgical coal is picking up and is up considerably from 2012. Long-term demand for coal will rise, especially from emerging markets such as India and China, according to the U.S. Energy Information Administration.
Don't be surprised to see coal stocks possibly double over the next year as oil and natural gas prices rise to new highs. Even though Obama pledged to cut greenhouse gas emissions and directed the Environmental Protection Agency to create new standards for the coal industry it will take many years to implement as lawsuits combined with political backlash are likely. Remember there are large populations within the U.S. who make their livelihood off of the coal industry.
Rising electricity from increased oil and gas prices could push utilities and consumers to look to cheaper coal which produces close to 40% of the U.S. power supply.
I believe the coal sector may be reaching a major bottom and coal stocks could make a major rebound as earnings and cash flow improve. If one wants to speculate on a coal rebound they can buy a Coal ETF to diversify their risk or they can stick to some of the larger caps such as Peabody Energy or Consol Energy (NYSE:CNX) which have dividends.
The balance sheet may begin improving in some of these situations and we could begin seeing improving cash flow and increased production. The PE on these names are a fraction of the overbought equities.
Disclosure: I have no positions in any stocks mentioned, and no plans to initiate any positions within the next 72 hours. I wrote this article myself, and it expresses my own opinions. I am not receiving compensation for it (other than from Seeking Alpha). I have no business relationship with any company whose stock is mentioned in this article.