Green Mountain Coffee Roasters (NASDAQ:GMCR) shares have been spiraling downward since its first ever Investor/Analyst Day event on September 10, 2013. As an offering for GMCR investors, Capital Ladder Advisory Group published a summation of the event. Within the recap of the event we highlighted several topics which we will offer once again for investors:
During the Analyst/Investor Day presentation GMCR outlined several product innovations the company plans to develop and roll-out to customers over the next couple of years. The Keurig 2.0 is one of these intended product innovations. Keurig 2.0 is a blending of the Keurig platform brewer system with the Vue platform brewer system. The Keurig 2.0 is backward compatible.
In total, Green Mountain Coffee Roasters is dedicated to creating four brewer systems which are as follows: 1. Hot 2. Cold. 3. Water 4. Specialty (2016). Within the confines of each brewer system there will be new partners and multiple platforms designed to appeal to a wide array of consumers. These systems will continue to develop and launch periodically over the next three years and beginning in fiscal 2015 (October 2014).
Green Mountain Coffee Roasters outlined its plans to expand into several countries over the next few years with four high-priority countries slated for 2014. South Korea, the United Kingdom, Australia and Sweden are on the list of international expansion opportunities next year and this expansion will be accompanied by a new Keurig brewer designed especially for these markets and in a host of different colors and style formats.
Green Mountain Coffee Roasters also plans to expand into the food service industry with its new Keurig Bolt brewer system (deals soon to be announced).
Green Mountain Coffee Roasters has had a strong stock performance year-to-date until most recently as research notes and other exchanges manage their way into investor hands. At the heart of the most recent downtrend in share price is the reality of what we had discussed in the past openly. Green Mountain's future success depends on its ability to expand internationally and into adjacent sales channels. While the company has offered a chronological and developmental outline for how it aims to tackle these expansionary objectives, investors have been left to decide on the probability of profitability over the long term and at what rate of return to investors.
Green Mountain Coffee Roasters should meet some success expanding into the food service and hospitality industry in North America as a recent deal with Hilton Hotels identifies. Each guestroom will be supplied with four complimentary Keurig® K-Cup® packs.
In the U.S., guestrooms will include two

Diedrichs® Regu

lar Coffee, one Diedrichs Decaffeinated Coffee and one

Bigelow® Bla

ck Tea K-Cup® packs.
In Quebec, guestrooms will include two Van Houtte® Colombian Dark Coffee, one Van Houtte Decaffeinated Coffee and one Bigelow Black Tea K-Cup® packs.
In the greater Canada area, guestrooms will include two Timothy's® Rainforest Alliance Extra Bold Coffee, one Timothy's Rainforest Alliance Extra Bold Decaffeinated Coffee and one Bigelow Black Tea K-Cup® packs.
We don't wish to disappoint investors, but this pipeline build was likely booked in GMCR's Q3 2013 report as the roll-out has taken place in the company's fourth quarter. With that said, as the company expanded into this new sales channel, brewer shipments during Q3 2013 grew only 1% Y-O-Y during the quarter. This potentially signals further weakness in real consumer demand if you add up the possible deployment of brewers into the available doors offered through this deal between GMCR and Hilton Hotels. This piece of analysis has been widely distributed over the past month for investors to chew on if you will.
If we consider the forward looking analysis on GMCR as we have to from an investor's perspective we have to measure/weigh the aforementioned probability of profitability over the long term and at what rate of return to investors. Looking more carefully at GMCR's product development cycle we come to acknowledge a few notable trends. The company is boxing itself into a tight and seemingly shrinking demographic space within the North American economy with products aimed at the middle class demographic consumer. While this economic demographic is the largest in North America, it is far more frugal than in years past as it feels the strain from economic conditions and higher taxes.
The first example of this "boxing in" came to light with the Vue 700 brewer product line-up which stretched the consumer beyond its Keurig brewer price point by nearly $50 a brewer purchase. Sales of the brewer have shown to be below expectations and as such a less xpensive Vue 500 brewer was introduced which is not faring much better than its predecessor, even at a price improvement of $30 below the Vue700. The consumer is clearly stating it has a limit for which it will pay for the convenience of single-serve, home brewed coffee.
The second example of "boxing in" came to light with the launch of the Keurig Rivo espresso brewer system. At $229 and especially produced to stimulate consumer demand in the espresso category, this brewer system will do little to generate real revenues for GMCR any time soon. Sales have been deplorable since its latest launch at Bed Bath & Beyond (NASDAQ:BBBY) this past September. The Keurig Rivo is not available at all BBBY locations presently, only those designated B+ volume or greater. This BBBY roll-out encompasses approximately 750 stores. Once again, we believe these brewer sales were booked in Q3 2013 and subsequently add to the concern regarding consumer demand as pipeline builds/sell-in sales are not matching sell-out demand. Below is a picture of the new product placement of the Keurig Rivo at participating Bed Bath & Beyond retailers.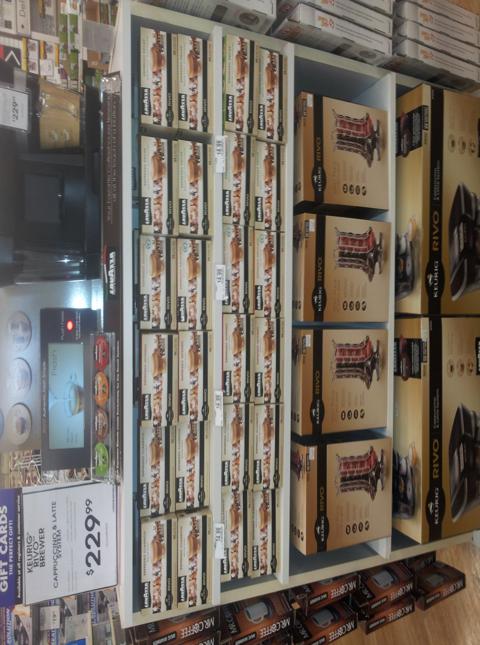 During the first 3 weeks of the Keurig Rivo debut at Bed Bath and Beyond, 44 units were sold. What we are identifying for investors is concern over the company's product development cycle as it seems to be aimed at the specialty kitchen electrics category. Products in this category garner far less consumer demand than the company's flagship Keurig brewer systems. Nobody necessarily needs an espresso machine, especially when the Vue system has an espresso flavored V-pack offering for the consumer at a lesser price. What is also being identified here is the Keurig Rivo product overlap in the innovation cycle. None of this analysis indicates the company won't sell these brewers, but what it does indicate is that it will likely not offset the decelerating growth in revenues from its primary product line. Think of it in terms of Intel Corp. (NASDAQ:INTC) developing and deploying new chips. Develop as they may and have, it has not stopped the slow erosion of revenue growth which depicts that there remains a problem that the company has yet to solve regarding consumer demand.
If one is to look at GMCR's innovation pipeline it is very clear that the company's future growth is partially tied to specialty kitchen electric brewer systems along the hot and cold beverage platform. At the end of the day, the company will ultimately be faced with a pricing issue as we are in the midst of witnessing. How many brewer systems does the consumer need when refrigeration systems are advancing technology to include hot, cold, filtered, still and sparkling water? It may not be long before the middle to upper class consumer demographic gains its countertop space back with these refrigerator product inclusions. SodaStream International (NASDAQ:SODA) has already launched a joint venture with Samsung for which Samsung developed a refrigerator that can deliver sparkling beverages on demand and powered by SodaStream CO2.
Product innovation is a key component for a company's long-term success. GMCR would like to build upon its current success for cold beverages in the near future as it aims to develop a specialty, cold beverage brewer that will also provide for sparkling beverages. The success of this product line will depend on pricing and the ability of the company to leverage gross margins in a way the company has not been able to do in the past. Value is highly relevant in the cold beverage category as we have mentioned in the past. The consumer demand is clearly present and growing for the at-home carbonated beverage platform, but as a 2nd tier market participator in the category that will be bidding for retail space behind Breville, Hamilton Beach, Kitchen Aid, Cuisinart and of course SodaStream. GMCR's slice of this market's pie may not be able to move the needle all that much on revenues.
Green Mountain Coffee Roasters will experience ever-increasing competition in the years to come. This holiday season should prove to boast its greatest quantity and quality of competition in years as Delonghi's Dolce Gusto single-serve brewer systems increase distribution across North America.
The newest addition to the NESCAFE Dolce Gusto line features espresso technology and was crafted with love - literally - featuring the words "LOVE IS THE MESSAGE" on one side, and a pop art image of a man and woman intertwined in a passionate kiss on the other. Like any great relationship, Fiorucci's bold design personality and Dolce Gusto's innovative technology are coming together with a common goal - to bring the art of coffee back into the home.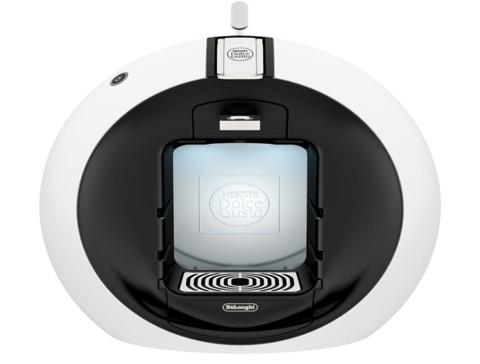 Back in August of this year, Capital Ladder reported on the successful reception of the Dolce Gusto product evaluation by the most reputable of firms, Consumer Reports. In June of 2013, the firm conducted a study of single-serve coffee machines and concluded that the best machine on the market right now was the Delonghi Dolce Gusto Genio brewer. It rated higher than Keurig, Starbucks, Bunn and Mr.Coffee brewers. (notes)
The Dolce Gusto brewers range in price from $129.99-$179.99 and carry a variety of 16 different flavor pods to compete with the Keurig systems. Delonghi's collaborative efforts with designer Fiorucci and Nescafe represent the strongest competition GMCR has faced to date because of Delonghi's extensive brand support both in North America and abroad. In one of GMCR's planned expansionary markets, the United Kingdom, Delonghi maintains a strong brand following by both consumers and retailers alike. Tesco PLC is a British multinational grocery and general merchandise retailer headquartered in Cheshunt, Hertfordshire, England, United Kingdom. It is the second-largest retailer in the world measured by profits (after Wal-Mart). Delonghi has a long-standing global partnership with Tesco. Green Mountain Coffee Roasters officials have denoted a desire to distribute products through Tesco in the coming quarters as it seeks to expand its presence around the world. In the United States, Delonghi's Dolce Gusto brewer systems reached their biggest deal to date through Bed Bath & Beyond where consumers can now view and purchase the systems. Bed Bath & Beyond is featuring the Dolce Gusto Brewers on its e-commerce home page already.
GMCR shares have lost roughly $20 since it last reported earnings and as it continues to show a deceleration of its growth rate year-over-year. With its developing products not ready to launch until Q1 fiscal 2015, investors have decided to lock-in profits for the time being and likely until the company shows signs of revenue stabilization. In the past, Capital Ladder Advisory Group has offered a direct price to earnings correlation between shares of SODA and GMCR. The two stocks tend to gravitate toward a common PE time and time again and as they have recently come back together predictably. With Shares of GMCR touching our price target intraday recently, we are moved to re-evaluate the stock and company on a go-forward basis as shares are nearly fully valued based on our earnings and revenue model and juxtaposed with operational forecasts. Our current rating remains a Hold on shares of GMCR, but we will likely issue a new price target and rating in the coming weeks for clients to digest.
Disclosure: I am long SODA. I wrote this article myself, and it expresses my own opinions. I am not receiving compensation for it (other than from Seeking Alpha). I have no business relationship with any company whose stock is mentioned in this article.