Sears Holdings Corp. (NASDAQ:SHLD) stock has been exhibiting extreme volatility in recent days. The stock was trading at $64.63 on Oct.2, 2013; right now it's trading at just $54.89, losing a staggering 15% in little over a week. The shares had gained more than 60%, from late August - early October, to trade around $64. The run-up, which came in a backdrop of a flat market, should not be mistaken by investors as a sign of improvement in Sears' beleaguered fortunes. The firm's recent levitation was mainly as a result of Baker Street Capital Management glowing report in September.
But the stock has now taken a nosedive and is currently headed south. Perhaps the reason that best explains why the stock has taken such a massive hit in such a short time-space was the revelation that Sears had already sold close to 12 of its most profitable stores in the United States and Canada, as the giant retailer looks to unlock more value for its shareholders. Sears holds the view that the upfront cash payment outweighs the continued loss of its operating income. But Wall Street remains divided on this strategy, with some analysts predicting a windfall for Sears investors, while others think that offloading too many stores will eventually impugn Sears' bottom-line and leave it in trouble for years to come. In our view, Sears' strategy is comparable to a homeowner burning his or her house furniture during winter to keep warm, until there is no more furniture to burn.
Portfolio probably worth a lot less than bullish expectations
But investors should not forget that Bakers Street is a Sears investor itself. Baker Street placed Sears' value at between $92- $169 per share, mainly based on a property-by-property appraisal done by several undisclosed 'real estate professionals'. On the other hand, Credit Suisse values Sears around $21-$45 per share, based in part on a price-per-square foot analysis performed by Cushman & Wakefield. The real estate firm did a similar analysis on Sears' big rival J.C Penney (NYSE:JCP). Another independent price-square foot analysis done by the ISI Group placed Sears value around $31 per share. Credit Suisse's PT on Sears is $20 while ISI Group's is $25. Sears has sold about 12 of its top stores in the last 18 months, some which are its most profitable. In view of Sears' towering losses and huge $3.7 billion debt load, it is hugely likely that we are going to see more store sales soon.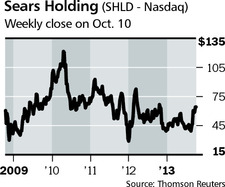 Sears Snapshot

Recent Price

$54.89

Market Value (NYSEARCA:BIL)

$5.8

Enterprise Value

$9.3

Cash and Equivalents (MIL)

$671

Total Debt

$3.7

Sources: Bloomberg; company reports
Sears Holdings: Two Views
Below is a side by side comparison of two valuations of Sears Holdings by Baker Street and Credit Suisse.
Bull Case:

Bear Case:

Assets

Baker Street

Credit Suisse

Real Estate

$10.1 billion

$3.2 billion

Kenmore, Craftsman & Diehard

3.0

2.4

Home Services & Protection

2.4

1.0

Lands' End

1.6

1.4

Sears Online

1.5

0.3

Sears Canada

1.0

0.5

Sears Auto

0.7

0.5

Other

0.9

0.3

Value of Assets

21.2

9.7

Value per Share*

$169.0

$28.3
Composition of Baker Street's Sears stake
Baker Street Capital Management published the 139-page Sears report that sent the stock sharply higher in September. Baker Street is a Los-Angeles-based hedge fund that was launched in 2009 and manages about $140 million. The firm was founded by Vadim Perelman, 31, who declined to names of the real-estate experts who did Sears' appraisal to The Online Barron, terming the information ''proprietary.''
A look at regulatory filings indicates that the Baker Street owned 1.5 million shares as at June 30, 2013. These shares were purchased by the firm in the second-quarter, and are equivalent to 1.4% interest in Sears. The remainder of Baker Street's fund position includes two-year call options on seven million Sears shares that the firm acquired on January 14 and January 18, 2013. The firm, therefore, bought Sears stock at $60 by sold call option that might force it to sell Sears shares at $70.
Portfolio in red
Sears has launched Seritage Realty Trust in the past two years to sublease its stores to other retailers. The company also launched Ubiquity Critical Environments to convert its stores into data centers. While the move was seen as strategic and a step in the right direction, the reality is that redeveloping space is easier said than done. Although Sears has subleased several of its stores, including Whole Foods Market (NASDAQ:WFM) and Forever 21 to other parties, it is yet to launch a fully-operational data center.
Losses continue with no end in sight
Sears is expected to record a $648 million loss in the current fiscal year, on revenues of $37 billion. The firm had negative FCF of ($707 million) in 2012. According to predictions by ISI analyst Matt McGinley, Sears' FCF this year is expected to remain in negative territory at ($900 million) this year and around ($600 million).
The sad news for Sears and its investors is that the longer the company continues operating with hefty losses and the more it continues selling its key assets, the less value investors are likely to realize in case the company eventually liquidates.
Sears operations have come under huge pressure. The firm's sales of $166 per square foot rank among the retail industry's lowest. Kmart, which was brought on board by Sears' CEO Lampart in 2003 out of bankruptcy proceedings has been steadily losing market share to Target (NYSE:TGT) and Wal-Mart Stores (NYSE:WMT), both of which rely heavily on grocery sales to drive their traffic.
Meanwhile, Sears' appliance business faces stiff competition from Lowes (NYSE:LOW) and Home Depot (NYSE:HD), both of which have broadened their product offerings in recent years. Sears' appliance market share has dropped by 10 percentage points since 2000 and currently stands at just 30%, according to Morningstar estimates.
Online sales a bright spot in a sea of calamity
Online sales remain Sears' saving grace, with sales jumping 20% higher in the second-quarter of the current year. Apparel sales have remained strong at retail levels, with comparable-store sales rising for eight consecutive quarters. Sears has been a big beneficiary of J.C. Penney's missteps, as Penney unsuccessfully tried to wean its customers off coupons and discounting by introducing everyday low pricing. The ill-advised move failed badly and Penney's CEO was shown the door in April. Since then, J.C. Penney has gone back to its discounts and might prove to be a big threat to Sears sooner rather than later.
Department Store Blues
Although many Sears investors are applauding the latest turn of events, it can be hardly be missed that the retailer has not been performing well as a discount store and a discount chain. In his defense, one might argue that Lampert is a better investor than manager, although that does not detract in any way from the fact that Sears' peers such as J.C. Penney, Macy's (NYSE:M) and Nordstrom (NYSE:JWN) have been faring much better, recession notwithstanding. Nordstrom in particular is on a growth warpath and has almost powered back to its pre-recession levels.
Time might be right to move out
Sears seems to be providing a lot of options for several different types of leasing while at the same time throwing open its properties for prospective retail tenants. But we are still skeptical as to whether this will be enough to turn around the fortunes of the ailing retailer.
The last time there was intense short interest in Sears, the sell-off was triggered by investors fearing abysmal earnings in the current year. Although the bears were fundamentally right, the short backfired badly on them since it coincided with Sears price take off in late August. The short volume reached a five-year high, but could do nothing to stall the upward trajectory of the share price as shown below.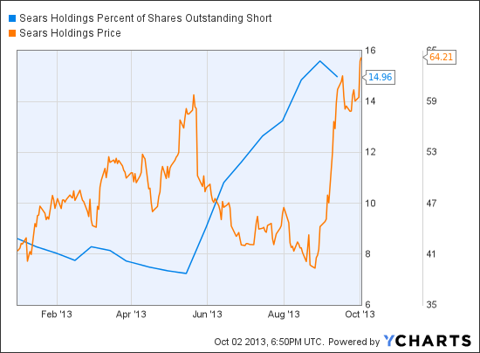 But this time it's a different story altogether. Sears is facing too many headwinds, and too much potential downside, that it would be advisable for investors to get out instead of waiting and counting their losses later.
Disclosure: I have no positions in any stocks mentioned, and no plans to initiate any positions within the next 72 hours.
Business relationship disclosure: Syncopy Research is a team of financial analysts. This article was written by Alex Kimani, the company's Senior Analyst. We did not receive compensation for this article (other than from Seeking Alpha), and we have no business relationship with any company whose stock is mentioned in this article.