Recently, the U.S. Court of Federal Claims declared that Amazon Web Service will receive the $600 million CIA contract that International Business Machines (IBM) contested earlier this year. This will be a huge blow for IBM since it opens the door for Amazon (AMZN) to win other government contracts, and possibly replace IBM as a primary cloud vendor in the future.
Amazon is still the market leader with nearly 36% revenue market share in 2012. IBM is currently second and is strategizing to gain market share in the Infrastructure as a Service, or IaaS, market. The company is aiming to generate $7 billion in cloud revenue by 2015, more than double its present $3 billion levels. Looking at the present strategies adopted by IBM, we feel confident regarding its targeted revenue goal.
Aggressively expanding cloud business
Since 2007, IBM has invested about $6 billion in acquisitions to date. The best part is that the company has been successful in integrating these companies and expanding its cloud business. In the previous fiscal year, it experienced an 80% rise in cloud revenue, and it already accomplished a 70% rise in the first half of this year. With $20 billion allotted for cloud acquisitions through 2015, we believe IBM is well on track to achieve its target of approximately 2% growth in its top line. Its recent acquisitions are evidence of this.
l Data center in Spain: Recently, IBM made an $8 million investment to open a data center in Barcelona, Spain in order to expand its business in Europe. It will be its 26th data center globally. This is located next to la Caixa, the third largest financial institution of Spain. IBM also manages la Caixa's data centers. Through this new data center, IBM aims to increase business in the European region, thus boosting its penetration in the cloud computing infrastructure service market, in addition to improving services for la Caixa, long term.
l Now Factory Acquisition: In the first week of this month, IBM announced the acquisition of the privately-held company, Now Factory. This company is known to provide analytical software solutions, regarding customer relations to communication service providers, or CSPs. These services include providing real-time data, which is generated through mobile devices. CSPs require an enormous volume data to be monitored and analyzed in quick time, which helps these companies improve customers' experiences.
By 2016, Informa Telecoms and Media, a research firm, estimated the mobile phone subscribers usage for video-streaming to increase by 6.5 times, gaming data by 10 times, and social media and music data by 8 times from the current usage level. Based on this growth figures, this acquisition will be profitable for IBM in the long run, as slowly its product portfolio is expanding, indirectly providing a wide array of cloud products to its customers.
In addition to acquisitions, IBM is reducing cost through turnaround strategies, which include reduction in headcounts and right-sizing businesses that aren't generating enough revenue. For instance, last month IBM sold its customer-assistance outsourcing business worth $1.3 billion to Synnex for $505 million. According to the turnaround strategy, IBM aims to achieve nearly $1 billion from layoffs, higher than the previous year's goal of $803 million. Overall, this shows that the company is well focused on its goal of achieving a significant share in the cloud market.
Peer Comparison - Best in-class position
Free Cash Flow Yield: In order to find the valuation standpoint of IBM, we will be comparing the company, with its peer cloud companies like Amazon and Hewlett-Packard (HPQ). Considering the fact that technology companies have to be efficient, in terms of cash flows, the free cash flow yield will be effective in this scenario. The free cash flow yields of IBM, Amazon, and HP are 7.50%, 1.04%, and 25.5% respectively on the trailing 12-month basis. One of the major reasons for HP's high free cash flow yield is its comparatively low share price, presently trading at $20.93. IBM and Amazon are trading around $182 and $310 as on October 8, 2013. Still, IBM generated the highest free cash flow among the three companies, indirectly making Amazon the least attractive stock.
Return on Equity: The second metric we consider is the Return on Equity, or ROE, metric, for it will clearly display the company's strength, in terms of management and profitability. The ROE of IBM, Amazon, and HP are 82.78%, negative 1.24%, and negative 11.07% on the trailing 12-month basis. IBM outclasses the league with a very high difference. It has the highest ROE when compared to other IT companies or even the entire information technology industry and the S&P 500 index, which have ROEs of 33.5% and 16.3% as on August 31, 2013.
Return on Assets: Since these three companies invest heavily on assets, we will be considering the Return on Assets, or ROA, metric to find out how effectively the company is generating returns through invested capital. The ROA of IBM, Amazon, and HP are 11.79%, 1.58%, and 4.98% respectively on the trailing 12-month basis. These numbers indicate that IBM has been most effectively converting the invested money into net income, along with a huge margin of difference.
Overall, in the above three metrics, IBM showed the best results. Due to its cash richness from good levels of free cash flow generation, IBM has managed to provide timely cash distribution to investors, through dividends as well as share buyback activities. It utilized over $4.6 billion for these activities in the second quarter this year. Meanwhile, Amazon hasn't conducted any investor friendly programs in the past four quarters, while HP is consistently paying dividends around $280 million levels every quarter.
Buy if you are patient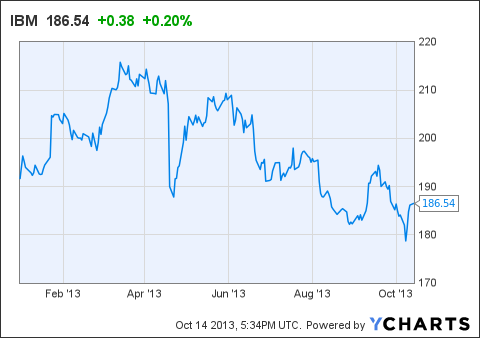 Despite moderate business and good valuations, IBM failed when it comes to stock price performance. It has declined by around 3% year-to-date. Due to negative results in the first quarter, which displayed a decline of 5% in the total revenue of the company, IBM's stock suffered a significant blow. Additionally, the big news about IBM laying off thousands of workers around the globe for restructuring acted as a negative catalyst for its stock price. In the near term, we do not find any fundamental that may provide enough boost to the stock price to help it to recover from the ongoing decline. Still, we are optimistic about the stock's long-term performance. IBM's growing cloud business and low stock price make now an attractive entry point to invest in this stock.
Disclosure: I have no positions in any stocks mentioned, and no plans to initiate any positions within the next 72 hours. I wrote this article myself, and it expresses my own opinions. I am not receiving compensation for it (other than from Seeking Alpha). I have no business relationship with any company whose stock is mentioned in this article.
Additional disclosure: Fusion Research is a team of equity analysts. This article was written by Rohit Gupta, one of our research analysts. We did not receive compensation for this article (other than from Seeking Alpha), and we have no business relationship with any company whose stock is mentioned in this article.