It has been a rough ride this year for gold miners. Rising mine costs with lower metal prices has been a recipe for disaster. Gold has outperformed the gold miners and as seen below there has been a growing divergence between the SPDR gold ETF (NYSEARCA:GLD) and the Market Vectors Gold Miners ETF (NYSEARCA:GDX).
(Source: yahoo finance)
Gold Explorers ETF (GLDX), Silver Miners ETF (NYSEARCA:SLVP) and junior miners ETF (NYSEARCA:GDXJ) have all seen huge YTD drops. It is clear that precious metal miners have been an awful investment in 2013. Many investors, including myself, have been beaten up holding them. But looking at the long-term bullish case for gold and the drop in gold miners, it does appear to be an attractive time to diversify the portfolio.
Ignore the Noise: Analyst Coverage on Gold
Gold has been bottoming out since July as it has traded up and sideways from its low of $1223/ounce. Analyst views on gold seem to be more negative than positive. However, their views tend to be short term and they often are late to party when things go south; redux year 2008. When it comes to gold it can be hard to predict price movement even in the short term. As we saw in Q2 of this year, physical gold demand was up 53% and yet gold miners were taken to the woodshed.
In a previous article, I briefly discussed the under ownership of gold. The idea of gold and PM ownership tends to be lost among many market watchers and participants. In reality, very few investors actually own physical gold, so much so that it has become a miniscule fraction of total investor global holdings. There are a variety of ways to buy into the miners at current lows; these include individual gold miners, ETFs, and even diversified miners with gold exposure.
One: Invest in individual precious metal miners
Although I think you can find value at current price levels, an investor must asses the risks involved in owning individual companies especially junior miners. If you want to own individual names look at the big players like Barrick Gold (NYSE:ABX), Newmont Mining (NYSE:NEM), and AngloGold (NYSE:AU).
Another name I like is Endeavour Silver Corp (NYSE:EXK), which has sunk nearly 57%. It is a great growth play on silver and gold. In the second quarter of this year revenues were up to $71.1 million compared to $40.4 million same. Silver and gold production were also up substantially at 48% and 159%, respectively.
Two: Invest in gold miner ETFs
For the average investor, ETFs tend to be the way to go when investing in this sector. It is obviously less risky as you eliminate a lot of the company specific risk and it seems to be a cost effective way to achieve diversification. iShares Global Gold Miners (NYSEARCA:RING), as seen below, is down nearly 50% YTD and a solid way to play a global gold miner recovery.
RING Top 10 Holdings
Company
YTD Return
(as of 10/10/2013)
% of Assets
* Goldcorp, Inc. (NYSE:GG)
--
16.11%
* Barrick Gold Corporation
-49.04%
13.76%
Newmont Mining Corporation
-43.37%
9.97%
* Newcrest Mining Limited (OTCPK:NCMGF)
-55.65%
5.03%
* Yamana Gold Inc (NYSE:AUY)
-45.03%
4.74%
* Randgold Resources Ltd (NASDAQ:GOLD)
-33.10%
4.64%
* Kinross Gold (NYSE:KGC)
--
4.38%
* Anglogold Ashanti Limited
-58.70%
4.24%
* Agnico Eagle Mines Ltd (NYSE:AEM)
-52.63%
4.18%
* Eldorado Gold Corp (NYSE:EGO)
-52.95%
3.77%
(Source: TD Ameritrade)
Three: Invest in large diverse miners
Take Freeport McMorRan (NYSE:FCX) as an example. FCX is not a pure play on gold, however it is also not linked to just a couple underlying commodities such as gold and silver (NYSEARCA:SLV). Yes, FCX is a heavy copper producer but it also produced 173 thousand ounces of gold in Q2 and projects 1.1 million ounces of gold in total for year 2013. FCX will clearly benefit from an increase in gold prices and still better situated given its diversified position.
Short Sellers Fleeing
In July David Einhorn, President of Greenlight Capital, disclosed that his hedge fund had taken a larger position in the gold miners. Einhorn stated:
"During the gold selloff in the quarter, we sold a small amount of gold to take advantage of opportunities in gold-mining stocks that were in freefall."
Since the lows in set back in July, shares of GDX spiked above the $30 price level in late August. However, now we have seen shares retreat back to near the lows. In September we saw short sellers covering in large numbers and taking profits. IAMGOLD (NYSE:IAG), Eldorado Gold and Harmony Gold (NYSE:HMY) saw short interest drop more than 60%. Barrick, Yamana and Kinross Gold, among many others, also saw double digit declines in short interest. This is a short-term bullish signal.
Einhorn vs. Buffett and the U.S. Dollar
In a 2011 letter to shareholders, Warren Buffett infamously railed against gold as an investment. In response, Einhorn imitated (mocked is a better word) Buffett's argument:
"The debate around currencies, cash, and cash equivalents continues. Over the last few years, we have come to doubt whether cash will serve as a good store of value. If you wrapped up all the $100 bills in circulation, it would form a cube about 74 feet per side. If you stacked the money seven feet high, you could store it in a warehouse roughly the size of a football field. The value of all that cash would be about a trillion dollars. In a hundred years, that money will have produced nothing. In a thousand years, it is likely that the cash will either be worthless or worth very little. It will not pay you interest or dividends and it won't grow earnings, though you could burn it for heat. You'd have to pay someone to guard it. You could fondle the money. Alternatively, you could take every U.S. note in circulation, lay them end to end, and cover the entire 116 square miles of Omaha, Nebraska. Of course, if you managed to assemble all that money into your own private stash, the Federal Reserve could simply order more to be printed for the rest of us."
Einhorn clearly made his point and I tend to agree with him. Buffett, in my view, is underestimating or altogether ignoring the impact of the Fed's policies and the growing federal debt.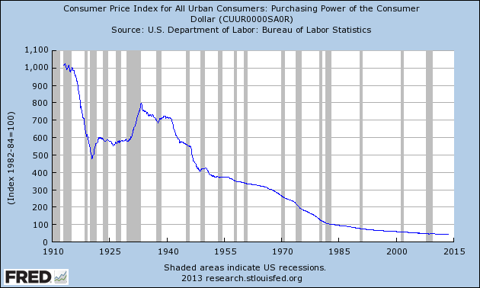 To add some perspective, since 1965 and the founding of Berkshire Hathaway, Buffett has benefited from years of unprecedented growth in the U.S. economy. The dollar was king and the Dow Jones Industrial was sitting at around 900. But since then the dollar has slowly been devalued (as seen in the chart above) and holding U.S. dollars was and still is a losing game. As Einhorn stated in regards to the Fed's dollar policy:
"Lower rates drive up the cost of commodities: oil and food. And money that is spent on oil is sent out of the country to the Mideast and it doesn't help, and takes out income from people's pockets that could otherwise be spent on other goods. The second is that not being able to earn a safe return on savings, is causing people to hoard savings rather than consume. In other words if I know I am going to earn 3% in the bank I can spend that income and I can have visibility towards that, but if I know I'm going to earn zero in the bank, in order to figure out how much I need to save for retirement I need to save a much bigger number. Which means I can't spend much now, I need to save more now, to build up those savings for retirement."
When it comes to gold miners, investing comes down to whether one believes gold will continue to go higher in a weakening dollar environment. Investing in a sector diversified ETF is a great way to play the gold miner rebound and ultimately a return to higher gold prices. Despite my belief that gold miners are bottoming out and a good long-term investment, in the short-term one should expect continued volatility.
Disclosure: I am long FCX, RING. I wrote this article myself, and it expresses my own opinions. I am not receiving compensation for it (other than from Seeking Alpha). I have no business relationship with any company whose stock is mentioned in this article.