(Editors' Note: This article discusses micro-cap stocks. Please be aware of the risks associated with these stocks.)
The electronic cigarette market is a very young one with enormous upside, in my opinion. I believe this is a $500 million market in 2013 that could grow into a $10+ billion industry over the next 5-10 years alone. Lorillard (NYSE:LO) understands this and is already well ahead of its peers in this market. For example, Google the phrase "Ecig" and the very first result to come up is the Blu Ecig website.
Here, I will try to prove my case that Lorillard is in the best position to capitalize on the growing Ecig market.
Company Overview
Lorillard is a tobacco company and the third largest manufacturer of cigarettes in the United States. The company owns Newports, its most popular brand and the top selling menthol cigarette in the US. The company also has the Kent, True, Maverick and Old Gold brands. Newports alone accounted for 88 percent of sales in 2012, but the company is working on diversifying its sales.
In April 2012, Lorillard acquired blu Ecigs, which is the largest Ecig brand in the country, for $135 million. I will discuss blu Ecigs in detail later on in this article.
Lorillard trades on the NYSE under the symbol LO. The company has a share price of $46.47, with a market cap of $17.38 billion.
Shares of Lorillard are up nearly 20 percent in the past year and up 140 percent over the past 5 years.
The technical picture of Lorillard is bullish; in early April the 50-day moving average crossed over the 200-day moving average, known as "the Golden Cross." The share price remains over both moving averages, signaling that there might be more room to run in the short term.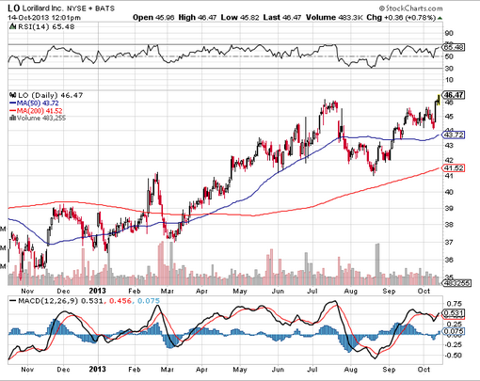 Competition
Lorillard faces competition from a number of large tobacco companies. These companies include Altria Group (NYSE:MO), Philip Morris (NYSE:PM) and Reynolds American (NYSE:RAI).
Here is a table comparing Lorillard to its main peers:
| | | | | |
| --- | --- | --- | --- | --- |
| Company | Stock Price (10/14) | Market Cap (NYSE:B) | Yield | P/E |
| Lorillard | $46.46 | 17.35 | 4.77 | 18.5 |
| Altria Group | $35.56 | 71.2 | 5.4 | 19 |
| Philip Morris | $85.96 | 139.07 | 4.42 | 21.2 |
| Reynolds Americans | $50.72 | 27.57 | 4.98 | 25 |
Out of these companies, my next favorite would be Altria Group, which offers the best yield of the bunch. I previously wrote an article titled "5 Best Stocks for a Roth IRA" and included Altria in my list, based on the company's solid track record of paying dividends (the company has increased its dividend 47 times in the last 44 years). Altria Group also has a history of share buybacks. For these reasons I like Altria as a longer-term investment (20+ years), but I certainly wouldn't ignore the other tobacco stocks on this list.
Since Lorillard is the smallest company on the list in terms of market cap, I believe it could provide the best returns going forward as it capitalizes on the growing Ecig market.
Electronic Cigarette Market Potential
Electronic cigarettes contain nicotine and no tobacco. An Ecig is basically a battery-powered electronic inhaler with a mouthpiece and a cartridge that contains the nicotine. It turns the heated, nicotine-laced liquid into vapor. They are considered far less harmful than normal cigarettes.
The Ecig market could double in market size this year alone and grow into a $10 billion market by the end of this decade, according to a report by Trefis:
"We expect the e-cigarettes category to grow quickly off of a small base on increasing awareness and penetration as well as expanding retail distribution. Harmful health effects and high excise taxes on traditional cigarettes are increasingly driving consumers towards the niche category.

Moreover, e-cigarettes also provide consumers with a cheaper way to satisfy their nicotine addiction, which is also fueling growth in this category."
The main risk for Ecigs is the potential regulation or a possible ban by the FDA. Recent studies have also shown that the use of Ecigs is increasing among teenagers.
I think critics of Ecigs are ignorant to the fact that they are much, much healthier for you than regular cigarettes. I see a very low probability of the FDA placing a ban on Ecigs and would be shocked to see that happen.
Tobacco companies can also make a very strong case that Ecigs can help people quit regular cigarette smoking. More studies need to be done, but I am fairly confident that the Ecig industry is here to stay.
Blu Ecigs Contributes to Quarterly Results
Lorillard announced second quarter earnings of 81 cents per share, a growth rate of 11 percent year-over-year, with its blu Ecig brand contributing to this success. Net cigarette sales were up just 1.4 percent on revenue of 41.74 billion, but sales of Blu Ecigs were $57 million, compared to just $8 million a year ago.
For full-year 2013, analysts have an average estimate of $3.13 full year EPS, and in 2014 the average estimate increases to $3.50. At current levels, this gives it a forward P/E of just 12.4.
As of last quarter, blu Ecigs have a dominating market share of over 40 percent in the Ecig industry, expanding to more than 80,000 retail outlets.
Ecig Competition from Other Tobacco Companies
Other companies have followed suit, but are a little late to the Ecig party.
- Altria's "Mark-Ten" Ecig hit the market last month.
- Reynolds American rolled out its Vuse-brand Ecigs in the summer, claiming: "VUSE is the only E-Cigarette that finally delivers a satisfying and great tasting vapor experience combined with consistent and reliable performance."
These are just a few other brands of Ecigs on the market, but Blu Ecigs remain the market leader. It will be interesting to see in the coming quarters how much market share each brand can grab.
Recent Acquisition
Lorillard recently announced the acquisition of a company called SKYCIG®, a British-based electronic cigarette (e-cigarette) business for approximately £30 million in cash paid at closing and additional contingent consideration of up to an additional £30 million to be paid in 2016 "based on the achievement of certain financial performance benchmarks":
"The acquisition provides Lorillard with a major UK electronic cigarette brand and, along with its leading U.S. electronic cigarette brand - blu eCigs®, a global presence in the rapidly growing worldwide e-cigarette category. SKYCIG is expected to benefit from Lorillard's significant sales, marketing, regulatory, research and development expertise to further strengthen its competitive position in the UK e-cigarette market," October 1 news release.
This was a smart move for the company, in my opinion. It was a very small acquisition, but could pay off big down the line, giving it exposure to a whole new market. It clearly has its eyes on the big picture, focusing on global sales.
For more info. about the Skycig brand, visit their website.
What's Next? Here's an Idea
There are other opportunities in the Ecig market that the company could consider.
One company that stands out at me is Vapor Corp. (NASDAQ:VPCO), which distributes a number of Ecig brands including Krave, a disposable Ecig, along with Smoke 51, Green Puffer and VaporX. This is the only publicly-traded company I know of that sells only Ecigs.
Vapor Corp. reported revenue of $6.18 million in the last quarter and reported a small loss. This would be an easy takeover target for Lorillard if it was interested in Vapor Corp.'s products.
I think it is very, very difficult for a smaller company like Vapor Corp. to compete in this market with behemoths like Lorillard and Altria, so I wouldn't be surprised to see a takeover of Vapor Corp. sometime in the future.
Conclusion: A Strong Buy Case for Lorillard
This is a very profitable industry that has a history of rewarding shareholders through dividends and share buybacks.
While I like all the companies mentioned above, including Altria, Lorillard remains one of my favorite stocks because of its dividend, current valuation and future earnings potential in the Ecig market with its Blu Ecig brand. I will be following this market closely so please follow me here on Seeking Alpha for future coverage.
Disclosure: I am long LO. I wrote this article myself, and it expresses my own opinions. I am not receiving compensation for it (other than from Seeking Alpha). I have no business relationship with any company whose stock is mentioned in this article.