Rite Aid (NYSE:RAD) had been a beleaguered brand for the past five years, exhibiting an inability to compete with the likes of Walgreen (WAG) and CVS Caremark (NYSE:CVS), both of which have made lots of hay while the sun was shining. The weather is changing for Rite Aid these days though, as the stock has crossed the $5 level and seems to be firmly ensconced at that price, with solid support in the form of 35-40 million shares traded firmly underscoring the market's conviction on this valuation. The question in the minds of investors is now: is there continuing growth potential, or is now the time to take profits? The answer is complex, with a few catalysts and metrics capable of driving the price in the upcoming 2 to 4 quarters.
Relative Potential
Rite Aid is undeniably a more risky investment than its major counterparts Walgreen, which has an impressive dividend, posted a 15% earnings increase in the past year, and strong sales numbers for September, and CVS, which successfully increased distribution for the 10th year running and its dividend payment by 38% this past year. That said, the growth potential at Rite Aid is incredible, as the company currently operates 4600 stores, approximately half the number of stores that Walgreen does, and almost 65% of the stores that CVS has under its banner. That fact alone means that Rite Aid has the potential to generate an EBITDA that is roughly 50% of the cash flow of its peers, or $2.4 billion dollars in the current fiscal year based on the revenue reported at Walgreen. The current EBITDA for the company is $1.4 billion, which indicates that with effective management there is room for further growth.
Owing Money is a Real Drag
Rite Aid currently carries just over $6 billion in debt on its books, and is paying a little more than $100 million quarterly to service it, which creates a significant drain on a very finite free cash flow. The EBITDA showed a quarterly income of $341 million, but, after operating expenses, Rite Aid only generated $32.4 million this quarter. This figure, while not staggeringly positive, is a drastic increase from what had previously been losses exceeding $300 million, and the financial picture indicates that it is a growth trend with staying power, even in the face of weak consumer confidence. This increasing quarterly cash flow will also help Rite Aid decrease the corporate debt levels and allow the company some financial breathing room.
Metrics: Revalued
The current EV/ EBITDA ratio for Rite Aid is 7.77, and when juxtaposed with the respective ratios for Walgreen at 11.5 and CVS at 8.46 respectively, it indicates that the company is undervalued. Furthermore, as the Rite Aid EBITDA is displaying a sharply positive trend, this disparity will most likely be exacerbated in the coming quarters; if this metric is not skewed even more strongly in the near term, then the company will have seen commensurate growth in both its valuation and stock price, providing a compelling case for significant upside.
Wasting Away
Rite Aid recently came under fire for illegally dumping of chemicals and pollutants into landfills in 52 counties, and has been ordered by courts in Los Angeles, San Joaquin and Riverside counties to pay $12 million as a result of the civil action. The stores will now be required to store hazardous waste in labeled containers that will be disposed of in an alternate manner.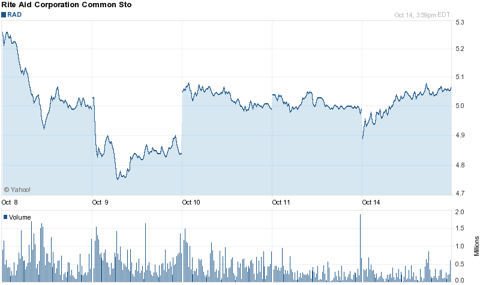 As seen above, the market didn't display an adverse reaction as a result of this news, as shares remained relatively flat for the contemporaneous and subsequent sessions. The larger issue for the firm, environmental bad karma notwithstanding, is that the ruling and injunction will eat away at their small, even if steadily growing, supply of free cash.
A Real Shot in the Arm
The fall months always serve as the harbinger of bad weather and worse health, ironically indicating better health for drug stores and generic drug manufacturers. Amid lackluster retail sales results last month, Rite Aid, Walgreen and CVS all three appear set to see a near term surprise associated with flu season, and the first two companies are already seeing this seasonal activity helping out with the bottom line. Rite Aid has already witnessed a 1.9% y-o-y revenue increase and a 3.1% y-o-y pharmacy revenue increase with Walgreen reporting large positive numbers as well. An unexpectedly bad flu season, and a protracted or early winter could drive these numbers higher and augment an already improved and still improving picture for Rite Aid.
Stock Up
The drug store chain doesn't have the rosy performance history of its peers, yet since 2009 Rite Aid seems to have had an infusion of quality management decisions, put the balance of its poor performance behind, and is now positioned to grow another 40% based on its diversified retail offerings, size relative to its peers and current EBITDA statistics, and the cyclical nature of pharmacy sales. These facts serve to reiterate the upside growth potential still present in this turnaround story, and should be encouraging for any investor who's relatively risk averse and looking to stock up on a true growth stock.
Disclosure: I have no positions in any stocks mentioned, but may initiate a long position in RAD, WAG over the next 72 hours. I wrote this article myself, and it expresses my own opinions. I am not receiving compensation for it (other than from Seeking Alpha). I have no business relationship with any company whose stock is mentioned in this article.
Additional disclosure: I am not a CFA. The information and data presented in this article was obtained from company documents and/or sources believed to be reliable; however, it has not been independently verified, and thus the author cannot guarantee its accuracy. Please perform your own due diligence regarding investments, as I am not responsible for the investment decisions you make. Thanks for reading, sorry about the profusion of puns, and may the force be with you!