Refiners such as Phillips 66 (NYSE:PSX) hit a rough patch in Q3 2013 with the WTI/Brent spread narrowing significantly and the EPA's biofuel mandate causing RIN prices to spike higher. As a result, I suspect that Phillips 66 may post lackluster earnings when it reports in a couple weeks. However, any earnings related decline should be considered a buying opportunity, as Phillips 66 has some upcoming upside catalysts. The company recently rewarded its shareholders with a 25% dividend increase to $0.39 per share per quarter. At current prices, Phillips 66 yields around 2.60%.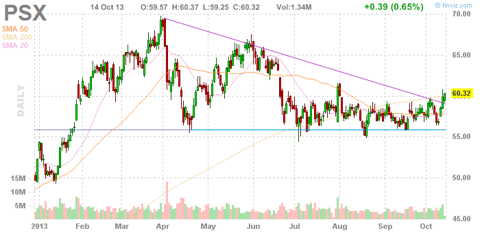 Chevron's Earnings warning may indicate a weak quarter
On October 9, Chevron (NYSE:CVX) provided its Q3 interim update. The most notable information from the update was that Chevron expects "significantly lower" earnings from its refining division. This news should be considered a negative for Phillips 66 as it gets around 60% of its earnings from refining operations. However, as noted by J.P. Morgan analysts, investors seem to be anticipating softer than expected downstream results. Refining stocks have held up well in recent weeks which makes it likely that weak earnings are mostly "priced-in".
In addition, as noted above, the WTI/Brent spread has collapsed this quarter. YTD, Phillips 66's price has been highly correlated to this key refining metric. While Phillips 66 is not a "pure-play" refiner due to its midstream holdings and chemicals business, it has generally traded in line with other refiners.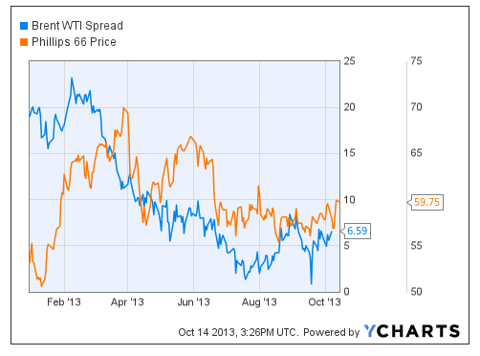 Since its spin-off, Phillips 66 has yet to face a period where spreads have become negative (basically where WTI is priced higher than Brent). It will be interesting to see how its earnings hold up if this situation were to occur soon.
Any Earnings Related Decline Could be a Buying Opportunity
While this may seem odd, Phillips 66 has more going for it than just its refining arm. The company has a long-term focus to diversify itself into other energy-related segments, such as chemicals and midstream.
According to a recent shareholder presentation, Phillips 66 is aiming for refining to only represent around 30% of future earnings. The company took a major step into this direction by its spin-off of some midstream assets into Phillips 66 Partners (NYSE:PSXP). Phillips 66 aims to set up Phillips 66 Partners into a growth oriented MLP. It is highly likely that Phillips 66 will continue to drop down assets into its MLP and that the partnership will acquire midstream assets held by other companies. Due to the MLP structure, Phillips 66 is likely to gain an outsized benefit from growth in Phillips 66 Partners due to its ownership of the General Partner's interest and a large limited partner stake.
Let us also not forget Phillips 66's chemicals segment. Some analysts believe that Phillips 66's chemicals operations should warrant a PE of around 15X, well above the current 9.0X for the whole company. Also note that Phillips 66 is investing large sums into this segment, with the most recent example being a $6B Gulf Coast petrochemicals project via its Chevron Phillips Chemical joint venture with Chevron. Chemicals is by far Phillips 66's most profitable area, with a ROCE of nearly 25%. By 2017, Chevron Phillips Chemical plans to spend nearly $7.0B to expand US based petrochemical operations, with an expected annual EBITDA from $1.3B to $1.6B.
Ethanol Blend Wall a Reality: EPA to the Rescue
As noted by SA contributor Michael Fitzsimmons, gasoline exports from the US have surged due to weak demand here at home and more attractive fundamentals overseas. Another factor driving exports is that domestic gasoline has to be blended with a certain amount ethanol while exports do not.
As I noted in a recent article on Calumet Specialty Products Partners (NASDAQ:CLMT), RIN prices have exploded higher. RINs, or Renewable Identification Numbers, basically represent an amount of biofuel (mostly ethanol) that has been blended into fossil fuels, as some refiners currently do not blend their volumes. Prices for RINs have become very volatile, up as much as 20X from year ago levels. Some blame market speculators, as some traders amassed millions of credits just as new federal requirements resulted in refiners needing to buy more RINs. In addition, the increase in RIN prices has resulted in much greater use of ethanol in fuel blends, so much so that statutory mandates would exceed refiners' ability to blend it into fuels without putting engines at risk.
However, good news is on the way. The EPA has wisely noticed this trend. According to a Bloomberg report, a leaked EPA proposal would significantly scale back biofuel blending requirements next year. As a result, most refiners have staged a minor recovery while some ethanol producers, such as Renewable Energy Group (NASDAQ:REGI), have been hit hard.
This should generally be considered good news for all refiners, including Phillips 66. Frankly, the US market could not really absorb more ethanol without major reinvestments. While this news is more important for smaller names in the sector, a rising tide tends to lift all boats.
Conclusion
For Q3 2013, Phillips 66 will most likely report its weakest ever EPS number. However, do not let that headline spook you. Phillips 66 has tons of growth projects on its deck as well as a shareholder friendly management team. In addition, Phillips 66 is rather cheap, with a EV/EBITDA at around 4.50X. Phillips 66 is definitely a stock worth buying on any large dip.
Disclaimer: The opinions in this article are for informational purposes only and should not be construed as a recommendation to buy or sell the stocks mentioned. Please do your own due diligence before making any investment decision.
Disclosure: I am long PSX, COP. I wrote this article myself, and it expresses my own opinions. I am not receiving compensation for it (other than from Seeking Alpha). I have no business relationship with any company whose stock is mentioned in this article.
Additional disclosure: I may initiate a long position in Chevron (CVX) at any time.