We believe LoJack, the leader in the stolen vehicle recovery market, represents a compelling investment opportunity. There are multiple catalysts that could drive shares, which closed at $4.24 on Monday, quickly to double-digits, with a possible $15+ stock price over the next 18 months if the company executes. With shares currently trading at 6x EV/EBITDA (or 3.5x excluding non-recurring items), a net cash position, accelerating revenue and profitability, and a soon-to-ramp JV with TomTom (OTCPK:TMOAF) in the fleet management sector (fleet management comps trade at 2x EV/sales vs. LoJack at 0.3x EV/sales), it appears to us that shares are extremely undervalued. Moreover, LoJack has a well established brand whose value does not show up on its balance sheet, but is valuable to potential acquirers, who would likely pay 2.5x-3x current prices for LoJack. Should the stock remain at current significantly undervalued levels, its shareholder friendly corporate governance policies and low insider ownership make it ripe for an activist investor to drive value creation. In sum, there are multiple ways for an extremely attractive investment outcome.
Background
We recently have spent considerable time researching the fleet management sector (historically not LoJack's target segment) following an excellent report suggesting Fleetmatics (NYSE:FLTX) as a short by the guys at Prescience Point (who consistently do excellent work). After reading the report, which we recommend reading if you haven't, we reviewed some financials and quickly shorted some Fleetmatics. One thing which stood out to us in the report was the mention of CalAmp (NASDAQ:CAMP), which we had known from its days as a communications devices provider. We quickly did a lot of work and realized that 1) they made an acquisition in the fleet management space early in 2013, 2) have been beating and raising numbers, and 3) could get a significant multiple re-rating should they get traction in the Fleet Management space which as a SaaS business, with recurring revenue and significant visibility, has a 2x-3x EV/sales multiple.

CAMP up ~40% and FLTX down ~10% since this post.
In revisiting the Fleetmatics report something else struck us: the mention of LoJack (NASDAQ:LOJN) as a comp. We have known LoJack for over 20 years, since first researching the company in 1991, but hadn't looked at the stock in years, and previously thought of them as a vehicle recovery company, not as a fleet management player. But it makes sense: LoJack is a brand that everyone knows (according to p.6 of LoJack's 2012 10-K, 81% aided recognition) with a developed infrastructure and deep relationships in security - fleet management is a natural brand extension. What stood out to us is that while LoJack is mentioned in the discussion of comps, it is not included in several charts (specifically see the first three charts on page 26 of the report from its website). After some quick digging, it was clear the reason is because LoJack's valuation is off the charts cheap (literally, it doesn't fit on the charts).
While we remain bullish on CalAmp, we are confident that LoJack will prove an even more successful investment.
Brief Company Background
LoJack is the leader in the stolen vehicle recovery market, with sizable operations in North America and 30 additional countries. The company was founded in 1978, went public in 1983, and has aided in the recovery of more than 300,000 stolen vehicles worth over $4 billion.
LoJack is uniquely positioned in the industry and has a deep moat, regardless of operational and macro-economic issues that have hampered the company in recent years. Specifically, LoJack has an isolated radio frequency on which it operates, versus competitive solutions that use GPS. LoJack's signals are far more effective and are able to locate vehicles that may be hidden (i.e. in warehouses or underground garages) or remote - and have resulted in 90%+ recovery rates. In addition, unlike GPS' which are typically visible to thieves (and can be quickly removed), LoJack's devices are small, hidden, and located in one of multiple locations.
Importantly, LoJack has done the heavy lifting of getting its network integrated into over 2000 police forces across the United States - a costly, time consuming effort to build trust and cooperation with law enforcement officials. Over time, and tens of millions of dollars in advertising spend, LoJack has established itself as a household name, equated with safety, protection and law enforcement.
In our view, it would cost several multiples of LoJack's ~$45 million enterprise value to replicate its network, relationships, and brand awareness/equity. This was reflected in LoJack's share price for the first half the last decade, until the global downturn of 2008 hit.
LoJack was $10+ from '04-early '08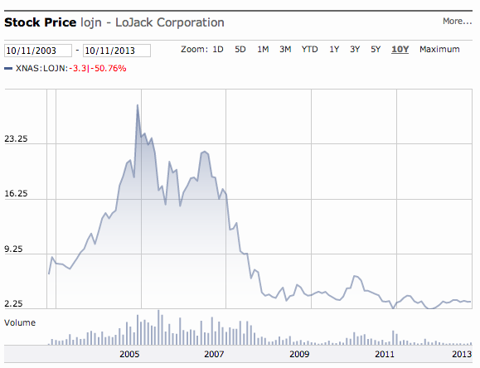 Source: Morningstar.com
Investment Thesis
We believe shares of LoJack are substantially undervalued and one or more of the following are likely to drive shares higher
1. Shares are cheap at 6x 2013 EV/EBITDA (3.5x excluding non-recurring expenses). With business accelerating (guidance of 10% y/y revenue growth in '13) and EBITDA likely to grow substantially in 2014, the stock should move appreciably higher.
2. Traction in fleet management, including potential near-term announcements, via its JV with global GPS and fleet management leader TomTom could result in a huge multiple re-rating.
3. A partial company sale, spin-out or other corporate event, could create massive shareholder value.
4. An outright company sale would likely result in double-digit per share price.
5. The company is ripe for value-enhancing shareholder activism.
Shares are cheap at 6x EV/EBITDA (3.5x excluding one-time/non-recurring) and with business accelerating the stock should move appreciably higher.
In August, LoJack reported 2Q13 results, in which revenues grew 6% y/y, gross margin expanded 280 basis points to 54.5% and the company reiterated guidance of 10% y/y revenue growth (to approximately $145 million) and 3-7% EBITDA margins. Equally important, LoJack's management, led by CEO Randy Ortiz, a 28 year Ford Motor (NYSE:F) vet who joined as CEO in November 2011, emphasized that growth momentum is continuing via its pre-install program ("PIP") at dealers. Sales via the dealer channel was up 25% in 2Q versus an 11% increase in retail auto sales. Additionally, monthly dealer sales now outpaced industry sales for 10 consecutive months - while prior to the focus on PIP, LoJack sales had not outperformed the retail auto industry for 2 consecutive months in more than 5 years.
We expect LoJack to report adjusted EBITDA for full 2013 at the high-end of guidance, approximately $8+ million (6%+ EBITDA margin), although, in our view, this number is both depressed and understated.
Through 2 quarters, LoJack has revenue of $64.9 million. To achieve full-year revenue of $145 million (10% y/y growth) LoJack will need 2H revenues of ~$80 million, which is achievable given current business momentum and a seasonally stronger 2H and especially 4Q.
Through 1H, adjusted EBITDA was a loss of ($2.3 million), although 2Q was positive $1.8 million on $33.7 million in sales. Assuming an average of $40 million in quarterly sales in 2H, and a 55% incremental EBITDA margin, EBITDA in 2H should average $5.3 million per quarter, resulting in full-year adjusted EBITDA of $8.3 million.
However, we believe the $8.3 million understates LoJack's true, non-recurring, 2013 EBITDA. Specifically, in 2013, the company is implementing an ERP system for $3 million, and has legal expenses above historic levels (by our estimates $5 million vs. normalized $2 million), largely due to a significant arbitration that was argued in 1Q. In sum, we believe adjusted, normalized EBITDA for 2013 is approximately $14.3 million. It's also worth noting that shipments to both Argentina and Brazil, historically significant geographies, have been minimal this year because of legal/trade issues. Should either of these territories recover, there would be a material lift in LoJack's sales and profits.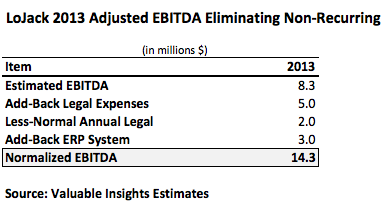 Notably, the figure above represents over 100% growth from the $6.9 million in adjusted EBITDA achieved in 2012.
LoJack ended 2Q with $46 million in cash and equivalents, but made a $7.5 million payment in July for a long standing wage litigation case, and had $14.8 million in debt, for a net cash position of $23.8 million (additional cash was likely generated in 3Q). With a current market cap of $75 million, LoJack has an enterprise value of $51 million, implying an EV/EBITDA of 5x or, adjusted for one-time expenses of 3.5x.
Assuming LoJack can continue its current business momentum (without a recovery in Argentina or Brazil), revenue could grow another 5-10% next year to $154 to $160 million, which would generate $17-$20 million in EBITDA, implying that LoJack trades at a 2.5x-3x multiple of 2014 EBITDA. Assuming the EV/EBITDA multiple remains at 6x, next year we'd at least be looking at a stock trading from $7-$9. We'd estimate that in a company sale scenario (more on that below), at least $10 million of the almost $80 million in current run-rate SG&A could be eliminated, implying potential 2014 EBITDA of $27-$30 million to an acquirer, without assumptions of synergy or top line growth.
Traction in fleet management via its JV with global GPS and fleet management leader TomTom could result in a huge multiple re-rating.
On January 24, 2013 LoJack announced a strategic alliance (or here) with global GPS leader TomTom to market, install and service a range of business solutions products and services including TomTom's highly regarded SaaS fleet management service called WEBFLEET. To give context to just how highly regarded TomTom is, it's worth noting that they service over 19,000 companies and 300,000 vehicles worldwide. They are the fastest growing telematics service provider in Europe.
In our view, this is a perfect marriage for LoJack. It has an incredibly well known brand, consumer trust, relationships with law enforcement and insurance companies, and a back office infrastructure already in place to support adjacent growth initiatives.
LoJack discusses leveraging its brand via adjacent opportunities in its investor presentation and is making the investments to make this come to fruition. This includes the relationship with TomTom and the hiring of Emad Isaac as CTO in January. Mr. Issac has had a distinguished career in telematics, including "defining systems architecture and requirements for key telematics technologies such as GM OnStar, BMW Assist and Mercedes Benz Systems."
We think Mr. Isaac's participation and commentary on LoJack's 4Q call is particularly instructive. When asked why he would even "bother" to join such a small organization as LoJack, he responds:
"Well, it's an interesting perspective. I'll tell you my perspective on that is why wouldn't I want to be there? I think the growth of the company, where this is being positioned how Randy has described, the leadership changes, the things that are being put into place; the potential of the market, the current focus of the company and with the relationships they have, the brand, the brand name is huge in this space. The relationships we have with dealership networks, the relationships we have with law enforcement - effectively this company is sitting on the cusp of something great and it's moving forward with a lot of force, with a lot of energy.

So I'm looking at it as I want to be here, there's no other place I'd rather be. You know, you get a few moments or a few chances in life to be able to say "I was there" when something wonderful happens. What this company does and the service it provides to the public and what it really offers is tremendous and there's a point of pride with that. So I will tell you that I'm looking at this as nowhere else I'd rather be." - CTO Emad Isaac, LoJack 4Q call
The fact is, LoJack has a brand that should open a lot of doors and get a lot of returned phone calls.
According to LoJack management they have been running fleet management pilot programs and should have commercial deployments soon. Importantly, given that fleet management employs a SaaS business model, with recurring revenue and excellent visibility, companies in the segment enjoy 2x-3x EV/sales multiples. With LoJack trading at just .3x EV/sales, should the company gain traction, and we think they will, there is tremendous potential for an enormous multiple re-rating.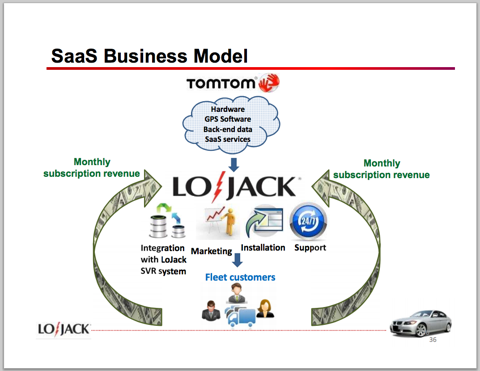 Source: LoJack Investor Presentation
To support this view, we'd suggest looking at CalAmp. CalAmp management has done an excellent job turning around the business (LoJack appears to being doing the same), but year-to-date, most of the stock appreciation has resulted from the company's entrance into (via acquisition), and then momentum in, the fleet management segment.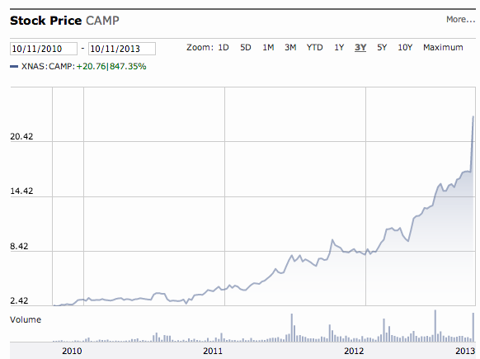 Source: Morningstar.com
CalAmp's shares have benefited from positive estimate revisions, but more importantly, from the higher multiple afforded SaaS-based business models.
We are confident there will be positive developments in LoJack's fleet business in the near-term. We've been monitoring the jobs board on LoJack's website and it appears they have been actively, and increasingly, hiring for this segment - surely a positive sign.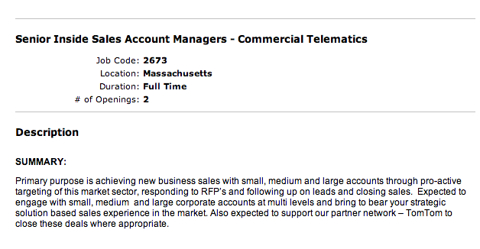 Source: LoJack.com Jobs Board
With Fleetmatics trading at 20x EV/EBITDA and 6x EV/Sales, a $1.2 billion market cap, and a single issued patent at the time of its IPO, it seems to us that LoJack, at 3.5x EV/EBITDA, .3x EV/Sales, a well-known, well-established brand, and a venture with TomTom, looks like a true bargain. In the likely event that the fleet management venture gets traction or announces wins in the weeks ahead, there seems to be massive room for multiple expansion.
A partial company sale, spin-out or other corporate event, could create massive shareholder value.
While we believe that fundamental improvement will drive shares of LoJack higher, we believe there are other paths to value creation.
For example, the company has a slightly different business model in its international division. Internationally, LoJack licenses its brand and supplies devices, except for Canada and Italy, which are company owned. Its licensees invest in infrastructure, which results in a highly profitable asset light business. On the most recent 2Q earnings call management was asked:
"When do you expect North American operations to return to profitability. You obviously had several years of losses there, looks like you sort of moving in the right direction?"
LoJack management refrained from supplying an answer other than saying things are moving in a positive direction. The point is, this year's $8.3 million in adjusted EBITDA (or $14.3 million removing non-recurring), is likely being reduced due to North American operations. This view is further supported by the fact that according to recent 10-Ks, offshore cash continues to grow while US cash has declined.
We believe LoJack's international business, with a high margin licensee model, is extremely attractive, and would trade at a high multiple as a standalone, with a perpetual license/supply agreement from LoJack North America. Conceivably, it could trade at or sell for 10x EBITDA of ~$10 million, or $100 million, the company's entire current Enterprise Value. The remainder, though money losing, could improve operations or be a valuable acquisition for its brand name, relationships, and infrastructure. Simply put, there are ways to slice and dice the company which create more value than in its current structure. Of course, we're not eager for the company to do anything prematurely, as its international business is currently depressed owing to current trade issues with Argentina and Brazil.
An outright company sale would likely result in double-digit per share price.
Based on our analysis above, we believe LoJack would receive a substantial premium in a sale.
As we detailed earlier, we project 2014 EBITDA in the range of $17-$20 million, based on 5-10% top-line growth, and believe an additional $10 million of cost take-outs is possible. Below is equity values based on 2014 EBITDA with $10 million of duplicate costs removed: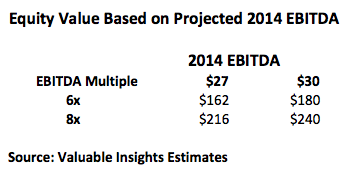 Based on these values plus current $24 million of net cash and 18 million shares outstanding, we arrive at the following prices per share: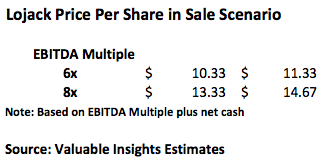 Obviously, these represent huge premiums to today's closing price of $4.24 per share.
Fortunately, there are plenty of potential buyers. Someone in the fleet management space who is looking for an adjacent business could easily make a play here - it would be massively accretive for Fleetmatics to offer 6 million shares for LoJack, for example.
But there are plenty of well capitalized companies outside of fleet management.
Stepping back, it is important to understand where LoJack wants to go with its business. We give current management credit for understanding the vast power of its brand. It has opportunities to use its name, relationships and infrastructure to pursue accretive, adjacent markets. It sees its future in the "connected car."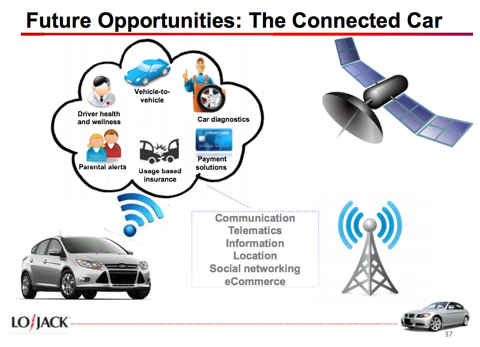 Source: LoJack Investor Presentation
Interestingly, this is the same terminology Sirius XM (NASDAQ:SIRI) CEO Jim Meyer used at the Bank of America Merrill Lynch Media Conference stating "deep in my soul...the connected car is the key part of our future." Notably, Sirius recently paid $530 million for Agero's Connected Vehicle Unit, which is not expected to be accretive in the near-term (for multiple articles on Sirius XM and their views regarding acquisitions we recommend SA author Crunching Numbers). While Sirius may not be on the prowl for acquisitions, LoJack would appear to be very low hanging fruit, with a lot of room to grow the top line, remove costs, and enjoy immediate accretion.
Then again this is true for numerous companies in and around the automotive space. Even a company like Google (NASDAQ:GOOG) which is working on a self driving car, and other automotive initiatives, could potentially be interested. Security is an interesting adjacency, and would be accretive to a company with mounds of cash.
The bottom line is that with cars increasingly become a hotbed for electronics, and more specifically, connectivity, LoJack is a very low cost way to gain or increase a foothold with a well-established brand, with great potential to remove costs and leverage the brand name into new markets.
The company is ripe for value-enhancing shareholder activism.
While we are confident that there are many paths to outstanding returns in a LoJack investment, it's also worth noting that if things don't transpire as we expect, LoJack makes a very attractive candidate for a successful activist bid.
To LoJack's credit, they don't have a staggered board or poison pill and 8 of 9 directors are independent. While there is mandatory Board stock ownership, total insider ownership is less than 10%.
We recently attended the 4th Annual Schulte Roth Activist Conference in New York where we saw several smaller funds focused on small cap tech companies. While we expect management to continue to move business in the right direction, LoJack's corporate governance lends itself to constructive engagement from potential activists.
While we're inclined to let business continue to improve from depressed levels and see this investment through to significant returns, its reassuring to know that the potential for outside involvement to create value exists.
Risks
LoJack's business is historically very tied to macroeconomic trends. As recently as 2007, the company generated $223 million in sales. Should the US, or broader global economy slow, resulting in slowing automotive sales, growth is likely to be limited, or to decline.
It is possible the strategic relationship with TomTom may not result in material revenues. We are extremely hopeful this is not the case, and also note that little expectation is built into the share price at this point.
Finally, there has been an ongoing arbitration with LoJack's Brazilian licensee Tracker Do Brasil who is seeking $55 million in damages, while LoJack is countersuing. We would expect a ruling in the next several quarters. While we don't know the outcome, we find it hard to believe an adverse ruling would be anywhere close to this amount, which represents a multiple of all the profits this licensee has ever made with LoJack. In an SA article last week author ValueArtifex suggested that a positive outcome for LoJack could be a catalyst for shares to go higher. While we agree that a negative outcome is a risk, we don't think shares pop on a positive resolution - we see this largely as litigation that typically occurs in the course of business. (In the article, he also suggests that LoJack for mobile devices could be a game changer. We respectfully disagree. We think it could be a modest positive at best, as it has been for LoJack notebooks, and see fleet management as the game changer.)
Conclusion
We love finding well established brands that still have brand equity that have been tossed into the trash heap. All the better when they have a motivated, competent management that appears to be successfully executing a turnaround, and has already set the company back on the path to growth. To have the opportunity to buy shares of a company on the cheap - and even cheaper due to one-time expenses that mask profitability - is an opportunity that doesn't come around often. With LoJack we get this, with the kicker of significant potential multiple expansion via the entry into fleet management with a well-established partner. If things go right, this could be a heck of an investment, if not, we probably don't lose a lot - we'd gladly take a portfolio of LoJacks.
Disclosure: I am long CAMP, LOJN. I wrote this article myself, and it expresses my own opinions. I am not receiving compensation for it (other than from Seeking Alpha). I have no business relationship with any company whose stock is mentioned in this article.
Additional disclosure: We conduct thorough research on our ideas, but our views are our own. Please do your own research.