Shares of Ligand Pharmaceuticals (NASDAQ:LGND) are up 135% in 2013. Despite this historic rise, the royalty collecting pharmaceutical company has plenty of room to run as it sees more drug approvals and returns cash to shareholders.
Company
From the company's website:
"Ligand, a pharmaceutical company, is assembling a large and diverse portfolio of current and near-term commercial revenue generating assets to assist the long-term financial growth of the company. We operate this business on a lean cost structure that allows us to maximize cash flow and ultimately deliver a meaningful return for our shareholders."
New Approval With Pfizer for Menopause
Earlier in the week, Ligand Pharmaceuticals saw a drug it shares with Pfizer (NYSE:PFE) approved. Duravee will be used as a treatment for menopause. Duavee is use for "moderate-to-severe hot flashes and for the prevention of post-menopausal osteoporosis". Unlike competing products, Duavee uses a selective estrogen receptor modulator combined with conjugated estrogen. The new drug will compete with Evista, a drug from Eli Lilly (NYSE:LLY). Duavee came from Pfizer's acquisition of Wyeth. With the approval by the FDA, Ligand received a 425,000 milestone payment.
Last year, Evista saw sales of $1.01 billion. This was a decline of 5% from the previous year. The drug represented the eighth highest grossing drug for Eli Lilly on the year. In the second quarter of the fiscal year, Evista saw sales of $278.7 million, which was a 5% increase from the prior year. In 2013, Evista loses patent protection. Pfizer also sells Premarin, a drug used for menopause. Recent worries surrounding Premarin deal with possible high risk of blood clots for those taking the drug. Premarin saw sales of $1.07 billion in 2012.
Duavee has the potential to be a billion dollar drug as it is new technology for a very large market. If the drug can be successful like other estrogen drugs, it could surely become a blockbuster. With strong royalty payments coming, Ligand is set to benefit as sales increase in the future.
Other Drugs on Market
Several drugs on the market utilize Ligand Pharmaceutical's Captisol technology. The technology is patent protected and continues to be a huge growth driver for Ligand going forward.
Onyx Pharmaceuticals, which was recently acquired by Amgen (NASDAQ:AMGN), utilizes Ligand's technology for its future blockbuster drug Kyprolis. The drug, which treats patients with multiple myeloma is one of the hottest drugs and the big reason for the huge premium paid by Amgen. The use of Ligand' Captisol technology gives Ligand a 7% royalty over the $750 million sales mark. With Amgen's sales force behind the drug, sales should easily hit that key mark sooner than expected. Onyx Pharmaceuticals was previously one of my top ten stock picks for 2013.
The other FDA approved drugs that use Captisol are:
· Nexterone from Baxter International (NYSE:BAX), heart rhythym disorders
· VFend from Pfizer , fungal infections
· Geodon from Pfizer, antipsychotic
· Cerenia from Zoetis (NYSE:ZTS), vomiting in cats and dogs
· Abilify from Bristol Myers Squibb (NYSE:BMY), antipsychotic
As you can see, Ligand has its technology used in one of the hottest upcoming drugs (Kyprolis) and one of the top selling drugs of 2012. In 2012, Bristol Myers Squibb's Abilify saw sales of $2.8 billion. Kyprolis was approved in July of 2012 and is well shy of possible peak sales in the billions.
Promacta, a drug from Glaxo Smith Kline was also recently approved. The drug saw sales of $70 million in the second quarter of 2013, which was an increase of 49%. Promacta is an oral treatment to treat thrombocytopenia. The drug has an existing patent through 2027. Also to note, the drug is in over 25 current clinical trials for conditions like MDS, AML, and anemia. Ligand's royalty rate ranges from 4.7% to 9.4% based on total sales. Promacta has projected sales of $300 to $550 million for the 2014 year. Peak sales are expected to hit $1 billion in 2019.
Along with the drugs on the market that pay Ligand a royalty for the use of Capitsol, over 30 drugs in development are using the technology and could improve Ligand's royalty stream even further.
Here is a chart showing the potential sales of Promacta, Kyprolis, and Ligand's royalties from current products:
| | | | |
| --- | --- | --- | --- |
|   | Promacta | Kyprolis | Ligand Sales |
| 2014 | $400 mil | $35 mil | $35 mil |
| 2015 | $500 mil | $700 mil | $50 mil |
| 2016 | $575 mil | $1.2 bil | $70 mil |
| 2017 | $575 mil | $1.5 bil | $85 mil |
| 2018 | $600 mil | $1.8 bil | $100 mil |
| 2019 | $650 mil | $2.3 bil | $118 mil |
| 2020 | $690 mil | $2.5 bil | $130 mil |
These numbers are based on average sales estimates. The Ligand column on the right is for existing drugs and gives no value to potential approved drugs or the recently approved drugs.
Growth Ahead
During the second quarter earnings call, Ligand Pharmaceuticals summed up their future best with this, "In many ways, we believe the potential of the Ligand model is just beginning to be realized." Back in 2007, Ligand had nine fully funded programs and one products receiving royalty for the company. Currently, Ligand has five royalty generating assets and over 85 fully funded programs. With successful trials, the number of royalty generating products could quickly double or triple.
Here are some charts to show the area of study for the funded programs: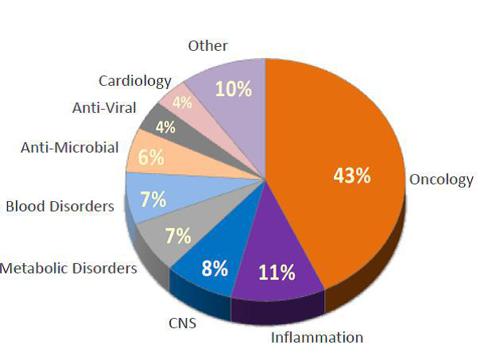 Here is a chart that shows the potential number of drugs that could be on the market by 2020:
| | | |
| --- | --- | --- |
|   | Potential New | Cumulative |
| 2014 | 4 | 9 |
| 2015 | 3 | 12 |
| 2016 | 2 | 14 |
| 2017 | 1 | 15 |
| 2018 | 13 | 28 |
| 2019 | 16 | 44 |
| 2020 | 35 | 79 |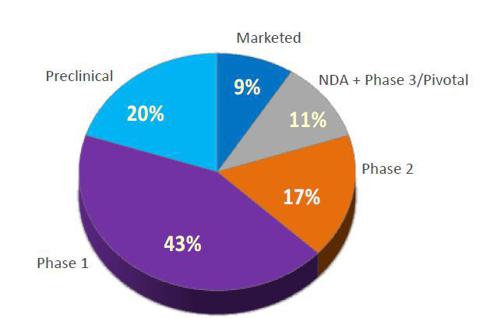 Obviously not all 85 funded drugs will see the marketplace. However, the potential for the company's base of approved drugs can quickly double and triple in the next three years if several of the late stage drugs are approved.
In an August Presentation, Ligand offered the following six points on royalties:
1. Stable market demand for therapeutics
2. Established payor system
3. Good credit for licensees
4. Strong market protection through intellectual property
5. 100% gross margin and no cost required to grow revenue
6. Recurring quarterly cash payments
Ligand has discovery deals with key drug companies like Glaxo Smith Kline (NYSE:GSK), Merck (NYSE:MRK), and Pfizer. These deals center on drugs related to Alzheimer's, hematology, osteoporosis, and oncology. Here is a look at late stage drugs that could be approved by the end of 2015:
· Women's health, Pfizer, 2014
· Antifungal, Merck, 2014
· Neurology, Lundbeck, 2014
· Undisclosed, Hospira, 2014
· Oncology, Spectrum Pharmaceuticals, 2015
· Anti-infective, Rib-X Pharmaceuticals, 2015
· Renal, Retrophin, 2015
In the fourth quarter of 2013, Ligand shares could get a boost with expected results from Promacta trials in oncology testing. The first half of 2014 will also see results from Phase III testing of Kyprolis in other areas. While new drug approvals could be a big driver for Ligand, the company could see the biggest share price increase from new targeted areas of these already huge drugs.
Looking further ahead, the company could have blockbuster potential with an Alzheimer's disease drug with Merck. The drug known as MK-8931 could provide a huge boost down the road for Ligand Pharmaceuticals. Merck recently said the drug has "the potential to alter the course of medicine." That's a pretty big statement from one of the world's biggest drug companies. Of course, the drug is a long ways away and only really icing on the cake at this point. Cantor Fitzgerald recently downgraded the stock saying valuation was rich and cited the Merck drug as part of the reason. Cantor said no revenue or results would be recognized until 2017 from the drug.
In the second quarter, Ligand Pharmaceuticals promised new product approvals, expanded label approvals, multiple NDA submissions, and Phase III announcements. One of the upcoming drugs focuses on type 2 diabetes. The FDA accepted an IND for a glucagon receptor antagonist from Ligand. Known as LGD-6972, the drug is currently unpartnered and could boost shares at any point with an announcement. The company had this to say, "We consider this one of our most significant unpartnered programs and look forward to beginning Phase I clinical development. We plan to assess the partnering landscape after the Phase I clinical trials are completed."
Q2 Earnings
In the most recent second quarter, Ligand Pharmaceuticals saw strong results from drugs it has stakes in. Promacta made $70 million during the second quarter, which represented a 49% increase from the prior year and a 13% incrase from the first quarter. The drug, which is being approved in more countries for treatment of Hepatitis C, also has the potential to be approved for other oncology related fields. Analysts continue to predict Promacta will earn $300 million for the full 2013 year.
Risks
The obvious risk with Ligand Pharmaceuticals is the possibility of no future drugs ever hitting the market. While this doesn't seem likely with over 80 drugs in trials, it is always a possibility in investing in a biotechnology stock. With shares over $47, a high price to earnings multiple of over 40 times next year's expected earnings also makes shares risky. This is a stock trade that is about future sales, both with new and existing drugs. I believe the benefits and possible sales potentials outweigh these two risks.
Dividends?
One possibility for a rise in the share price may come in the form of dividends. Ligand Pharmaceuticals does not currently pay a dividend, but could be in the process of doing so. The company has said it "expects to use cash-flow from business to find opportunistic acquisitions or returns to shareholders." Now the company didn't say it will 100% pay a dividend, but I believe as the royalty stream starts to kick in more, the company will give money back to shareholders.
Shares
Ligand Pharmaceuticals is a very intriguing investment. The company offers 90% gross margins and low operating costs. Through several acquisitions, the company now has six approved FDA drugs using its technology. Ligand has a nice royalty stream coming from these drugs and it continues to improve as drugs see their peak sales. With 85 partially owned drugs in fully funded trials, Ligand Pharmaceuticals is poised to reap the rewards of approved and marketed drugs.
Shares of Ligand are up over 100% in 2013 and continue to come closer to the $1 billion market capitalization level. Since the approval of Kyprolis, shares of Ligand are up over 175%. While this does make shares look expensive, it also showcases the power of one drug's approval and its imminent boost to a share price.
Disclosure: I have no positions in any stocks mentioned, but may initiate a long position in LGND, PFE over the next 72 hours. I wrote this article myself, and it expresses my own opinions. I am not receiving compensation for it (other than from Seeking Alpha). I have no business relationship with any company whose stock is mentioned in this article.