Send the bonds and bond funds packing and go local. This model portfolio of mostly American companies has all the diversification, income, and international exposure you'll want, to mitigate portfolio risk over the long term. The objective of this model portfolio is to have five diversified stocks with one or two that have primarily a good dividend, and two or three that have substantial international exposure. The dividend stocks take the place of bonds, while the multinational companies take the place of the typical international component of a portfolio. Companies are also distributed across the market capitalization range. Portfolio time horizon is 2-5 years.
The stocks are THL Credit, Inc. (NASDAQ:TCRD), a specialty finance company with an 8.7% yield, Sanofi (NYSE:SNY), a large international drug/biologics company, Enterprise Products Partners L.P. (NYSE:EPD), a midstream oil and gas company with a 4.5% yield, Net App (NASDAQ:NTAP), IT storage/cloud company, and BE Aerospace (BEAV), Aircraft parts/interiors. THL Credit and Enterprise Products are both utilized for their yield component, while Sanofi, B/E Aerospace, and Net App all have international exposure. Sanofi was chosen for its pipeline of new drugs and its strong international presence. Net App takes advantage of the secular trend of increasing cloud and data storage, while BEAV was chosen for the industrial component and the jump in aircraft orders this year. The capitalization spread includes TCRD as small cap, SNY and EPD and NTAP as large cap, and BEAV as mid cap.
THL Credit, Inc.
THL Credit is a $529M market cap business development company that lends to mid market companies using mostly debt and some equity. It lends using subordinated or mezzanine debt and second liens. These debt instruments can have associated warrants and/or preferred stock. It has $2.9B assets under management. The stock has a strong 8.7% yield, a payout ratio of 85%, and a P/E of 10. EPS growth has been very positive over the last two quarters. The company is currently undervalued with a lower P/E than its business development peers, a higher EPS than peers (1.5), and a Price/Book ratio which is somewhat lower than peers (1.1). The company has a very good debt-to-equity ratio of 0.18 (source: Google Finance and THL 10-Q).
The stock has an excellent graph with a somewhat defined price channel between $14.50 and $16.00 over the last nine months. This is ideal for a fixed income proxy. The stock has a good yield, a defined variation of price, and an uptrend. The whole high yield group has been beaten down of late while TCRD has been in an uptrend. This is a good sign for the stock. The two-year chart below, with Bollinger Bands, is courtesy of TD Ameritrade.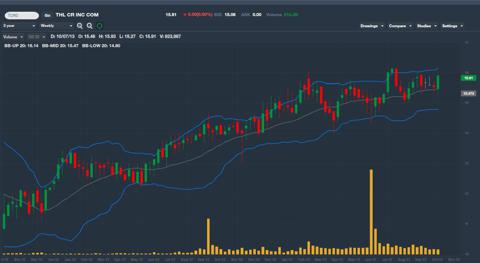 THL is a somewhat new stock and does not have a lot of analysts following it yet. Once its undervalued nature is discovered and more analysts are added, this may boost the stock price. I estimate the stock has at least a 30% upside over the next few years (3-5), and you get paid to wait. The dividend beats most bonds and bond funds. Thus THL offers a very good dividend with good potential for stock appreciation as well.
THL has a diverse portfolio of companies and good portfolio credit quality. Only 3.8% of the portfolio is performing materially below underwriting standards with none in default. About 42 percent of the portfolio is floating rate (linked to LIBOR or similar index), and 52% fixed rate. Of the new loans added in the last quarter, most (83%) were floating rate. The weighted average yield is about 12.6% (source: company 10-Q).
Risks to the investment thesis include a possible rapid increase in interest rates, compressing spreads. This could result in less income and a subsequent decrease in portfolio value. THL is allowed to hedge, so this may help mitigate the results of this scenario.
Sanofi
Sanofi is one of the largest pharmaceutical companies in the world, with a market cap of $132B and a diverse product range of drugs, biologics, vaccines, animal health products and a few devices. The stock has a P/E of 29.8 (trailing) and 12.7 (forward), a Price/Sales ratio of 3.0 and a dividend yield of 3.6% (source: Yahoo Finance). While the company is a mixed bag when one looks for growth drivers (EPS is in decline due to lower sales, patent expiration and competition), the positives appear to outweigh the negatives when one includes the impact of new products. Sanofi has a significantly lower Price/Book ratio compared to its peers, indicating the stock is currently well priced. The company acquired Genzyme, a well respected biotech company in 2011.
The company has a very good product pipeline, with more than 60 new drugs in development. Drugs in development should be accretive to earnings by 2016-2017, making this stock a long-term buy for investors and not a trade. Several new drugs appear promising and have blockbuster potential. Among them are Aubagio (FDA approved) and Lemtrada (in trials) both for multiple sclerosis, Zaltrap (FDA approved) for cancer and Lyxumia (EU approved) for diabetes.
Sanofi stock offers excellent international exposure for the model portfolio, a good potential for a blockbuster drug or two, and a positive risk/reward considering new drug prospects in the pipeline. The stock should also hold its relative value over time given its diverse product range. The positives outweigh the negatives long term, but there are still risks. Revenues from new drugs and those in the pipeline are crucial for expanding earnings. Thus the downside appears to be limited while the upside looks promising.
Technically the stock has been in a downtrend since May. It has current support at $47.5 and is oversold. It is therefore important to average into a position and advisable to use wide spreads when buying. The two-year chart with a slow stochastic on the bottom is courtesy of TD Ameritrade.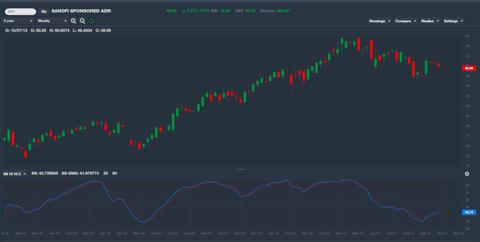 Enterprise Products Partners
Enterprise Products is the largest public MLP with a 70B enterprise value. EPD runs the biggest "toll road" for oil and gas in the country, making the company largely immune to the possibility of falling commodity prices of oil and gas (85% of the company's revenue comes from the pipeline and services). EPD has a P/E (trailing/fwd) of 22.2/20.5, a price-to-sales ratio of 1.25, and a return on equity of 18.7% (source: Yahoo Finance).
EPD is in all the right places to take advantage of the US boom in oil and gas production. Its location is very good for the numerous shale gas plays in North America. Pipelines to the Texas gulf and new export facilities there, are another example.
The company has diverse cash flows from onshore pipelines, offshore pipelines, storage facilities, Nat Gas processing plants, offshore hubs and NGL and propylene fractionation plants. The company has an excellent history of increasing distributions and has a conservative payout ratio.
Looking further into EPD's assets, we find 50,000 miles of pipelines, 200 MM Bbls liquids storage, 14 Bcf Nat Gas storage, 24 Nat gas processing plants, 21 NGL and propylene fractionation plants, 6 offshore hubs, NGL import/export terminals, and other processing facilities. EPD recently completed an LPG export terminal expansion in the Houston ship channel for LPG cargoes.
EPD has an impressive list of capital projects coming on line in the next few years which total to $80B. Here are some of them with the estimated completion dates (source: company website).
Expansion of MAPL pipeline (mid 2014)
TX Express joint owned pipeline NGL (Q4 2013)
Joint Venture DJ Basin (CO) connecting TX Express and MAPL (Q4 2013)
Expand NGL fractionation (Q4 2013)
Propane dehydrogenation for propylene TX (2015)
Expand ECHO storage for crude (Q4 2014)
Increase TX based refined product facilities
Crude pipeline with Enbridge OK to TX (Q2 2014)
ATEX pipeline(Aegis) ethane from Marcellus and Utica to TX gulf (Q1 2014)
These growth projects are likely to significantly add to distributions over the next 5 years, giving EPD a good growth story with limited downside and a fairly good dividend. Enterprise is poised to keep pumping out profits for years to come. More roads, more tolls!
So far in our portfolio mix, we've been presenting more conservative companies - a specialty finance company, a big pharma name, a huge MLP - the "steady Eddie" type of businesses. How about something more techie, with more upside potential? You guessed it, a tech stock with big growth potential! My pick is one of the cloud names: Net App.
Net App
Net App is in the hardware, software and services business for computer storage for enterprise companies. This sector has been heating up over the last few years with big data coming into view and companies moving their IT infrastructure to the cloud. Net App is right in the middle of this trend and has been growing steadily. The company has lots of new customers, increasing market share and good partners. Cloud storage will increase as more and more storage is needed for electronic documents, videos and increasing use of social networks and intranets.
Net App's y/y growth rate (revenue) is impressive when compared to peers. The company has good growth both in North America, where most revenue is generated, and overseas. In addition to secular growth, the company has new products that appear promising, among them E Series and ONTAP 8, software that efficiently manages data center storage.
The current Price/Sales of 2.2, looks attractive, as does the estimated forward P/E of about 13.3 and PEG of 1.15 (source: Yahoo Finance). The fundamentals are favorable when compared to peers. The company also has a share repurchase plan that may bode well for increasing share price.
Net App is a great way to play the secular trends of data migrating to the cloud and big data, thus a greater need for storage in both small and large data centers. NTAP offers probable good upside potential with a limited downside - a good deal for a tech company. Risks to the investment thesis include companies pulling back on their IT infrastructure spending, and weak economic growth.
B/E Aerospace
B/E Aerospace creates cabin interiors for commercial and private aircraft, sells fasteners and consumables, and offers services associated with creating aircraft interiors. It outfits interiors for large commercial jets for most of the world's major airlines like JetBlue, Delta, Continental, United, Air France, JAL, and British Air. The company has three segments: Commercial Aircraft, Consumables Management, and Business Jet. B/E's products include: galley equipment, seating (super first class to tourist), oxygen and lighting systems, lavatory systems, and thermal and power management systems. This $8B company has good fundamentals with a P/E (trailing/fwd) of 28.7/17.9, a PEG ratio of 1.0 and a price-to-sales ratio of 2.45 (source: Yahoo Finance).
B/E is in the catbird's seat when it comes to being a supplier for new planes being ordered by major airlines. They currently have a huge (record) backlog of business to the tune of $8.4B. Both revenue and EPS are showing an uptrend as compared to last year. The currently robust wide body aircraft delivery schedule bodes well for future earnings, as 60% of revenue is from new buys. New business has a good portion from outside of North America: 28% Europe, and 33% Asia and rest of world. B/E also has an incredible amount of consumables/parts on hand to service the airline industry, about 1M Stock Keeping Units (source: company website).
B/E has the ability to design and create all kinds of plane interiors. For example, the Super First Class seating for Etihad Airways is roomy, luxurious, and looks super comfy. B/E can design aircraft interiors from the ground up or retrofit existing aircraft with interior upgrades.
B/E stock has a number of attractive catalysts: airlines increasing their purchases of new planes and retrofitting older planes, a good consumables business, and industrial exposure during an improving economy. It's time to get in on some pin action with BEAV as aerospace heats up. I also like Boeing (NYSE:BA) and General Electric (NYSE:GE) for industrials if you prefer a large cap, but I think BEAV has more room to run. The two-year chart is courtesy of TD Ameritrade. Happy investing!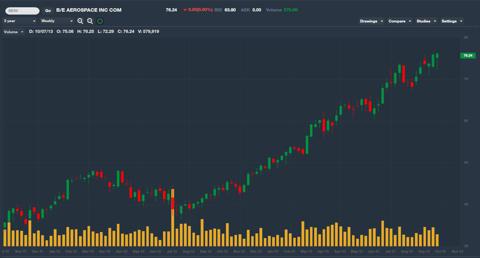 Disclosure: I am long TCRD, SNY, EPD, BEAV, NTAP. I wrote this article myself, and it expresses my own opinions. I am not receiving compensation for it. I have no business relationship with any company whose stock is mentioned in this article.
Additional disclosure: This article is for informational purposes and written by someone who is not a professional investment adviser. This article does not constitute a recommendation to purchase securities. It is assumed that readers will complete their own homework and due diligence before purchasing stock.